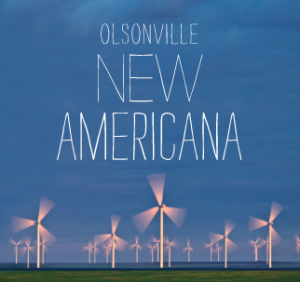 Let us welcome you to a place where the music is fresh, the lyrics have meaning and there's a definite buzz in the air. That place is Olsonville, where there's a musical menu featuring a blend of gospel, pop and roots music, served piping hot and bound to put a smile on your face.
Olsonville performs as a solo act, duo and full band, but always at the helm is singer/songwriter, pianist and guitarist, John Olson, the "founder" of Olsonville.
Throughout New Americana, particular attention and praise must be given to the backing vocals. There are some great harmonies on tracks such as "Don't Shoot the Artist," "Someone Who Leaves You" which add another dimension to the already strong songs. The more you hear, the more evident it becomes that Olson not only has a great talent for constructing meaningful pop songs with memorable hooks; he also has a great ear for harmonic structure. This gives the tracks a rich quality, which is incredibly pleasing to the ear.
The production on New Americana also deserves praise. At no point does it sound muddy or overproduced. This is an album of true quality – there is a near perfect balance between all of the instrumentation, lead and backing vocals. Everything blends in all the right ways, and it's refreshing to hear such clear and crisp production, which showcases all of the elements so well.
New Americana essentially teaches us how to combine the soul of Cajun and roots music with a true pop sensibility, and how to do so with style. Olson's delivery is consistently charming and the songs have a whole lot of heart. Whether he is singing a humorous track about his Irish heritage ("The Irish In Me") or the ups and downs of everyday life in "Bigger Fool," it is hard to resist Olson's infectious enthusiasm.
The whole album has a very bright and sunny sound, but particular standouts include album opener, "Someone Who Leaves You," the gospel-infused "Promise Me," and closing track "She Who She'll Always Be" which really showcases Olson's reflective, emotive side.
In addition to being a thoroughly enjoyable listen, there is a charitable side to Olsonville's New Americana, too; "Isabella" is raising funds for repairing cleft palates for children who live in remote parts of the world, and proceeds from "Streets of Saint Paul" will go towards supporting soldiers' families in need.
At times, it can be hard to believe that New Americana is a debut release. The songs and performances are delivered with such assurance and confidence that you would be forgiven for thinking that this was an album released far later in Olson's catalog. It begs the question, why haven't we heard Olsonville before? And perhaps more importantly…where can we hear more?