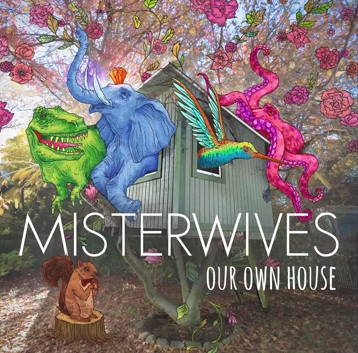 via Photo Finish Records
Review by Bailey Garno
Having secured the top spot for Billboard's Emerging Artist chart with their title track this past year, it seemed like there was a lot of pressure resting on MisterWives to deliver a stellar debut LP.  The New York-based group has braced that challenge with the fabulous and funky twelve-track piece, Our Own House.  Released on February 24th with Photo Finish/Republic Records, MisterWives masters indie pop.
The first track, which titles the album, is an absolute hit.  With a jazzy, pumped-up chorus and a steady dance beat, I can already foresee this being remixed into a crazy deejay beat.  Lead singer Mandy Lee is a powerhouse and the closest person to her unique vocal talent is the chart topper Ellie Goulding.  I would wager, however, that Mandy Lee has even greater vocal talent than the Brit rocker who tends to sing in a breathy, throat sound.  Lee on the other hand is courageous at the mic.  "Our Own House" an excellent album opener that will get the adrenaline going.
The jazzy, big band swing that is heavily relied on in the first track continues to be featured throughout the album, including in the second track off the album, "Not Your Way."  "Not Your Way" is a stand-up, revenge song that is worthy of a windows-rolled-down-car-jam-sesh.  With lines like "This is my party and you don't have a say," MisterWives is clearly not feeling the pressure of top Emerging Artist.  Rather, the album as a whole is simultaneously easy-going and jaw-dropping and always uniquely fitting the MisterWives style.
"Reflections" follows, a track that already has a lot of success having headlined their 2014 EP.  This song is infectious and you cannot help but feel happy when it breaks into the chorus.  Vocally, this a marathon of a song.  Mandy Lee goes up and down the scale and then back up so fast and with such ease; she has a true star quality that shines in not only "Reflections," but throughout the album.
The five piece finally gets to slowing things down with "Oceans."  This song appropriately embodies the beachy, laid-back vibe you'd expect from a song called "Oceans."  Time and time again, Mandy Lee proves her superb songwriting abilities, and this fourth track is no exception.  The story goes that the singer was locked away in a treehouse and wasn't allowed out until she had the full album written.  It's not certain how many quick bathroom trips or trays of food needed to be delivered up to Lee, but it is clear that she got the job done…and well.
"Best I Can Do" picks up the tempo again, keeping an unusually lively and cheery melody despite the melancholy message of the lyrics.  It's like the album is its own dose of adderall, and ceases to let up.  Covering past features, I've realized that some bands try to do this but by the end of it they have exhausted the listener.  On this album, however, I find myself anxiously anticipating the next energetic track.
"Hurricane" begins like a smooth R&B song, but when the chorus begins I actually feel like it's closer to a Taylor Swift or Katy Perry single.  Ya'll might raise your eyebrows, but what I mean to suggest is that Mandy Lee and this album could potentially rival that of the biggest pop princesses out there today.  The songs are continuously empowering and are complemented by dense and catchy choruses you can sing along to.  "Queens," for example, appears last on the album but maintains the triumphant pounding of percussion that we hear in "Hurricane."  I really, really like this track for some reason, and I think it may have to do with my background in film.  I can hear this on the soundtrack of some major box office flick, no joke.
The next couple tracks continue to take it down a notch, with "Coffins" and at least the start of "No Need For Dreaming."  The latter track abruptly breaks into horns and tambourine with the chorus, but has a dreamy, romantic verse.  MisterWives does this a lot, playing around with tempo and melody like they aren't worried about following anyone's agenda.  That is perhaps what I appreciate most on this album; their ability to take risks and explore sounds that are new.  It's so admirable when musicians do that, rather than find a type of sound that has already proven to be successful and trying to mimic that.  It's an even greater payoff when it works, and I think the New York group has managed that.
My feelings toward "Box Around the Sun" are that it works well by itself, but in the grand scheme of Our Own House, it falls in the shadow of greater hits like "Best I Can Do" and "Reflections."  Nevertheless, it's another powerful performance by Mandy Lee—this girl honestly brings something fresh and fun to every song.
Closing out the album is "Imagination Infatuation," a song that begs for a live performance and is a spectacular play on alliteration that is worth acknowledging as an English major.  "Vagabond," is also a great discovery at the end of a full album.  It's soulful and gritty and piano-centric and you'll really enjoy it.
MisterWives will be headlining a nationwide tour through early April; dates can be found on their official site as well as their Facebook page.  If you haven't already 'liked' them, make sure you do so you can follow all the latest on them as they surge to stardom.  2015 will be a takeover for the indie pop group, so have a listen to the LP on Spotify now or download off of iTunes, and let us know what you have to say!
Rating: 4/5
Recommended Tracks: Our Own House, Queens, Reflections
Filed under: Reviews Tagged: album review, misterwives, our own house, photo finish records, republic records