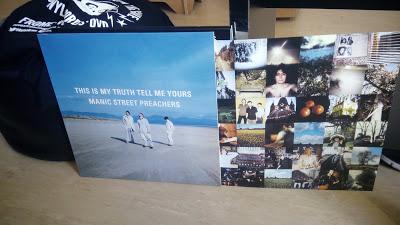 20 years ago today (September 14) the Manic Street Preachers released their fifth studio album This Is My Truth Tell Me Yours', a much-anticipated record at the time, which went on to become their biggest seller.
Listen to the album in full below on YouTube. If you enjoy the music, be sure to purchase a copy of this record and support the artists.
At the time I was a 14 year old who like many had become a fan via the seminal A Design For Life and their classic 1996 album Everything Must Go. Hardcore devotees from their early years were hoping that their fifth LP would be a return to the heavier, punkier sound of the first three records. But let's face it, that was never going to happen. Following the disappearance of lyricist Richey Edwards in 1995, the band's musical style took a natural change in direction, as Nicky Wire's writing style influenced how James Dean Bradfield and Sean Moore would approach the music.
'The Everlasting' is one of those incredible opening tracks, a spacious, cinematic epic radiating with the saddest, resigned beauty, and their first number 1 single 'If You Tolerate This Your Children Will Be Next' is elevated by its awesome guitar effects. There's the pretty verses and bombastic stadium rock chorus of 'You Stole The Sun From My Heart', and the powerful 'Ready For Drowning', with its haunting church organ and a splendid sound perfectly evoking the Welsh valleys. One of those all-time "should've been a single" classic album tracks. Its lyrics tell the story of the Welsh village of Treweryn and its destruction; it was flooded in the 1960s in order to create a reservoir to supply water to Liverpool.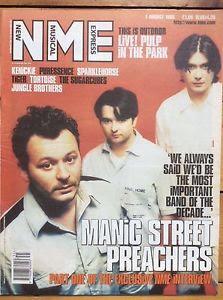 The stunning oriental flavours of 'Tsunami' are followed by the solemn acoustic moods and brooding cello of 'My Little Empire', an ode to solitude with a sound slightly reminiscent of Nirvana's 'Unplugged' album. Over the years, the yearning power ballad 'I'm Not Working' has grown on me to become one of my favorite moments on the album, lit up by wondrous production and fine instrumentation.
Another major highlight comes with the joyously melodic 'You're Tender And You're Tired', a song topped with brilliant piano and a spectacular vocal from Bradfield. 'Born A Girl' charms with its sparse, delicate blues, while the huge 'Be Natural' features utterly sublime guitar lines and another heaving chorus. A genuine classic, wide-screen magnificence arrives in the form of 'Black Dog On My Shoulder', with it's glorious brushed drums, sweetly playful bridge, graceful, soaring strings, and another vocal that sends shivers down the spine. Magical in every way, and easily capable of reducing me to tears. 'Nobody Loved You' is angsty and heavy as the LP gets, and the bleak, almost-jazzy closer 'S.Y.M.M' has always been considered a somewhat anticlimactic and lyrically slightly awkward ending, but it is what it is, and it adds character to the record.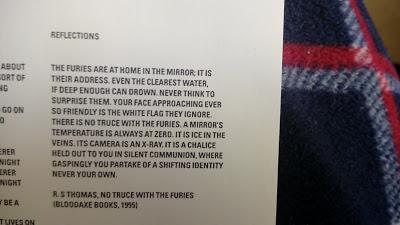 It was the first Manics album not to feature any of Richey's lyrics, and only three years after his disappearance, the album is yearning with a great sense of loss and moves at a much slower pace than previous records. It's imbued with a deep feeling of introspection and stands as one of the most beautifully melancholic albums ever made. It went straight to number 1 in the UK on the week of its release, and went on to sell 5 million copies. It's title is a quote by Welsh Labour politician Aneurin Bevan, and its cover photograph was taken on Black Rock Sands near Porthmadog, Wales.
20 years on, and This Is My Truth stands tall as one of the band's finest works.