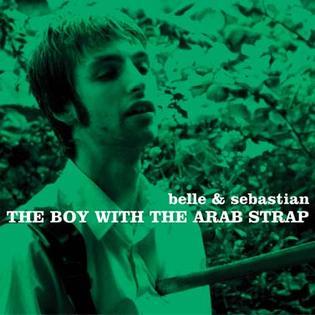 20 years ago this week, Belle And Sebastian released their third studio album 'The Boy With The Arab Strap', on 7 September 1998. One of the essential end-of-summer records, with a charming Glasweigan sound. Back in the late 90s, the Scottish indie chamber pop combo were very cool, highly praised and respected on the independent scene. Their quiet, humble brand of delicate, folk-flavoured music was a refreshing contrast to the high profile bombast of Britpop. After a number of EPs and albums, 'The Boy With The Arab Strap' found the band at their creative peak. 
Beginning with the gentle Nick Drake-like 'It Could've Been A Brilliant Career', other highlights include the glorious 'Sleep The Clock Around', the sweet, enchanting vocals of Isobel Campbell on 'Is It Wicked Not To Care', the mysterious beauty of 'Ease Your Feet In The Sea', the magnificent 'A Summer Wasting', and the rich, warming 'Seymour Stein'. All songs that sit at the very top of the band's musical achievements. Right in the middle, there's the Glaswegian spoken word and jazz funk stylings of the brilliant 'A Space Boy Dream', clearly intended as an interlude to break up both sides of the album. The record's second half produces a double whammy as 'A Dirty Dream Number 2''s Northern soul back beat and wonderful melody 60s pop melodies lead up to the superb title track, with its subversive lyrics disguised in as an innocent sounding bounce of a rhythm, complete with T-Rex handclaps and a recorder solo.
The LP's closing moments are more subtle, and as a result, the remainder of the record does seem to tail off. Yet 'Chickfactor', the brief and lovely 'Simple Things' and 'The Rollercoaster Ride' are still worthy of a listen. Despite a few glowing moments on the follow-up LP, I don't think Belle And Sebastian never released a record this magical again. While still occasionally producing gold like 'I Want The World To Stop', for the most part they lost their shine as they branched out into other styles, and launched an unashamed attempt at mainstream success. 
You can listen to the album via YouTube below, and if you appreciate the music, go and buy yourself a copy.