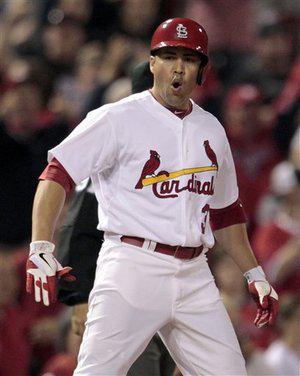 Photo: Jeff Roberson/Associated Press
- Adam Parker


The St. Louis Cardinals currently sit atop the National League Central with a (22-18) record. Though the team is only a mere 1.5 games ahead of the Cincinnati Reds at this point, it's still quite impressive.
After all, did any of us really expect them to perform like this after losing franchise face Albert Pujols to the Los Angeles Angels through free agency? I know I sure didn't, and to be honest, outside of that Cardinals' locker room, anyone who say they could have predicted this is lying.
Sure, the Cards' clearly have enough talent and depth on both the pitching staff and in the lineup to stay above water without Pujols' production, but no one could have predicted that this team could find a way to plug the leak so quickly.
Enter Carlos Beltran, the 35-year-old former Mets' star who signed a two-year, $26 million deal with St. Louis this offseason to 'help fill some of the Pujols-sized void' in the middle of the Cardinals' lineup.
But Beltran has done far more than that. He's proven to be far more than a stop-gap or a quick fix for the defending World Series champs recovering from a Pujols hangover.
The Cardinals are 40 games into the season, and Beltran has proven to be nothing short of a godsend.
In the Cardinals' first season of the post-Pujols era, Beltran has been one of the key cogs for St. Louis, and his resurgence has the Cardinals' offense operating without missing a beat despite the absence of one of the greatest players to ever don a St. Louis' uniform.
Beltran, whom many had forgotten about thanks to countless stints on the Disabled List in the last half decade, has rewarded the Red Birds greatly for their confidence in him.
The former Cardinal killer has become a savior of sorts.
Beltran is leading the National League in home runs with 13; he's tied for second in RBI's (32) and he's also second in slugging percentage (.634). In one contest, Beltran belted two homers, a double and a triple; a feat that was never accomplished by even the great Stan 'The Man' Musial.
And if Beltran wasn't already dangerous enough, he can kill you from both sides of the plate. In one week this season, he swatted two moonshots batting left-handed in one game, and repeated the performance while batting right-handed in another game -- something that had never occurred in Major League history.
Praise has been high for Beltran around St. Louis, including from teammate Skip Schumaker, who called Beltran "the best player I have ever seen" during a 2006 playoff series against the then Beltran-led New York Mets.
Pretty high praise considering 'The Machine' was probably only a few seats away in the dugout.
Cardinals first baseman Lance Berkman was also quick to jump aboard the hype train, but isn't all that surprised by Beltran's offensive output. "He's just a really good player, and always has been," the 'Big Puma', who was a teammate of Beltran in Houston said. "It's funny. An elite player has some things happen to him for three or four years, like injuries, then he becomes an elite player again, and people ask, 'What's going on here?' Just look at the back of his baseball card. He is as complete a player as I've ever played with. He does everything well, and he looks good doing it. When you look at what a player is supposed to do, he's about as good as it gets." 
World Series hero and Cards' third baseman David Freese was recently asked about the Cardinals' progress --"all is good" he said, "we have Carlos Beltran."
It looks like the Red Birds are poised to make another deep postseason push; only this time, Beltran, not Pujols, will be leading the charge.