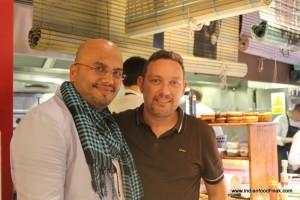 Suprio with Albert Adria
Lot has been written of El Bulli and its enigmatic chef Ferran Adria around the world including some major case studies by top global Business schools like Harvard and ESADE. Ever since El Bulli shuts its doors in 2011, a huge void was created in the world of Gourmet cuisine. Many may not know that as soon as Ferran planned to close down El Bulli, he conceptualized a one of its kind Tapas bar in Barcelona called Tickets and passed the reins of this ambitious venture into the able hands of his very able younger brother Albert Adria. While researching about the works of Albert I came upon a quote by Ferran Adria himself, where he says that If people consider him as the god of Modern cooking, then  Albert surely is his Jesus and true to his words, Albert has not only created a spectacular show through his tapas bar Tickets but also added 4 more restaurants around the area which carry the Adria Legacy and their style of gourmet cooking.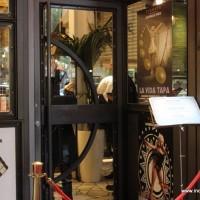 The Entrance to tickets
Indian Food Freak had the opportunity to have a conversation with Albert and his vision with the restaurant; here are the excerpts.
IFF : What was the philosophy behind the conceptualization of Tickets, right after the closure of the legendary El Bulli?
Albert :  Tickets came into being due to the huge demand of El Bulli, when we closed it down, people complained and obligated us to rethink and open a new format restaurant. So we came upon a concept of creating an El Bulli of the neighbourhood to bring our cuisine closer to the public. We decided on Avenguda Paralel which used to be the home of Broadway here in Barcelona as an ideal location for people to come and enjoy our food post their entertainment sessions around here. The name Tickets is a homage to Broadway and its box office and we have given a similar look and a very festive feel to this restaurant.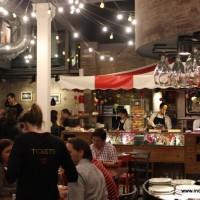 The restaurant
IFF:  What has been the primary response of the public since you have opened?
Albert: Well this is an immediate extension to El Bulli and the fact that we have a two months waiting is proof enough of the people's response. In fact we have had to extend our operations to open 4 more restaurants in this area with different concepts (though with the same philosophy) – 41o Experience– a Cocktail and finger food lounge, Pakta – A Japanese Nikkei cuisine restaurant, Bodega 1900 – a classic Wine Cellar with traditional cooking and the soon to be opened Hoja Santa – our take on Mexican cuisine.
IFF:  Is molecular cuisine a base style in all these restaurants?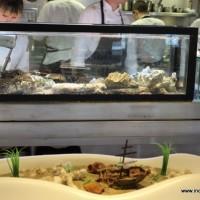 The fresh Catch of the day
Albert: Absolutely not, barring 41o Experience – which is the closest to El Bulli in concept and a bit higher priced, all the others primarily focus on the produce itself. During the tasting you will see that high attention has been paid not only in the quality of the produce, but also in the way it has been treated and dressed to be brought to your plate.
IFF: The diners who walk in, come in with obvious expectations of going to an Adria restaurant and automatically equate Tickets with El Bulli, How do you cope up with this constant comparison?
Albert: Our objective here is not creating another El Bulli; it's true that the diners come here with a lot of expectations but just to put things in perspective, El Bulli in unique in its way, it employed over 60 people, whereas we have staff strength of around 45. El Bulli was in operation for 25 years and we have been here for only three. We strive to serve our customer as per their likes and try to meet their expectations in the best possible manner. In this age of social media and mouth to mouth publicity, it has been this unique attention to our diners, which has kept us going and helping us serve the best quality to our patrons.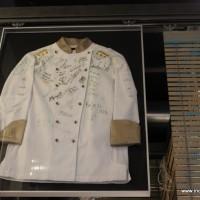 The chefs glorious coat
IFF: What would you say is your signature style here?
Albert: The same as EL Bulli, the clients who have been to both the places would be able to verify that we follow the exact same techniques and philosophy in all our restaurants as El Bulli. Despite of us constantly evolving in our dishes and products, the signature style has consciously been kept the same as El Bullis.
IFF: With the hard work behind managing all the 5 restaurants, how do you divide your time between your professional and personal life?
Albert : We do not treat our restaurant as a work space, it is one big family out here. Having said that, the restaurant is closed about 120 days a year which means that there is atleast one day off after every two days of hard work. This way we ensure maximum productivity from our staff.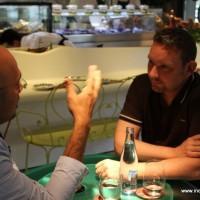 In Conversation with Ferran Adria
IFF: One of the best global Indian chefs- Gaggan was one of your students at El Bulli, what is your opinion of him?
Albert: Yes, he was here a couple of weeks back and I hold him very dearly. However I have unfortunately been to neither India nor Bangkok and can't opine on his work as yet.
IFF: Any plans to travel there soon?
Albert: I love street food and have seen many documentaries of the wonderful street foods in both Thailand and India and would love to try those in their countries of origin. Though I have tried the dishes at restaurants in London, New York, Holland etc but the charm of trying them on the streets in these places is something to be experienced and I hope to do that sometime soon.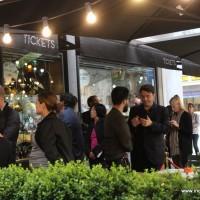 The queue of people waiting for the restaurant to be opened for the evening
IFF: What about Indian food in general?
Albert : Uff with a population of over 1 billion people, I am sure the food diaspora is huge, it would be fun to try each and every cuisine in your vast country but unfortunately my knowledge is quite limited in that field. I personally love to cook with vegetables and seasonal produce. Tomatoes, Eggplants, Mushrooms are some of the produce which I love to play with.
IFF: Of the things that you have tried amongst the Indian cuisines, what do you like the most?
Albert: I love the whole concept of curries. Over here they don't understand this concept as well, here the concept is "Product WITH curry" however, in India it is "Curry OF product" and this integration of spices and the produce to create the curry itself is something I love. I would love to learn the integration of different spices to the perfect blend and create a curry like you all do out there.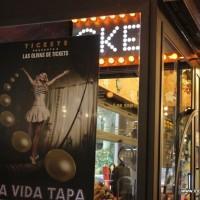 Tickets
IFF: Who, would you say is your idol in the kitchen?
Albert: Luckily enough, I have many.  I love observing people who may not be very well known but don't stop being magical, you will find such legends in each and every city. The gentleman who makes those fine crepes on the streets in India (He meant Dosas) and has a huge crowd around him waiting to be served becomes my idol the moment I see him. His perseverance and dedication and his patience to stand on his feet under the sun serving his craft is part of his magic and makes him my idol.
IFF: If you were not a chef, what would you be?
Albert: Well isn't being a chef a dream job of half of the world?(Chuckles)  Well in fact before I became a chef, I was about to join the movie industry. I love to write script and produce, in fact I made the documentary on El Bulli which came out a few years ago.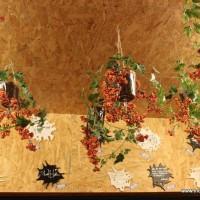 Decor in the restauant
IFF: What is that one thing which you can't do without in a restaurant?
Albert: My Favourite product in the kitchen is Tomatoes; I can't do anything without it. I just have to make sure that the product that we serve must be the best in the market.
IFF: What's your favorite dish?
Albert: Pizza for sure, I would have loved to be the inventor of this product. I love the concept that it is one dish which brings people together.
IFF: If you have a chance to pick up an Indian dish to be recreated at your restaurant, what will it be?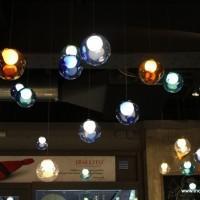 Lights
Albert : Well, it will surely be the bread that you make in Tandoors and is also a bread which is shared with people and eaten- Naan, I would certainly like to recreate a Naan center filled with Lamb for our restaurant. That will be one and the other dish would most certainly be Daal. In fact we have a dish made of pulses in our restaurant whose inspiration was the typical daal from your country. And lastly, I am sure I would make my variation of a Samosa one day, I just love this dish.
IFF: Any message you would like to give to the thousands of Indian who are fans of your legacy?
Albert: I am nobody to give messages, all I can say is that there is nothing more beautiful than being happy while eating. It lovely knowing  different cultures through their cuisines and I love this passion for food and am here to serve all who feel the same and invite them to come and try what we have to offer.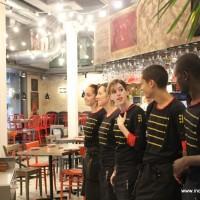 Restaurant Staff waiting to greet the public
IFF: One of the top chefs of India who recently was included in the list of top 50 best restaurants of Asia, Manish Malhotra, during a recent interview with us, said that Ferran Adria was his idol. In fact much of his cuisine reflects the Adria philosophy of cooking.
Albert: That's great and it would be lovely trying his food some day.
IFF: We invite you to come to India and IFF would be very happy to take you around and show our wonderful culinary diaspora and visit Manish's restaurant as well.
Albert: Yes I would love to do that someday, I will be in touch with you and surely let you know when I plan this trip.
IFF: Last question, where would you like to see your restaurant in days to come?
Albert: I want all our five restaurants to become a part of the touristic landscape of Barcelona one day. I also want it to be a favorite place of not only tourists but also the locals and for them to treat it as their own patrimony.
(By this time – 7.00 pm- the queue outside the restaurant was already around a block and we signed off with Albert to begin on our Food Odyssey. The tasting menu lasted four hours with over 30 dishes and make up for a separate article all together)
The Bar
Interiors
The Chefs and IFF
Waiting public
Decor a la Gaudi
Orientation time before the door opens
Decor
In conversation
The Kitchen
Hard at work
Tickets
Tickets at Night