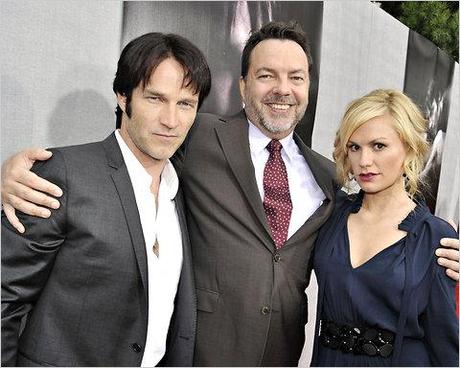 The cast and crew have been doing double duty with finishing wrapping the filming of True Blood Season 4 and promoting the season premiere.  With one week to go fans are clamouring for as much news as they can get their hands on.  The NY Times spokes to Alan Ball, creator of the show recently about a number of topics including the episode they shot in 3-D, the shows sex scenes and how Anna Paquin got her role.
When asked if he is already planning for Season 5 of True Blood Ball says that he is always laying ground work although he will not formally plan until it happens.  Some plot points are planned out and others happen but work out later.  He uses a scene in Season 1 where Arlene's period is late and she thinks she might be pregnant as an example.  Although the seasons have been close together in Bon Temps time, two seasons later a pregnancy was written in for Arlene.
Alan says he doesn't plan the show around fan wishes and desires because if he did that he might as well be marketing rather than writing.  He says one of the things he loved about Charlaine Harris' books is that there are so many layers to peel back and he tried to bring as much of that as possible into the show. 
Fans might have been surprised to see Academy Award winner Anna Paquin starring in a television show and they are in good company.  Ball reveals that he was surprised to hear that Paquin was interested in the role.  Not that she isn't talented enough, but because she had never chosen a role where she played the small town simple girl and even her appearance was not on par with Sookie.  Ball says:
"…really, deep down at the core, this show is a big Victorian romance novel. The actors just have to embrace it, they can't comment on it. You have to play it straight and you have to play it real. It was clear from all the auditions that she got that."
Paquin pursued the role while other actresses who were not as well known or successful as her, took a much more passive approach, waiting for the show to come to them.  Ball describes her as being fearless saying:
"I know there are a lot of actresses who would be uncomfortable with the way we depict sexuality on the show, because they just don't want to be seen naked. That was never an issue. I think it certainly helped that she and Stephen were falling in love in real life over the course of the first season, in helping sell that romance because it was so genuine."
One of the things Ball enjoys about writing for True Blood is that the story possibilities are endless.  On a lot of traditional shows it can be hard to come up with fresh stories but with vampires that have been alive for hundreds or thousands of years there are so many different directions the writers can go in.  He reveals a little Season 4 spoiler saying that we will see a lot of the Spanish Inquisition this year. 
True Blood doesn't hold back on the racy sex scenes and the majority of the main characters have been naked or partially naked at least once.  Ball says he finds a character's sexuality fascinating and uses it as a tool for telling the story.  He does not feel the show crosses the line or that people should be comparing it to porn. 
"I don't think anything about our show is pornographic. I think porn is about body parts and art is about souls. Hopefully, it's just a way of telling the story and the story is so much about people's yearnings and people's desire to connect and the primal nature of sex, and the primal nature of nature, for that matter. Vampires are total sexual metaphors, there's just no way around that. And the fact that it all takes place in this wet, humid, swampy, primeval madness, of course you're going to go there. And because we're on HBO and because we have a cast that doesn't get uptight about it, it doesn't have to be, like, "Ooh, sex." You can let it be sex without it being so forbidden."
Ball talked a bit about the journey of getting True Blood on the air and he says it took HBO four months to green light the show after he delivered the pilot to them.  Even though they had put on shows that had been different from cable, up to that point they had not gone as drastic as a show like True Blood.  The show came out at the perfect time and has been able to capitalize on the supernatural popularity surge going on but Ball continues to have the show be an industry leader instead of a follower.  An example of this is that the show is taking a page out of the current movie trend and they shot a scene in 3-D this year.  It is not yet known what they will do with the scene but they shot one scene regular and in 3-D and gave it to HBO to view. 
You can click here to read the entire Alan Ball interview.  Be sure to tune in June 26th for the Season 4 premiere of True Blood on HBO.
Source:  NYTimes.com – He's Created a Monster: Alan Ball Talks True Blood
Photo Credit: Kevin Winter/Getty Images