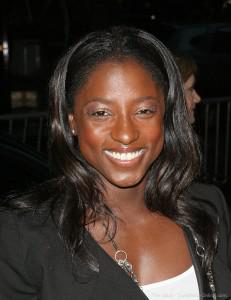 True Blood's fourth season premiered last night and it presented us with one of the biggest surprises that Tara's (Rutina Wesley) had a sexuality shift. The plot twist has been speculated about for a couple weeks now, but the character's identity had fans guessing.
Wesley tells The Hollywood Reporter that she'll be a bit relieved once the cat's out of the bag. "I'm really excited, because people keep asking me about it and I can't talk about it and it drives me crazy," she says.
Last Season, Tara found herself in a deep depression over the death of her lover, Eggs (Mehcad Brooks), and then trapped in a violent affair with vampire Franklin Mott (James Frain). After discovering that pretty much everyone around her was connected somehow to the supernatural freakiness that is Bon Temps, she left town. It was that breaking point that informed the production team that it was time for a change.
"We felt like it was time for Tara to stop being the victim," Creator Alan Ball tells us. "It was time for Tara to really take charge of her life in a way that would be surprising and would give us some fun places to go story wise. We thought, 'If somebody has been through something like that, maybe they would be prompted to create a whole new life and identity.' And why not?"
Wesley says she was surprised at first by her character's storyline this season, but it began making sense to her. "After I thought about it, I was like I can see that," she tells us.
"She's got some new skin so to speak and she's living life to its fullest and I think that's a beautiful thing honestly to see a person go through that sort of change," she adds. "Without putting any labels to it, she sort of fallen in love and that's OK, you know. I just think that's amazing."
Tara's storyline does open a can of worms when it comes to gay portrayals on television. After all, the series has gone a long way in training its viewers to see vampire sexuality as fluid and still some viewers have found issue with the show's "barrage of homosexuality" as Philadelphia Eagles player, Todd Herremans, tweeted last August. And that was definitely discussed by True Blood's producers and writers.
"Yes, we did talk about what that meant," executive producer Alexander Woo says. "Was she always curious? Did she always have sexual interest in men and women? I think we figured that we certainly were careful not to suggest that her life and the course of her life drew her into a relationship with another woman. But I think what Tara does at the beginning of this year is that she sees an opportunity to start completely fresh, start completely new and not being tied down with all these patterns that created so much suffering."
Wesley tells us that she really only worries about one message her character's lesbian relationship may send to viewers. "My main thing is I don't think it's because my character has such bad luck with men," she says.
To read the rest of this interview go to the source: hollywoodreporter.com