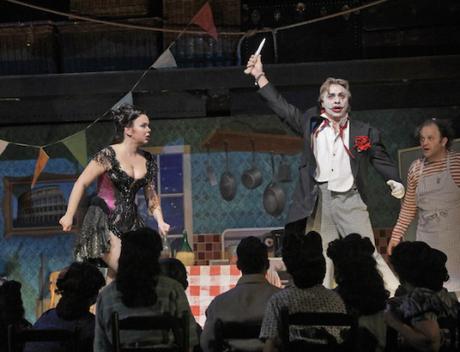 Nedda (Aleksandra Kurzak) comes face-to-face with the jealous Canio as Pagliaccio (Roberto Alagna) in the Met Opera's
Pagliacci
Background to Realism
Funny how a single performer can change the dynamic of a show — and what a show it was! French-born tenor Roberto Alagna, the son of Sicilian immigrants, did double duty in the Metropolitan Opera's revival (under the stage direction of Louisa Miller) of Sir David McVicar's production of Mascagni's Cavalleria Rusticana and Leoncavallo's Pagliacci.
Taking on the dual roles of the two-timing Turiddu in Cavalleria and the cuckolded clown Canio in Pagliacci, Alagna scored a home run with audiences and critics alike for his impassioned portrayals of these two iconic characters. The twin bill aired on Saturday, January 13, 2018.
These two works were not as prominently featured at the Met in the two-decade period before Mr. McVicar's 2015 version came along. Although Franco Zeffirelli's production saw active service for nearly 40 years, it did not last as long as the Robert O'Hearn and Nathaniel Merrill staging of Richard Strauss' Der Rosenkavalier, which premiered in 1969. You know what they say: Old productions never die, they just get recycled away into newer ones.
To tell the truth, I doubt Signor Zeffirelli ever imagined the perennial Cav and Pag would be treated as part of a unified whole, as they are here. Although both operas happen to be set in Sicily, Cavalleria takes place in more rural times, while Pagliacci occurs a half century later — in exactly the same plaza where electricity, street lighting, and automobiles now abound.
In this production, Pagliacci officially commences (after the Prologue) with the wheeze of a backfiring motorcar engine. In contrast, Cavalleria (which precedes Pagliacci) begins in total darkness, with just enough light to cast a shadow over ritual-like observances of Easter. The difference in staging is telling.
Even more gratifying for fans of these wonderful works was the decision to present them note complete, instead of the usual truncated performances from decades past. But no matter how they were presented, both operas are splendid examples of what is termed verismo, or "realism." For more information on the history and background of this stylistic musical genre, please see the following link: https://josmarlopes.wordpress.com/2015/08/08/new-productions-of-cavalleria-rusticana-and-pagliacci-two-operas-joined-at-the-hip-part-one/.
Considering how wildly successful Cavalleria and Pagliacci were at their premieres (in 1890 and 1892, respectively), the Italian verismo movement boasted comparatively few lasting examples. The majority of composers from this period, including Umberto Giordano (Andrea Chénier, Fedora), Francesco Cilèa (L'Arlesiana), Alfredo Catalani (Loreley, La Wally), and Giacomo Puccini (Manon Lescaut), whose 1895 work La Bohème became the ne plus ultra of verismo pieces, wrote operas with story lines that were anything but realistic.
If you rule out Puccini's Il Tabarro (part of his Triptych, or Il Trittico), a dark-tinged one-act tragedy that bordered on the Grand Guignol, his La Fanciulla del West from 1910 — hardly verismo source material to begin with — is the one piece that was most associated in spirit to naturalism (a close cousin to realism), which the original playwright, impresario David Belasco, pioneered on the American stage.
Pietro Mascagni & Ruggero Leoncavallo – two caricatures by David Levine
It's common knowledge among musicologists that Mascagni, the composer of Cavalleria, never wrote another work in a purely realistic vein. On the other hand, Leoncavallo's four-act Zazà, which premiered in 1900 (the same year as Puccini's Tosca) and was nearly as popular in its day as Pagliacci, took a nostalgic peek at the music-hall life of two lovers, one of whom is secretly married.
As Leoncavallo did with Pagliacci, the composer wrote his own libretto for Zazà, which was based on the Émile Zola-like stage play of the same name by Pierre Breton and Charles Simon — a play that served as a showcase for soprano-turned-actress Geraldine Farrar, and as a 1923 silent film with Gloria Swanson. Beyond that, there was nothing approaching classic verismo until the arrival of Italian neo-realist cinema, which surfaced soon after World War II.
Curiously, Cavalleria has had less of a stellar standing than Pagliacci, with critics cynically referring to it as the "cruder" and "less sophisticated" forbearer of the two. What nonsense! I find both operas equally enthralling. Still, most enthusiasts would site Leoncavallo's adaptation of his own text as musically superior to the Mascagni opus, with many instances of his borrowing from Wagner.
One example from Pagliacci emerges toward the end of Nedda and the hunchback Tonio's first encounter, where she strikes him violently across the face with a whip. As Tonio slinks off vowing vengeance, the "sharply accented theme" that accompanies his steps can be traced to the Act II plotting of Ortrud and Telramund from Lohengrin. The theme reappears after Tonio leads Canio to the place where Nedda and her lover, Silvio, are caught in an illicit embrace. One can also cite the Intermezzo between Acts I and II, with its captivating use of chromatism similar in essence to Hagen's Watch from the opening of Act II to Wagner's Götterdämmerung.
The musical texture of Cavalleria, however, is no less intriguing. It is dominated by a so-called "melodic triplet" in the orchestration, a figure that continues to crop up intermittently throughout the opera. Another characteristic of the Mascagni piece (and of verismo in particular) involves brief interruptions to the dramatic action, followed by "periods of repose or alleviation" of a situation previously introduced. There are boundless instances where this technique is employed, the most famous of which occurring at the start: the stirring prelude is cut short by the sound of a harp and Turiddu's offstage voice intoning the Siciliana, a sort of Sicilian serenade to Lola, the adulteress wife of the teamster Alfio.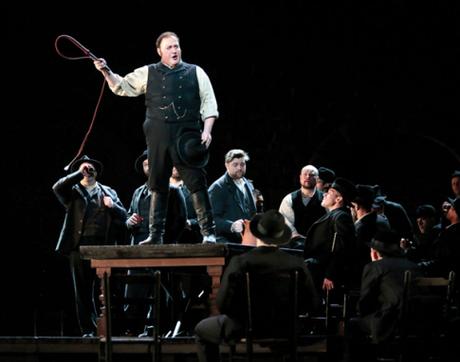 Alfio (George Gagnidze), the whip-wielding teamster from
Cavalleria Rusticana
Another bolder example can be found in the powerful duet between Turiddu and the desperate Santuzza, the woman he has abandoned (and whom he has purportedly impregnated). As the one begins to hurl imprecations at the other, the driving score comes to a sudden halt and we hear Lola's voice enter the scene in complete contrast to the precious episode. As was the case at the beginning of the opera, Lola sings a light-hearted Italian stornello, a poetic ditty timed to relieve the tension. After a few choice words, Lola leaves and the drama picks up anew with a fresh batch of accusations, ending in Santuzza's malediction, "A te la mala Pasqua!" ("A bad Easter to you!").
With all the give and take that abounds, a supreme effort is required for artists to make a positive impression in these works. Are they up to the task? In Pagliacci, the violence quotient is revved up to eleven, demanding that performers husband their resources less they shout themselves hoarse before the work is over. Does the end justify the means? It certainly does, if the result is Canio (originally Tonio) mouthing the immortal closing line "La commedia è finita! – "The play is ended!"
A Star is Reborn
For this revival, the Met was indeed fortunate to have Roberto Alagna at its disposal. Not necessarily a dramatic or spinto tenor in the tradition of a Del Monaco, Corelli, Tucker, Giacomini, or Martinucci, and lacking the immensity in tone of a Marco Berti or the volume of a Vladimir Popov, Alagna nevertheless persevered in the dramatic acting division. He brought pathos and sympathy to the tortured Canio, as well as passion and vivacity to the headstrong Turiddu (a short name, in Sicilian dialect, for Salvatore).
After a nearly 30-year opera, song and film career, Alagna, at age 54, has had his personal ups and downs, including a stormy relationship with previous wife, Romanian prima donna Angela Gheorghiu. They were better known to fans as the "love couple," although towards the latter part of their association the "love" portion had all-but evaporated (see my previous article about the pair: https://josmarlopes.wordpress.com/2016/08/13/manon-lescaut-madama-butterfly-and-the-mets-latest-love-couple-part-one/).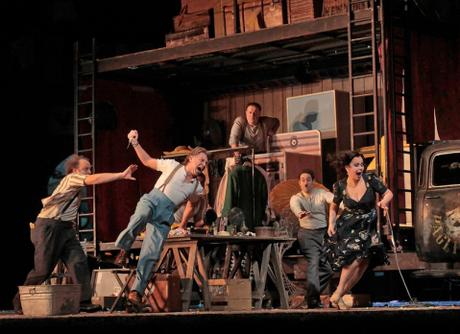 Canio (Roberto Alagna) wields his knife at Nedda (Aleksandra Kurzak) in
Pagliacci
Temperamental and highly strung in the extreme (ah, well, he is a romantic tenor) but determined to plow on with the exigencies of his chosen career path, Alagna's operatic aspirations continues unabated. His unquenchable curiosity about the French repertoire led him to uncover some genuine jewels among the glitter, to include Massenet's Le Jongleur de Notre Dame ("The Juggler of Notre Dame"), Pénélope by Gabriel Fauré, Cyrano de Bergerac by Alfano, the French adaptation of Donizetti's Lucia (redubbed Lucie de Lammermoor), and Marius et Fanny, a new opera by the Romanian-born French composer Vladimir Cosma.
Alagna made his official Met Opera debut in 1996 as Rodolfo in La Bohème, which did not exactly bowl the critics over but did lead to other return engagements. Since then, Alagna has established himself as an adaptable and reliable artist. He subsequently went on to appear there as Radames in Aida, Don José in Carmen, Don Carlo in Don Carlo, Cyrano in Cyrano de Bergerac, Nemorino in L'Elisir d'Amore, Faust in Gounod's Faust, the Duke in Rigoletto, Pinkerton in Madama Butterfly, Des Grieux in Manon Lescaut, Roméo in Roméo et Juliette, Ruggero in Puccini's La Rondine, as Massenet's Werther, and as Cavaradossi in Tosca.
True artists test the limits of their abilities. They know (or, rather, they should know) how far to push their precious instruments. To cross the line into extremes can kill a budding career or end a flagging one. Even so, certain eccentricities can creep in. For instance, we know from history that Napoleon needed very little sleep between battles; that Caruso loved to draw caricatures; that Puccini was a voracious nail-biter and chain smoker; that Sarah Bernhardt slept beside or in a coffin.
In Alagna's case, I have seen and heard many of his performances where one could swear the man was at the end of his rope. He was so convincing in his wrath as the embittered Don José that I feared for the safety of his real-life Carmen, Elīna Garanča, not to mention Alagna's sanity. Is this an individual quirk or artistic liberty?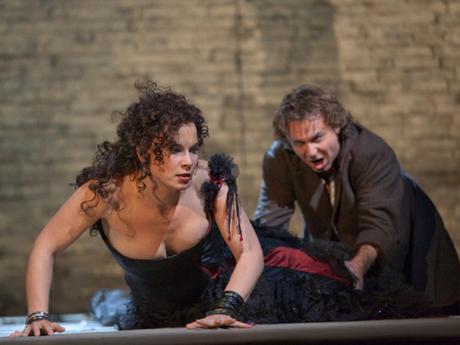 Elina Garanca as Carmen & Alagna as Don Jose, in Bizet's
Carmen
In a live 2007 DVD production of Pagliacci from the Arena di Verona, Opera News reviewer Andrew Druckenbrod raved about the tenor's radiant singing, yet noted that "[o]ne can almost believe he has become Canio, and there is a shade of danger about his committed performance. In the climactic fatal assault, Alagna, raging like a madman, channels an even more intense ferocity, allowing 'No, Pagliaccio non son' to almost fray at the edges." But then, appearing to snap out of his stupor, the critic quickly added: "Yet it's all an illusion, and [Alagna's] voice retains its brilliant hue and full character."
But it's the pain of truth that moves an audience. And seeing characters suffer because of their pain defines what verismo continues to represent, which is the unvarnished truth that life is pain. Alagna captured that pain in his portrayals, first of Turiddu, who knows he has caused wrong to others as well as to himself; and to Canio, who is intimately aware of his explosive temper, but is resigned to face the consequences of his invidious nature.
The tenor brought out not only the nuances of his portrayals but the artistic truths inherent in them. Vocally, this was old-fashioned barnstorming at its most deliberate and premeditated. Holding on to his high notes until his face turned crimson red, the intensity that Alagna gave off filtered all the way down to his colleagues. His moving farewell to Mamma Lucia, "Voi dovrete fare," bordered on controlled hysteria; not only was it thoroughly engrossing, but it was enunciated in crisply delineated Italian.
Due to cancellations and indispositions left and right, the originally announced Željko Lučić as Alfio in Cavalleria was replaced by the burly-sounding George Gagnidze. In Pagliacci, Gagnidze also sang Tonio, however the originally announced Polish soprano Aleksandra Kurzak (the current "Mrs. Alagna") as Nedda was substituted by the young American soprano Danielle Pastin, and Russian baritone Sergei Lavrov took over for Alessio Arduini as Silvio. Conductor Nicola Luisotti presided over the orchestra in both works.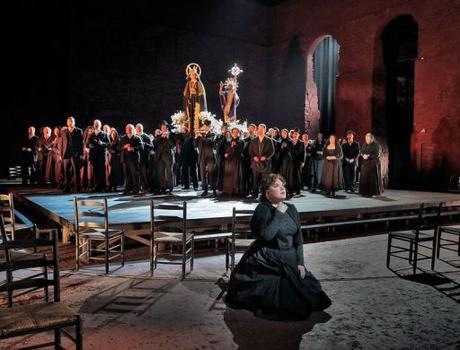 Ekaterina Semenchuk as Santuzza in Cavalleria Rusticana
Ekaterina Semenchuk started things off with a wallop in her strongly voiced Santuzza. Only a mere vestige of an accent crept into her vowels. Otherwise, she was the steady ship's anchor, until Alagna's arrival midway through the action. Semenchuk was expertly partnered by mezzo Jane Bunnell's rock-solid Mamma Lucia. Rihab Cahieb's lovely solo work as Lola provided a neat respite from the onstage fury. In his scenes with Santuzza and Turiddu, baritone Gagnidze captured Alfio's brutish nature, his harsh words spitting out their venom in over-powering fashion. Alfio, contrary to popular belief, is not the villain here but the victim of the cad Turiddu's dalliances, an errant youth who can't seem to make up his mind whether he loves Lola or Santuzza more.
For Pagliacci, Alagna pulled out all the stops for a riveting "Un tal gioco, credetemi" ("Such a joke is no laughing matter"), where he claims to be only play-acting — the precise opposite of what Tonio in the Prologue admonishes the audience, that what they are about to witness is "a slice out of real life," the essence of verismo. Alagna practically leaped across the stage in his furious attack on Nedda, after catching her in the act with boyfriend Silvio (substitute baritone Alexey Lavrov, in mellow voice). His emotionally draining performance of "Vesti la giubba," with its profoundly ironic cry of "Ridi, Pagliaccio, sul tuo amore infranto" ("Laugh, Clown, though your heart is breaking") rang true and earned him the longest and loudest applause of the afternoon. But the best was yet to come!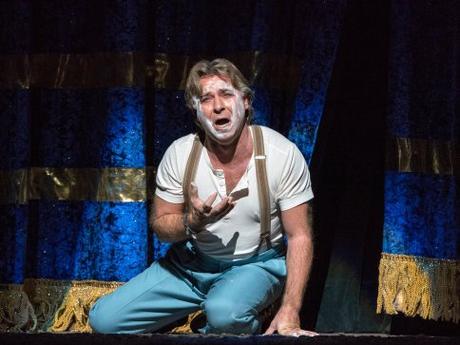 Roberto Alagna as Canio, letting it all hang out in "Vesti la giubba"
The play-within-a-play that ends the opera culminated in a raw, utterly convincing turn by all the performers. George Gagnidze, previously cast as Tonio/Taddeo in two earlier broadcasts of the work, made his third assumption of the part the charm. After a rousing Prologue, with his prolonged high A-flat, Gagnidze continued to render the listener senseless with an inky-black portrayal of the scarred and battered Tonio. He is no demonically-scheming Iago, as many directors fail to point out, but a flesh-and-blood human being. (Leoncavallo was certainly mindful that Verdi's Otello had premiered only a few years before Pagliacci made the rounds of the world's theaters. In fact, Otello's cry of "A terra e piangi" – "On the ground and weep" from the great Act III ensemble is note-for-note the same as "Ridi, Pagliaccio!").
As Nedda, the young Danielle Pastin displayed plenty of spunk and sparkle, especially in her confrontations with Tonio. In the long love duet between her and Silvio, her ease with the character's plight and long-limned phrases helped to mold a character who, despite her disloyalty to husband Canio, wishes only to live a normal life away from the drudgery of constantly being on the road. Tenor Andrew Bidlack as Beppe also made listening to his character's delightful little serenade a joyous affair.
Keeping it all together was maestro Luisotti. Overall, his was a taut realization of both Cav and Pag. He kept the scores moving in the right direction, with swiftness and proper pacing. Still, I would have welcomed a bit more expansiveness, especially in the Intermezzos. Oh, how I missed Fabio Luisi's way with these scores! Luisi made the string section sing, and the rest of the orchestra right along with him. As admirable as Luisotti's efforts were, he was no match for fabulous Fabio.
But that's real life, isn't it?
Copyright © 2018 by Josmar F. Lopes
Advertisements
&b; &b;