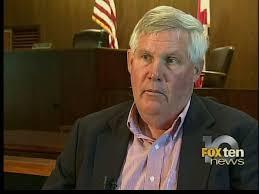 Claud Neilson
The Alabama judge who ordered my unlawful arrest in October 2013 received a phone call several months later in which he was asked -- in so many words -- "What law gave you the authority to essentially throw someone in jail for blogging?" In what should be a surprise to no one, Judge Claud Neilson could not answer the question.
The caller was Dothan-based blogger Rickey Stokes, publisher of
Rickey Stokes News (RSN)
. I check in on Stokes' site periodically and have written several posts about it over the years. (See
here
and
here
.) But his post about the phone call to Claud Neilson escaped my attention -- perhaps because it was published on March 24, 2014, and I still was incarcerated then, with my release coming two days later, on March 26.
One of the ironies of my five-month stay in jail is that it's been almost five years since my release, and I'm still discovering reporting on it for the first time. I was doing a
Google
search on something the other day and up popped the Stokes-Neilson story. My reaction? "Alleluia, someone actually had the balls to confront Neilson about his actions in my case -- and I didn't even know about it."
(Note: I recently discovered the story of my incarceration prompted coverage and commentary in Russia.)
To my knowledge, Stokes is the only reporter -- non-traditional or otherwise -- who thought to interview Neilson about his decision to incarcerate a journalist, contrary to more than 200 years of First Amendment law.
I'm aware of only one other journalist who interviewed a central con artist in my story of incarceration.
That was Sara Rafsky
, of the Committee to Protect Journalists (CPJ), who questioned Alabama lawyer and GOP slime bag Rob Riley about the defamation lawsuit in which he and co-plaintiff Liberty Duke sought my arrest. When pressed, Riley lied his ass off, claiming there was law to support the actions he and Duke had taken. Riley, of course, could not cite any such law because none exists. 

Stokes' post is titled "
Since October 23 in Shelby County Jail Because He Will Not Remove Article
," and here is how he sets the scene:
Is the Judge lawful and correct, or is he abusing the very Constitution he was sworn to uphold?


A "civil' lawsuit has had a Shelby County man in the Shelby County jail since October 23, 2013. The lawsuit filed by FORMER ALABAMA GOVERNOR/NOW LOBBYIST BOB RILEY'S SON Rob Riley ( Attorney ) against Roger Shuler of Shelby County.
Shuler operated The Legal Schnauzer web site. Shuler wrote articles against Riley and Attorney General Luther Strange and made accusations they were having extra marital affairs. Riley and the female who was alleged to be seeing Strange filed civil lawsuits against Shuler.
Shuler was arrested on October 23, 2013 by Shelby County Sheriff Deputies. Shuler was arrested for Resisting Arrest and two counts of contempt of court. Shuler had a $ 1,000 bond on the Resisting Arrest and two no bonds on the "civil' contempt of court.
CALL TO SHELBY COUNTY JAIL


Today I called the Shelby County Jail. The person who answered said Shuler has two no bonds. My question was how long could Shuler be held on civil contempt. The person said " hold as long as the Judge wants to."
The "Judge," of course, was Claud Neilson, and Stokes was not afraid to call and put him on the spot. Stokes misspelled my name several times in the post, and I cleaned that up in the excerpt above. But, by God, Rickey Stokes proves he is a bulldog of a reporter, and he's got a "pair" -- which is more than can be said for most mainstream media (MSM) types in Alabama.
Stokes shows that he's tough enough to put a hard question to a state judge, and he's smart enough not to fall for the judge's shameless answer. In fact, Stokes is not afraid to use some colorful language to describe Neilson's action -- and believe you me, I appreciate it.
(To be continued)