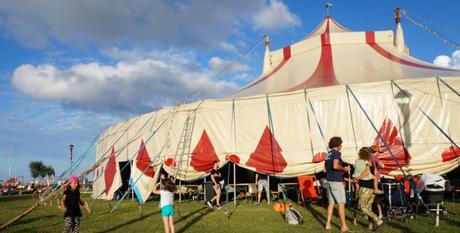 I can't deny that it is easier for my husband and I to do certain things with our son in tow..... he's an only child after all So, I'm always on the lookout for larger families at the events I go to, just to prove that you really can enjoy Italy and explore this country as a larger family. It was at the AL MENI event in beautiful Rimini on the Adriatic Coast in Emilia Romagna that I met this stylish family with three kids!
The mom was totally chic in her wedge heeled espadrilles paired with a soft structured blazer. Their three kids were all impeccably dressed and her husband had pretty good style as well if I do say so myself! We met in the lineup for the fried seafood stuffed paper cones and grilled shrimp skewers and talked about what a great time we were having at Al Menì, the gastronomy event of the year! You see, this is one gourmet experience open to the WHOLE family.
Al Menì - Gourmet Dining & Italian Excellence under the Big Top
What if I told you that you and your husband could go out for a 5 star gourmet dinner cooked by some of the World's top up and coming chefs and you didn't need to hire a baby sitter?
What if I told you every gourmet dish was only 5 euro and with 25 euro a person you would be stuffed (including wine)!
What if I told you this event was in a MASSIVE circus tent, right on the beach, surrounded by one of Italy's most beautiful ancient Roman cities?
Would you believe me?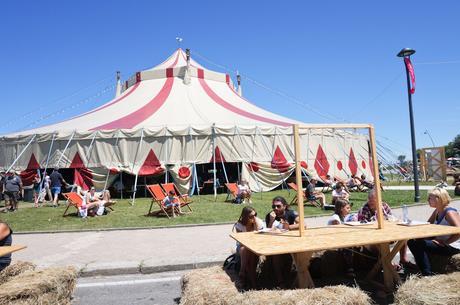 Well that is EXATLY the type of experience you can have at Al Menì, which is dialect for - "The Hands", referring to things MADE BY HAND from food to artisan goods. This event is organized in conjunction with the city of Rimini and is the brain child of some of Italy's most important gastronomy movers and shakers; Gigi Piumatti, co-founder of the Slow Food Association, Oscar Farinetti, Founder of the Eataly Grocery Store and of course Massimo Bottura, the nobel prize winning Chef, who's restaurant La Francescana is N°2 in the entire world!
Al Menì is an INCLUSIVE celebration of the excellence found in Italy, specifically Emilia Romagna and a platform for everyday people to inform themselves on what is happening in the World's best restaurants. Perhaps you've heard of chefs Luca Marchini, Vladimir Muhin, Junya Yamasaki or Sven Wassmer in an article in the New Yorker or from a gourmet food blog but you've never thought you'd be able to taste their cooking....well this is your chance!
I want to share how this event works, what you can do and also the best way to plan your stay as a family....even a large family! I'll also get into what to wear, since let's be honest, that is the best part of going anywhere in Italy!
How to Make the most of Al Menì
One of the things that might be a little difficult for tourists to figure out is exactly HOW the Al Menì event works. The main tent referred to at the '8 and a half Circus' is the epicenter of all programming and demonstrations. The tent houses the show cooking events, tastings and presentations as well as the ticket booth to buy your gourmet meals. There is also the Slow Food Association booth where you can become a member (incidentally we got a family membership at the event and my mind is literally being blown each time I read one of their books!). Outside of the tent you'll find the farmers market, street food vendors and artisan fair.
Street Food & Farmer's Market
The gourmet meals are not the ONLY food option available at Al Menì, you'll find lots of yummy street food like piadinas (similar to a flat bread panino or wrap), fried fish, panini and even hamburgers outside at the the street food fair. In fact we opted to make sure our son had already eaten something kid friendly and yummy so that my husband and I were able to fully enjoy our gourmet dining experience in the tent.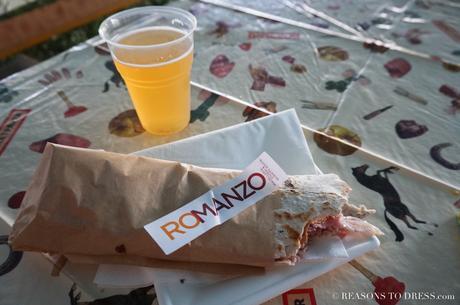 You can also buy directly from the farmers market. All of the producers were selected because they represent excellence and many are Presidium of the Slow Food Association! You'll find delicious fresh fruit, a very special Parmigiano Reggiano made with the milk for the Vacca Bianca Modenese (I've written about that here), and other traditional products that you can enjoy on the spot.
In any event I recommend a walk along the farmers market because the view of Rimini's panoramic Ferris Wheel in front and long boardwalk and beach to your right is absolutely spectacular!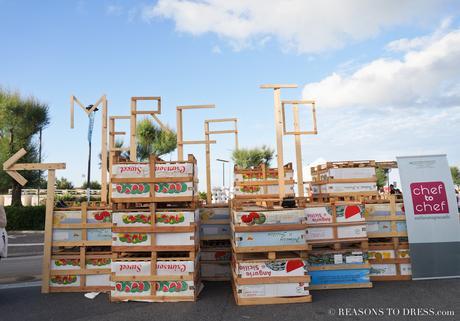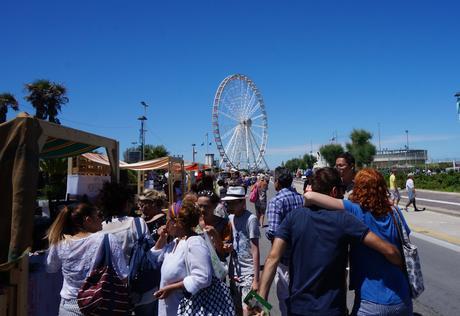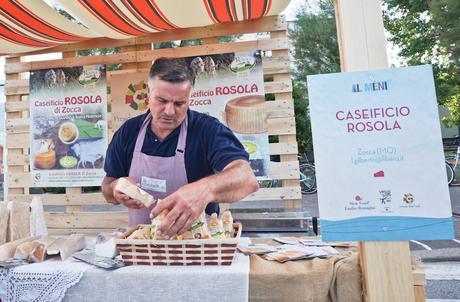 Show Cooking and Gourmet Meals at 5 Euro Each!
Once in the main tent you'll want to go to the cash register "cassa" and buy "coupons" that cost 5 euro each. Each coupon is good for ONE dish at the show cooking demonstrations. These dishes are created by one of the World's up and coming chefs making waves in the gastronomy ocean.
The gourmet dishes can be bought by waiting in line at the SHOW COOKING events, the sessions are offered at lunch and dinner. At lunch there are 2 sessions with 2 chefs per session (so with 20 euro, you taste 4 dishes by four different chefs). At dinner there are 4 sessions with 2 chefs each, which means 8 dishes are served between the hours of 7 pm and 11 pm (Italian dinner hours!!) and you can pick and choose how many dishes to eat and what to spend per person.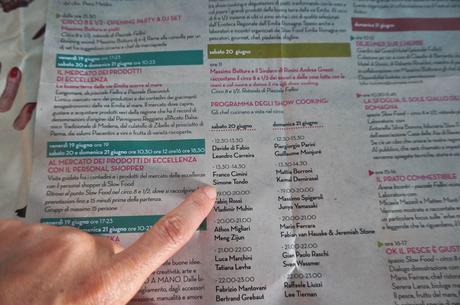 Even though the events are called "Show Cooking" there really wasn't a "show" as much as there was just the serving of the dishes prepared by the chefs in mass quantities to ensure everyone had a nice sized helping! These SAME dishes would have a heafty price tag attached to them if they were to be consumed in their Michelin starred establishments, but here in the "8 and a half Circus" they can be enjoyed in a very relaxed and open environment, complete with hay stacks, picnic tables, paper plates, plastic cutlery, good company and good laughs!
There were families EVERYWHERE, and although not all the gourmet meals were kid friendly many of them where. My son really loved the lasagna and also a glam bowl!
Matrioška Labstore - The Artisan Fair
I love the fact that Al Menì combined many things made by hand both food and artisan handicraft. It is impossible not to find something you love at the Matrioska market featuring fashion, furniture and one of a kind designer objects.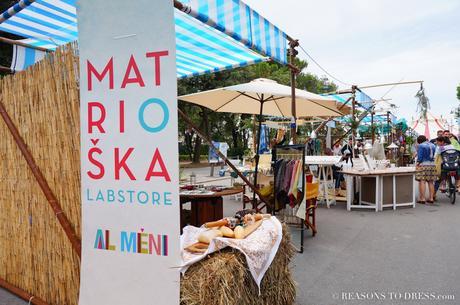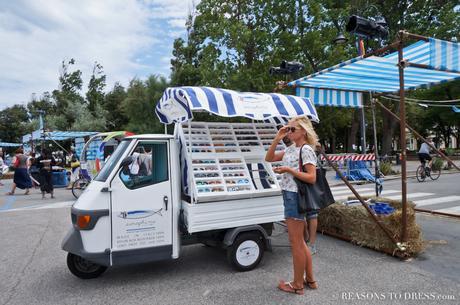 For The Kids
So here's the special thing about Italy and cities like Rimini. They are such hotbeds of Italian tourism in the summer that the historic city centre has incorporated many activities and public spaces for families to ensure they feel as welcome as possible. This event is located right on the beach boardwalk, so you could easily spend your morning at the beach, then come in the big top for a gourmet lunch (in your bathing suit!!) and then head back to the beach after lunch.
It is such a casual experience that there is no need to get too fancy ....unless of course you want to in the evening. Personally I love what my profiled stylish family was wearing in the evening. They looked great and were put together, however, they were also comfortable and functional. This event is held in JUNE and I can tell you that it was a little chilly that night!! I'm not kidding! The wind was blowing and I was happy to have a sweater and a scarf present, that that could just be me becoming too Italian.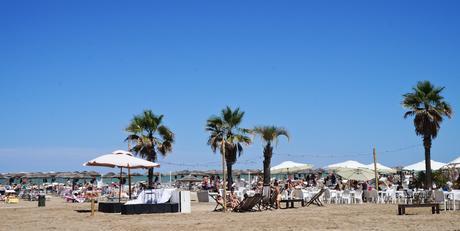 If you notice that your kids are getting antsy and really need to play, take a walk along the Farmer's market towards the Ferris Wheel. On your LEFT you will notice a MASSIVE outdoor play space with trampolines, go-carts, an arcade and everything their little hearts desire. Just be aware that these places have very Italian opening hours and will most likely be open in the late afternoon after 4 pm until around midnight. I wrote about how Italian Kids Stay up Late - here!!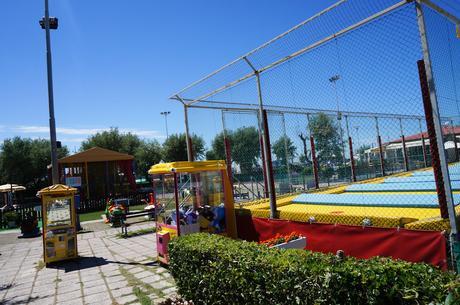 INFO
Tomorrow I will be sharing with you one of my ABSOLUTE FAVORITE events during Al Menì Food Festival and what I wore. If you're thinking of going to Al Menì in 2016 here is all the info you need to organize your trip, or leave me a comment and I'll try to help you out!
This article was written with the help of the Emilia Romagna Tourism board, I'm proud to be collaborating with them to feature some of the fantastic family friendly events in the area, and I'll do my best to translate and share real and valuable info for anyone looking to plan a trip!
WEBSITE: http://www.almeni.it/2015/index.php
tel. 0541 53399 [email protected] FACEBOOK TWITTER LOCATED AT THE "Parco Federico Fellini" - the Federico Fellini Park in Rimini, Italy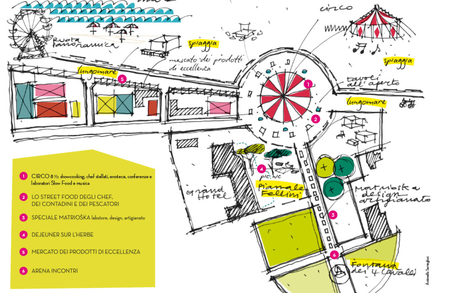 Now onto YOUR style...
#REASONSTODRESS Real Mom Street Style Linkup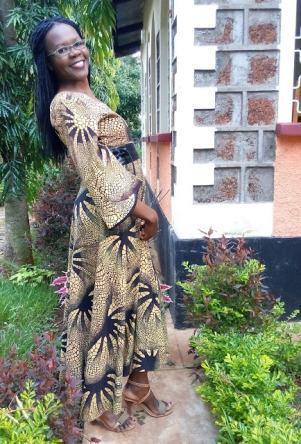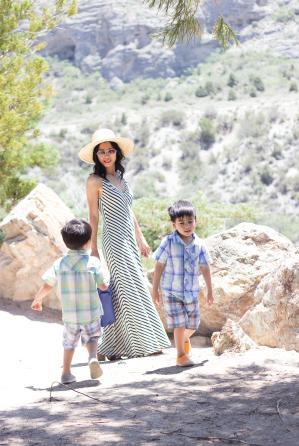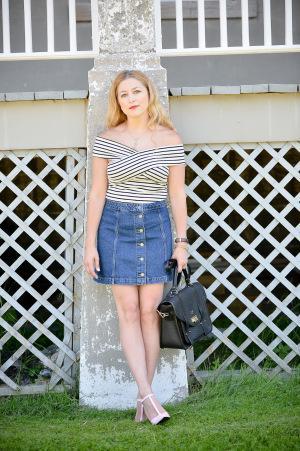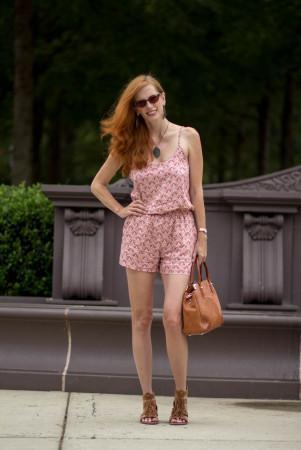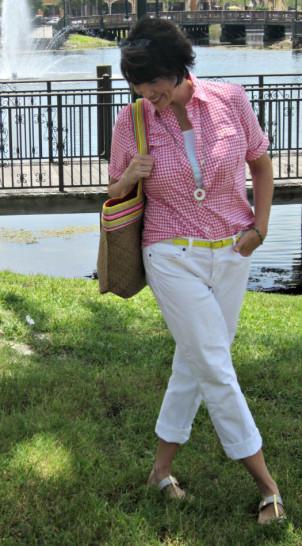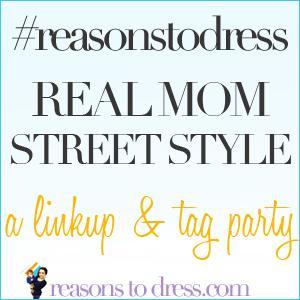 Feel free to follow Reasons to Dress on Bloglovin' so you never miss a post!
You'll get one email a day with all the new posts from all of the blogs you follow.