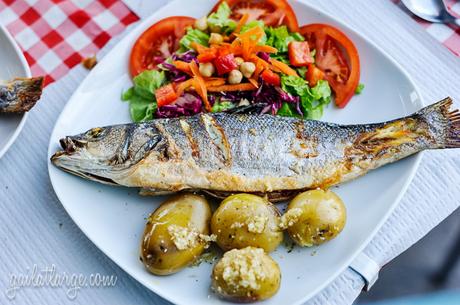 robalo (sea bass)
One of my favourite things about living in Portugal is al fresco dining, which I can do every month of the year here. There's the added bonus of being able to bring my dog with me (dogs are not allowed inside restaurants or cafés in Portugal).
This was lunch on Tuesday at Micha o Bar along the riverfront in Gaia. I usually avoid waterfront places but Micha is an exception — consistently delicious food, great service, non-touristy prices (these dishes were €8.50). Their smashed potatoes with garlic is worth the walk over the bridge!
See also: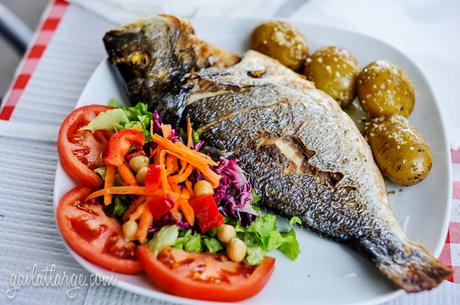 dourada (sea bream)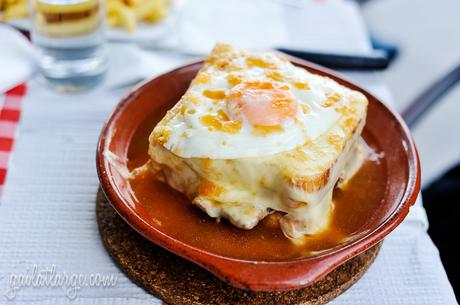 francesinha, Porto's mega-sandwich
January 26, 2016
Album: Portugal [Winter 2015/2016]
Possibly related posts:
Francesinha Festival, Porto I've mentioned the francesinha before, with photos, the first time I ate one in June 2011. I also had a huge one in May, but only took phone pics. What...
What's For Lunch, Porto? When Paulo and I had lunch in Porto last Saturday, I took a picture of this sign to give blog readers an idea of what the people of Porto consume for...
Winter Beach Lunch Yesterday was such a beautiful winter day that we had lunch on the beach, indulging my abiding love for al fresco dining. Portugal is one of those countries where eating...
Portuguese Kitchen, The Restaurant Week Edition I'm posting photos of my latest adventures in the Porto food scene, because today was a double-header! Behold, above: the bifana, Portugal's national sandwich, and not your average sandwich, either....
Portuguese Kitchen: Chuchu and Robalo Chuchu is a well-known vegetable in many countries under a lot of different names, but I'm guessing chayote will sound more familiar. Where my father is from in the Philippines,...