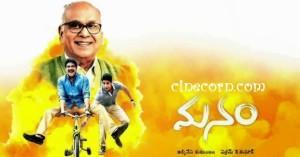 BUY NOW! Atharintiki Daredi Official Merchandise

@CelebOutfit
Enjoy reading cinecorn.com on your Smartphones. Download the FREE App right now.

Android App

/

iOS App
Story:
Twin reincarnations lead to birth of two couples twice who are identified by their respective sons. How the sons and the reincarnated couples are related one another might seem complicated to read but is very and effectively narrated and that makes the story of Manam.
Performances:
The three Akkineni's along with Samantha and Shreya are the major actors of the film. Akkineni Nagarjuna has the meatiest of the roles among the three. He delivers a fine balanced performance through and holds the attention of the audience. Naga Chaitanya is given a simple but easily relatable roles. He makes best use of his newfound confidence from Thadaka and once again shines. Finally the 'legend' shows why he is a legend after all through his brief act where he outshines everyone else. Together the three Akkineni's show a chemistry that is very rarely seen in cinemas these days and that is one of the major highlights of the film.
Samantha too gets a meaty role in this male dominated film. Most of her scenes are with Nagarjuna and together they too exhibit a great chemistry which is another highlight of the film.
Shreya in comparison has smaller role but Sven she gets few scenes to make her presence felt. She is shown as a perfect pair with Nagarjuna and they do make that effect come across on screen.
Comedians like Brahmanndam, Ali, Posani and MS Narayana are present but they don't drive the film with their comedy nor are they really essential to the basic plot of the film. They are just present as valuable extras that makes the audience familiar with faces onscreen.
Positives:
Story
Uncomplicated narration of a complicated story
Music and BGM
Casting
Negatives:
Slightly drags in second half
Analysis:

Director Vikram K Kumar has taken a complicated plot and narrated it in a very simple and yet effective way and for this he deserves great credit. Because this story could very well have gone way above our head making us deemed unintelligent for not getting it in the hands of an incapable hands or had it not be visualized properly.
Apart from that narrative simplicity the film is filled with small beautiful moments throughout that gives us a feeling that we get immediately after it rains. A fresh unseen before kind of story unfolds with entertainment that is brand new. This fresh entertainment coupled with the presence of all the Akkineni's together give the film its ultimate USP. Some of the moments captured between Nagarjuna and Chaitanya and the few scenes involving all three together are simply awesome.
It takes time to sink in to the story initially but once its done the flow is smooth without any dull moments. At points in first half it does feel that that the scenes don't really add anything to the overall narrative and are used just for the sake of convenience kind of way. The second intermittently feels dragged because of the repetitive nature of the screenplay. However a neatly executed climax more than makes for it. In the end its very enjoyable fare that could be watched once pretty easily.
All the technical departments too have come up with a splendid job be it the music director or the cinematographer or the editor. They all have done good job.
Bottom Line: An Akkineni Treat
Rating: 4.25/5