Although air travel was more than a bit turbulent on today's descent into Jamaica's Donald Sangster Airport, the "super-inclusive" hospitality offered by Caribbean Airlines made up for any discomfort.
Most airlines tack on fees for baggage and throw you a bag of peanuts but Air Jamaica offers fliers two bags of luggage checked-in for free (a treat if you want to bring your golf clubs with you to Breezes Runaway Bay). I was also surprised to receive a hot, tasty sandwich with two snacks. The online web portal check-in, available within three to twenty-four hours of my Jamaica escape, offered a short wait on the "special" line.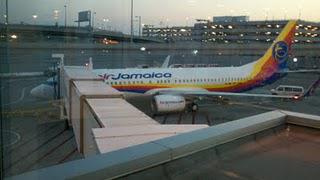 Air Jamaica, which just merged with Caribbean Airlines, calls their attentiveness "lovebird service", I considered it refreshing!
Once the flight arrived safely in Jamaica, customs validated my passport and then it was a short walk to the Breezes Runaway Bay lounge located inside the airport terminal. Travelers were greeted and quickly checked-in then shuttled off to the lavish twenty-two acre resort for super-inclusive service.
My super-inclusive Jamaica vacation began with a delicious buffet lunch at the al fresco Beach Terrace restaurant. Stations offering a variety of food from grilled shrimp and pasta (my choice) to tacos (and tempting desserts like warm chocolate bread pudding) had me going back for seconds.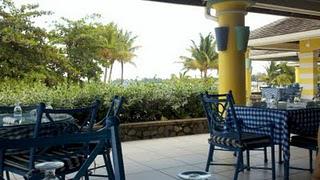 Breezes Runaway Bay Jamaica


You would think that the soft-sand beach is the main attraction at Breezes Runaway Bay but it is the people who work here and greet you with "Welcome home" that are the stars of this Resort.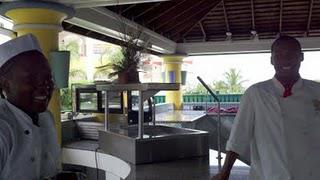 Friendly service at Breezes Runaway Bay Beach Buffet
Tomorrow, my Jamaica golf vacation kicks off with a video golf lesson and a round to be played at SuperClubs Golf Club. The fact sheet on this par 72 eighteen-hole championship golf course says that a few of its strengths are large flat greens protected by grassy mounds and sand bunkers. Add wind gusts of up to thirty-five mph and you can see why the SuperClubs Golf Club has hosted the Ryder Cup match between the UK and the West Indies, among other professional events.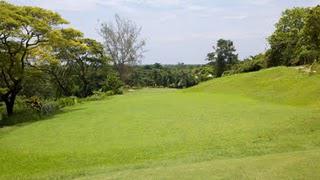 View from the fairway: SuperClubs Golf Club
Voice your opinion: Golf4Beginners on Twitter
More Jamaica Breezes Runaway pictures on Facebook