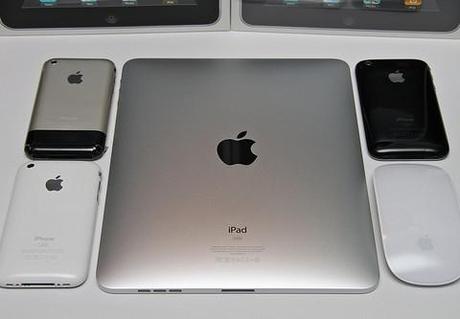 An Apple state of mind? Photo credit: Yutaka Tsutano http://www.flickr.com/photos/ivyfield/4486938191/
The wait is almost over. Apple is widely expected to unveil the new iPad at a scheduled event on Wednesday – and anticipation is such that there may well be riots if no device is forthcoming. So what can Apple fans expect from the iPad 3?
The name. Speculation is mounting that the iPad 3 will in fact be called the iPad HD. John McCann reported for Techradar that there are now several different iPad HD reports, starting with "leaked product listings from case manufacturers" and unnamed sources. According to McCann, the name could be highly significant: "If the iPad HD reports are true we could have another iPhone 5 / iPhone 4S anti-climax, with Apple releasing a halfway-house iPad to fit snugly in between the iPad 2 and iPad 3."
The display. The technorati is convinced that the new iPad will include a super-sharp retina display. At Mashable, Peter Pachal predicted "a pixel count of 2,048 x 1,536 — a truly amazing spec for a tablet". But Pachal questioned whether such a high pixel count is actually necessary: "Rendering that many pixels — 3,145,728 of them, in fact — puts more strain in the processor, the backlight and the battery. It also puts pressure on Apple's display manufacturing partner to produce quality screens in the volumes that Apple demands." So why has Apple  ramped up the pixels? "Simple answer: marketing," said Pachal.
The price. Contrary to rumours of an iPad 3 price hike, "we've gotten word that iPad pricing is going to be the same across the board as the current iPad 2 models", wrote Mark Gurman at 9to5Mac. "Even better, some countries with currencies doing better than the US dollar should expect to see marginal drops in prices."
The TV. Apple is expected to launch a set-top Apple TV along with the new iPad, reported Tom Davenport for CNET, and this raises some interesting prospects. "This is pure gut instinct, but we're hoping for a vastly improved version of iOS for the current Apple TV, where the iPad (or even iPhone) acts as a futuristic remote control," said Davenport. If so, "channels could appear as individual apps, which could open the door for people at home to start their own channels, just like the app store let anyone with a Mac become a game developer".
The design. Suggestions that Apple are planning a mini-iPad are wide of the mark, wrote Kyle Wagner at Gizmodo: "The one thing that's almost certainly not changing about the iPad is its overall look. Apple's had wild success with the size and shape, and there's no reason to rock the boat now." According to Wagner, it's possible that the new iPad will be slightly thicker and may not have a "home" button.
Still speculating? Take a look at Aatma Studio's iPad 3 concept video.