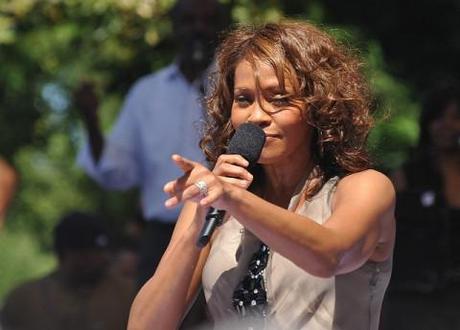 Whitney Houston. Photo credit: asterix611, http://flic.kr/p/6UPq2t
Whitney Houston, the soulful-voiced singer whose death on February 11 came after years of drug-fueled decline, will be remembered at a funeral service on Saturday, February 18 that's expected to draw stars from music and film.
Fans are being warned to stay home – no one without an invitation will be allowed into the New Hope Baptist Church in Newark, New Jersey, where the funeral is to take place, and the area around the church will be cordoned off. But never fear: The service will be aired live on US television, after the Houston family agreed to have a single camera set up in the church.
In the mean time, Houston's ex-husband and the man who allegedly introduced her to a whole galaxy of illegal drugs, R&B performer Bobby Brown remembered Houston during a recent performance. Said Brown, on stage, "I'd like to say thank you for your prayers, I'd like to say thank you…. Life is life. You have to move on sometimes… My name is Bad Ass Bobby Brown."
More on celebrity deaths

Music industry and fans mourn death of Whitney Houston
Notable passings of 2011
Amy Winehouse died from alcohol, not drugs
Jackson trial: Doctor guilty