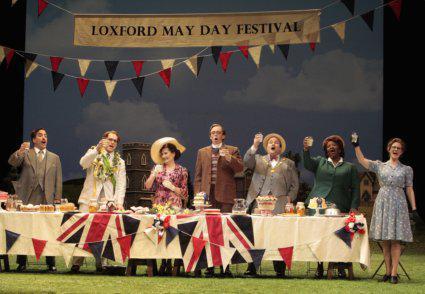 Trifle in a big bowl! The happy diners of Albert Herring
I've been asked often enough for recommendations of dining establishments to visit before or after an evening at the Metropolitan Opera that I really don't know why it's taken me this long to put together a post on it. You should know, in surveying it, that I'm a happily omnivorous graduate student, frequently facing the prospect of killing two hours between the distribution of rush tickets and the raising of the chandeliers. Hence, I'm likely to pass over a number of choices that might seem obvious to more affluent gourmets, or visitors in the mood for a treat, in favor of more modest Hell's Kitchen spots. With this caveat, then, Gentle Readers: here are a few of the restaurants I happily patronize on the nights I don't take a picnic in my pocket.
Italian Warhorses
(special caveat: this is an incomplete list in several ways. I happen to live in a neighborhood where I can get excellent Italian on the cheap, so my knowledge of these restaurants is small, and my praise commensurately reserved.)
Terrazza Toscana
: here the lighting is soft and the wine list good. The ingredients are good, and there are a number of vegetarian options.
Puttanesca: This place is a little more modern in feel than the Terrazza, with standard recipes spiced up in the details. 
Fiorello's
: The Beloved Flatmate and I stumbled in here after
this Tosca performance
. That I remember very little about it is doubtless attributable to my emotional state at the time; the pasta was warm and comforting.
Vive la France
Just opposite the Met is a stable of establishments run by Daniel Boulud. Bar Boulud is sleek and romantically lit and not really for graduate student budgets, but its menu is tantalizing and its desserts downright thrilling. The Epicerie Boulud is a very welcome addition: its location makes sprinting across the street in time for the curtain a stress-free prospect, and its menu options are both exciting and affordable. The pre-made sandwiches, hot and cold, are tasty (the sausage merguez is a favorite) but choosing generous slices of pate and pointing to crusty breads is even more fun. If you're feeling extravagant, you could get a tiny slice of opera cake to take along for an interval treat.
Chez Napoleon
: The presence of this family-run establishment, on 50
th
St. just off 9
th
Avenue, is betrayed by a battered sign with the emperor's iconic hat on it. A reservation might be advisable if you have your heart set on vichyssoise. I don't think it's impossible to go wrong with this menu (and the prix fixe is good) but the vichyssoise stands out.
Landmarc
: French-American may seem like an odd, if not a sacrilegious hyphenated cuisine, but here it actually works. The salads are excellent, the steak good, and the caramels that arrive with the check addictive.
Seville and beyond
Café Ronda
: the Beloved Flatmate and I have found that going to see any opera set in Seville makes a good excuse to visit this 
tapas
restaurant on 72
nd
and Columbus. The food is excellent, and the small plates make it easy to accommodate different tastes (or food allergies, or vegetarians) in a large party. The fried artichokes and the lamb meatballs are special favorites, as are the hot salted peppers. The wine list is impressive, but the pitchers of sangria ought not to be neglected. The modestly titled "platito para empezar" is lovely if you're waiting for friends, or feel like finishing off an evening with a little something: who could pass up almonds, manchego cheese, and quince jelly? The sherry (
manzanilla
) makes it easy to follow Carmen's example.
Jalapeno: even though
Forza del Destino
hasn't been done in a while, you might pay homage to the cuisine of Alvaro's ancestral homeland at this Mexican place that offers a variety of delights, from creatively filled burritos to the more indulgent (and genuinely enormous) crispy pork shank. One is invariably started off with a large paper cone full of fresh tortilla chips and a choice of salsas; I recommend starting with a glass of the house-made sangria (gratifyingly potent, as well as delicious) as well.
Rice and Beans: It's a mystery to me how a Brazilian restaurant scarcely six feet wide (or so it seems) can accommodate so many eager diners, breathless waiters, and giant platters full of meat. It's never failed me yet, however, and the platters of meat, as well as the large plates of rice and beans themselves, are delicious. Also worth sampling are the fried plantains. It's on 9th Avenue just above 50th.
Basera Bistro
: I'm extremely fond of this Indian place, which is to be found almost directly opposite Rice and Beans. It was the Beloved Flatmate's discovery, shortly after it opened: after exiting our first live Götterdämmerung, we couldn't quite decide whether we ought to immolate ourselves or find bodily sustenance. The latter choice proved well justified: Basera's curries and saags and paneers and tandooris are not only delicious, but served in generous portions. Though the main dishes are more than satisfying (even by the standards of half-famished Wagnerites) a chance to order a side of naan should not be passed up. The raita is lovely, too.
Greek Kitchen
: whether you think of it as a Callas homage, or just have a thing for stuffed grape leaves, this Greek restaurant is a good spot. I'm assured that the gyros are excellent, but I've never been able to tear myself away from the shish kabobs. Here too the platters are generously sized, good for fortification after hours of walking around the city or before hours (and hours) of Wagner.
Q2 Thai
: there are many options for obtaining Thai food along 9
th
Avenue; I happen to like this one. Their green curry is properly hot, and their coconut soup hearty enough for a meal.
What do you eat near Carnegie Hall?
Burger Joint: Yes, really, the place's name is "Burger Joint." Walk boldly into the gleaming lobby of the Parker Meridien. Without gawping at the walls of mirrors or rows of uniformed staff, bear left as you pass the reception desk. Behind a heavy brown curtain you will find what you seek: a small, noisy, cash-only place that seems to have survived from the days of the Marilyn and Elvis posters on the walls. Lines can stretch out the door, and obtaining a table can be a competitive sport. As you might expect, the burgers are excellent; split an order of fries with a friend.
Topaz Thai: Another Thai place? Another Thai place. It's dark and romantic but single and just-friends diners are also accepted. The curries are excellent, and there are vegetarian choices.
Mysterious Ramen Place: I don't actually know the name of this restaurant, as I can't read Japanese. Fortunately, the menu has English descriptions of the giant bowls of ramen soup, which are amazing. It's just east of 6
th
Avenue, on 56
th
street. If you reach a second-floor Indian restaurant you've gone (just) too far.
Brasserie Cognac: the Beloved Flatmate and I dined here once, courtesy of Carnegie Hall. The cheesy rolls alone would have made it a worthwhile experience, to my mind, but the rest of the prix fixe was good as well. The cognac menu is a thing of beauty.
If you have any recommendations of your own, Gentle Readers, please do share them! As a coda of sorts, I'd be remiss if I didn't tell you that you can actually go to
Valhalla
, even without a rainbow bridge.