Last month my mother-in-law was in London for her birthday. She was visiting from Provence with her mother and her sister.She has been through a lot recently and we wanted to make sure that she had a very special time while she was here. She kept referring to the fact that she wanted to experience something "typically English". Well, I thought, what could be more appealing than an Afternoon tea at the Rose Lounge, in the Sofitel London St James?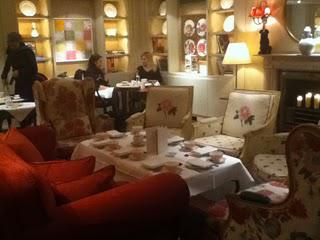 Inside the Rose Lounge
Situated along from Trafalgar Square and down from Piccadilly Circus, the hotel sits in all its splendour in Waterloo Place. The hotel also plays host to the fabulous Roux Brasserie,
So Spa
(winner of 2011 Conde Nast Traveller readers' spa award) and the St. James Bar all of which are worthy of separate visits to the hotel!
The Rose Lounge itself appeals very much to the feminine market. It is decorated beautifully with warm and uplifting cream and pink colours, there are rose patterns on the sofas, soft lighting, bookcases filled with rose patterned plates, and an open fireplace dressed with lit candles.
The ambience is cosy and calming. A harpist sits in the corner of the room, playing her music gently and with the subtle scent of roses wafting across the room, you are immediately put at ease. It is all so pleasant!
I thought this would be a perfect venue for the French side of my family as the staff are French speaking so the language barrier did not even pose a problem.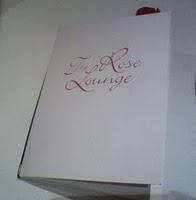 Afternoon Tea Menu
After receiving a warm welcome, we are seated and presented with the Rose Lounge Afternoon Tea Menu and our waitress takes the time to walk us through the different options and the selections of tea available.Each table is decorated with pink dainty tea cups and velvety rose petals.The menu cites ;"Le Tea en Rose - An afternoon tea with a French touch".And this couldn't be more true!
For £24.50 per person, it includes:
Your choice of Jing Tea

Finger sandwiches

Freshly baked, homemade scones

Parisiennes Pastries
For an additional £5 
this can be accompanied by a Rose and Lichi Champagne Cocktail.
The menu itself is lengthy and you can choose from a diverse variety of White, Green, Black, Rose & Collection teas as well as Herbal infusions.

Harpist playing
in Rose Lounge
For the table of 5, we choose a wide selection; Jasmine Pearl, Vanilla Black Tea, Lychee Red Black Tea and Whole Peppermint Leaf infusion.In the distance you can also hear the soft piano tunes and gentle laughter coming from the lobby and the bar reinforcing the fact that everyone in the environs are having an enjoyable time.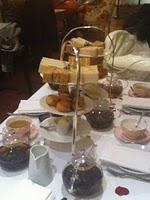 Sandwiches and scones
The finger sandwiches come in white and brown bread and have the fillings of egg mayonnaise and watercress, smoked salmon, ham and mustard and cucumber and cream cheese. Tasty as they are, the amount is fairly generous; about 4-5 sandwiches per person.The scones are delicious; coming in equal quantities of plain and those baked with currants. They are golden and crusty on the outside, warm and fluffy on the inside and you have the option of raspberry jam or lemon curd and Devonshire clotted cream to accompany them. Ah! Rose Lounge heaven!We are rapidly becoming full but there are a few still remaining on the cake stand and it would be such a shame to waste them. Our very attentive waitress, packs a little box for us so that we can have them for "petit dejeuner" the next morning. How fantastic!As we enjoy our second round of tea (teapots are topped up), having chosen Vanilla, I find the flavour and scent more intense and I am enjoying it even more. I am so relaxed, I could just nod off for a few minutes!However, it is not long before the waitress comes along with another plate laiden with "goodies" and a sparkly candle indicating that a birthday girl is in our midst.

Happy Birthday surprise
The plate plays hosts to an array of French delicacies from a tarte aux framboises, to a chocolate and caramel shortcrust cake. I thought the "Happy Birthday" message written in chocolate was also a nice touch!The French side of the family were pleasantly surprised and impressed and they agreed that they had indeed sampled something "typically English" (albeit with some French touches!) and I know it won't be too long before I make a return visit .
I would highly recommend a visit to the Rose Lounge especially if you are entertaining female friends and family.
Furthermore, as we approach
Mothering Sunday
on 3 April2011, a trip to the Rose Lounge could be the perfect gift.
Afternoon tea is served daily between 2.30 and 5.30pmFor further information visit:http://www.brasserieroux.com/roselounge/roselounge.shtm
Tell them MeLikeyUK sent you!
Enjoy x