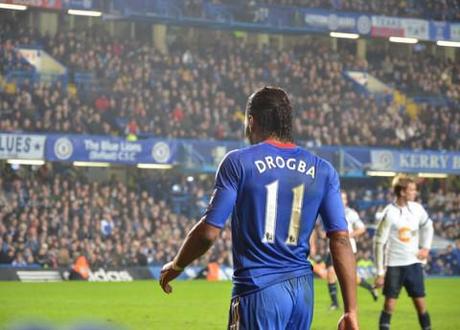 Chelsea's Champions' League hero Didier Drogba. Photo credit: Ben Sutherland http://flic.kr/p/95NYfw
The background
Chelsea's gutsy come-from-behind UEFA Champions' League win against Bayern Munich is rightly regarded as the west London's club's finest achievement in its history. But the club's disappointing sixth-place finish in the Barclays' Premier League means the sports commentariat's focus has already turned to what Chelsea must do to build on their stunning cup success and create a dynasty. Here's the pick of the advice for Russian owner Roman Abramovich, the oligarch who has pumped more than £1 billion into Chelsea during his nine-year pursuit of footballing glory.
Di Matteo could have done no more to earn the full-time job
Writing at The Independent, James Lawton argued that, other than "fighting back into the top four" of the Premiership, interim manager Roberto Di Matteo had "nailed his targets." Lawton said that "if any manager on earth was asked to gather together a body of work and stand by it for the rest of his professional life it is hard to imagine a more substantial monument than the one Di Matteo has built for himself since being handed his doomsday assignment" in the wake of Chelsea's 3-1 thrashing at Naples in the first leg of the round of 16. Lawton highlighted the qualities Di Matteo has bought to the job: "It is a professional instinct to work with his players right up to that point where they might give him reason to withdraw an implicit respect for all that they had achieved in the game. It is a palpable desire to make sure they face their challenges in a way that makes them most comfortable in their own skin."
Fans want Di Matteo but they won't necessarily get him
Writing at The Guardian Sport Blog, Richard Williams insisted that if the Chelsea fans "had a vote, they would give him the job today. At least for a season, to see if he could build on the miracle of Munich." Williams reminded that it was Di Matteo who "picked them up" from "their lowest ebb in terms of results and morale since Abramovich bought the club … in 2003, and who … somehow freed a bunch of sulking players to rediscover their better selves. However large the win bonus and the severance cheque, it would be harsh to send him packing in his hour of unexpected triumph." However, Williams reminded that Abramovich "did not amass his fortune and his power by giving way to sentimental urges" and might feel that Di Matteo's one season and promotion from the third to the second tier of English football with MK Dons, followed by a spell with West Bromwich Albion that came to an unhappy conclusion halfway through the second year, "do not represent a managerial curriculum vitae substantial enough to entitle its owner to be entrusted with the work that must follow Saturday night's outpouring of joy and relief."
Will Abramovich ever be content?
"Roman Abramovich itch may yet need more scratching," predicted Matt Dickenson of The Times, who wrote "would it not be typical of the Russian if his reaction was to demand, to borrow the old Brian Clough phrase, that they now win it better. Or else." "Abramovich should have learnt by now that it is hard enough to win trophies without chasing a moving goal of artistic football, especially when he keeps meddling with the formula," insisted Dickenson, but noted that, "there are plenty at the club who expect him to step up his combination of money and interference as he strives for his footballing Xanadu."
Abramovich wants more – a fantasy football dynasty
"Mission accomplished. Job done. What now?" wondered Wayne Veysey at Goal.com, who reported that Abramovich "is in it for the long haul and can assume, therefore, that the first European Cup in Chelsea's history will be regarded as a glorious springboard, rather than the finishing line." "Having tasted the champagne of elite success, Abramovich will not want to lower his standards and settle for sparkling wine," argued Veysey, who said the Russian "will surely demand a dynasty, the kind that will provide an even more substantial payout from his investment … Abramovich's search for fantasy football goes on.  The expectation will be of a far more eye-catching brand of football than we have seen from his team in the final rounds of this season's Champions League. Winning is wonderful. But winning in style? Now that would be another dream come true."