Healthcare is an absolute necessity for human beings. People are getting more and more conscious about their health to lead a good life. Neglecting one's health could be fatal and may give rise to serious illness. Fortunately, there have been some major developments in the field of healthcare in past decade and people are getting access to better healthcare facilities within their reach. More than 70% population in India lives in villages where the economic condition is poor, hence, despite of available healthcare facilities in private hospitals, most people cannot avail them due to high cost. Apart from private hospitals, there are many government hospitals in Kolkata which are equally efficient and well equipped with modern facilities. Some of these hospitals are more than 100 years old and have been serving mankind for ages. The facilities provided by these hospitals are affordable by all. Here is a list of the best government hospitals in Kolkata, have a look:
1. Nil Ratan Sircar (NRS) Medical College and Hospital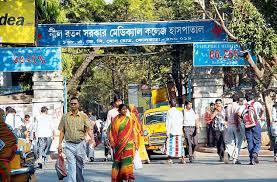 Address: Raja Bazar, Kolkata, West Bengal 700014
Founded: 1873
Phone : 033 2265 3215/ 3214/3216.
This is one of the oldest hospital in Kolkata  serving mankind for 142 years. This hospitals have some of the best doctors in Kolkata who are serving more than thousand patients daily, The hospital has more than 1000 beds with 12 beds for ICCU and 4 beds for surgical ICU. The hospital also provides services like blood bank,padeatric department, payclinic, newborn care unit which works 24×7. NRS hospitals have 17 operation theatres for different purposes like neurosurgery, orthopedic and eye operation.
2. (Radha Gobindo) R.G. Kar Medical College and Hospital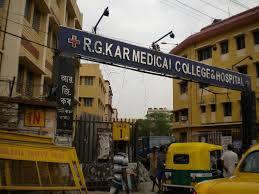 Address: 1, Kshudiram Bose Sarani,, Kolkata, West Bengal 700002
Founded: 1916
Phone: 033 2555 7656
 R.G. Kar hospital has more than 50 different departments including Anesthesiology, Anatomy, Biochemistry, Cardiology, Centre for Community Medicine, College of Nursing, Dermatology & Venereology and Endocrinology with 15 speciality services like Intensive Therapy unitIntensive Coronary Care Unit, Paediatric Intensive Care Unit, Neonatal Intensive Care Unit, Cardiovascular Science, Radiotherapy & Brachytherapy, Cardio thoracic Surgery etc. It also has facilities to conducts tests like blood, body fluid, urine, stool, skin smear and fungus smear. The hospital provides best services in affordable price.
3.Chittaranjan Seva Sadan and Shishu Sadan
Address: 83, S.P. Mukherjee Road, Kolkata-700026
Phone: (033) 2475 4584
This hospital has 164 beds with 8 cabin facility for patients. Located at a convenient place, this hospital is preferred by many due to availability of best doctors and special outdoor multispeciality clinic People of Asembly constituencies like Niali, Kakatpur, Nimapara, Jayadev (Balianta), Cuttack sadar ,Jagatsinghpur also come for treatment and checkups. This is undoubtedly one of the best government hospitals in Kolkata for women and child treatment. Chittaranjan Sevasadan is also a state government recognized Sterilization center.
4.Bidhannagar Goverment Hospital
Address: CD 36,Sector 1, Salt Lake City, Kolkata – 700064
Active Since: 1991
Phone: +(91)-33-23373953
There are 100 beds in this health facility. For residents living in the extended areas of the Bidhannagar township such as Naobhanga, Sukantanagar, and Mahishbatan, this is the best option for an affordable treatment for the common people. Even patients from far places like Bashirhat and Sundarban come here to get affordable treatment  There is an operation theater available in the hospital with 2 air-conditioned VIP rooms.The Bidhannagar Government hospital now has transfusion facilities for Thalassemia patients of the city.
5. SSKM (Seth Sukhlal Karnani Memorial) Medical College and Hospital
Address: Harish Mukherjee Road, Bhowanipore, Kolkata, West Bengal 700020
Established:  1707, reconstructed in 1769
Phone: 033 2223 1615
This is the oldest general hospital in Kolkata and one of the finest heritage of the city. It wa founded during British rule. The SSKm hospital was reconstructed and develop in 1769 to serve more people and accomodate patients who came from the sub-urban areas and villages. Dr. Surendranath Ghosh was the first native Indian doctor to be appointed in PG Hospital. The hospital was the first Post Graduate Medical Institute in Eastern India in 1957 when it came to be known as The Institute of Post Graduate Medical Education & Research (IPGMER) inaugurated by Pandit Jawahar Lal Nehru, the then Prime Minister of India, on 16 January 1957. The medical college is currently affiliated to the West Bengal University of Health Sciences. It is funded and run jointly by the state and central governments of India. It specializes in Anaesthesiology, Anatomy, Biochemistry, Cardiovascular Sciences, Dentistry, Dermatology, Endocrinology, ENT/Oto-Rhino-Laryngology, Forensic Medicine, Gastroenterology, Neurosurgery, Obstetrics & Gynaecology, Ophthalmology, Orthopaedic, Surgery etc.
Images: Google