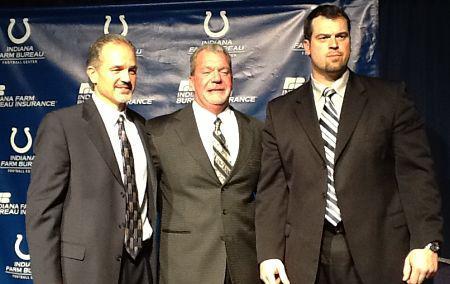 Photo: wibc.com/Ray Steele
- Adam Parker
There's a reunion of sorts going on up in Indy this year, and I'm not talking about Eli Manning heading to play the Super Bowl in brother Peyton's building while the elder Manning watches the game from the luxury box accompanied by a pricey neck masseuse.
No, I'm referring to the Colts' new coaching staff, which is shaping up to be very interesting. It all started last week when Colts' owner Jim Irsay and new general manager Ryan Grigson decided to hire former Baltimore Ravens defensive coordinator to replace the fired Jim Caldwell as head coach.
But the fun didn't stop there.
Apparently, Pagano has so much respect for the coaches of the bitter AFC North rival Pittsburgh Steelers that he decided to hire two of them - former Steelers offensive coordinator Bruce Arians and former Steelers linebacker coach Keith Butler - to be his new offensive and defensive coordinators in Indianapolis, respectively.
But that's not the whole story behind this trio of coaches. These hires aren't quite as random as one might think. These men know each other from more than just being on opposite sidelines of the greatest rivalry in football. The familiarity goes back to when Pagano, Arians, and Butler were all on Butch Jones' Cleveland Browns staff from 2001-02.
Peyton Manning, or whoever the quarterback ends up being in Indianapolis should appreciate the Bruce Arians hire. After all, Arians was Manning's quarterbacks coach for his first three NFL seasons, and he obviously played a big role in his early development and the Colts are hoping he will eventually have the same effect on Andrew Luck.
As for Keith Butler, the Steelers were interested in bringing him back. He's responsible for coaching three Pro Bowl linebackers - James Farrior, James Harrison, and LaMarr Woodley. But after nine years as Pittsburgh's linebackers coach, Butler wanted a defensive coordinator gig - something that clearly wasn't going to happen with the legendary Dick LeBeau returning.
Coming from the Steelers, I imagine Butler will want to install some sort of 3-4 defense in Indy, but as it stands currently, the defensive players the Colts have under contract don't exactly fit that scheme to a 'T'. Will Butler ask All-Pro pass rushers Dwight Freeney and Robert Mathis to be linebackers in his defense just as Wade Phillips asked of Mario Williams when he took over in Houston? That seems very likely, and with the talent and athleticism that Freeney and Mathis possess, I don't see it being much of an issue for them either
Is this AFC North reunion in the AFC South a good move for the Colts? I honestly don't see why not.
Anything that could potentially instill some of that AFC North toughness into a Colts team that has a reputation for being more of a 'finesse' squad can't be a bad thing.
Congratulations to the Colts front office on some solid hires.
Be sure to follow Beard And Stache on Twitter 
@BeardAndStache
, 
and also Adam 
@Adam_Parker43
, Like our Facebook page 
HERE
!