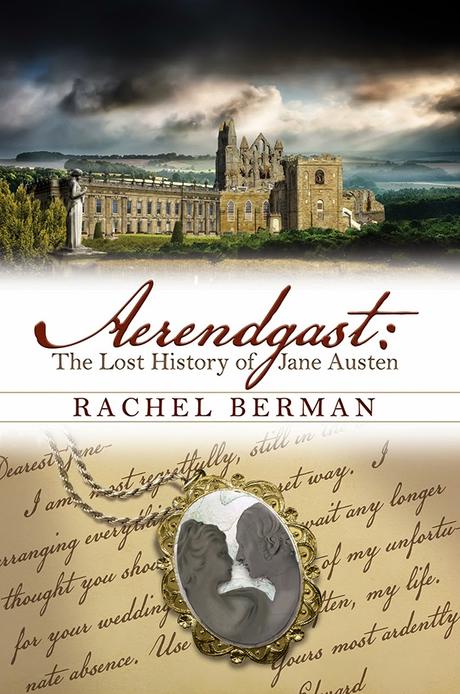 About the Book
Violet Desmond has just learned from her dying grandmother that the life she's been living is a lie.Left with only a locket, a newspaper clipping, and a name–Atherton–Violet sets off to discover her hidden personal history.  Simultaneously, the London academic begins to have vivid dreams in which a woman from the past narrates her life story involving the same locket, a secret marriage, and a child. A story intimately connected to Jane Austen.Violet reluctantly agrees to receive help from cavalier treasure hunter, Peter Knighton. Blacklisted from his profession, Knighton can almost taste the money and accolades he'd receive for digging up something good on Austen; the locket alone is unique enough to be worth plenty to the right collector. It would be enough to get his foot back in the door.The unlikely pair begin a quest for answers that leads them to Aerendgast Hallows. Knee-deep in hidden crypts, perilous pursuits, and centuries-old riddles, Violet must put her literary expertise to the test as she battles to uncover the secret that her loved ones died trying to reveal, before an unknown enemy silences her as well.
About the author
Rachel was born and raised in Los Angeles, which naturally resulted in a deep love of the UK from an early age. Reading and writing have been favorite pastimes for as long as she can remember.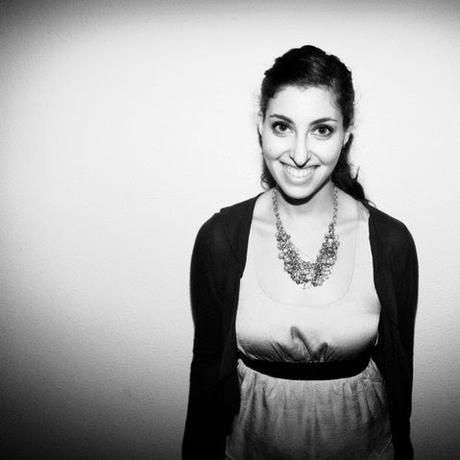 Rachel has a BA in English Literature from Scripps College and an MA in London Studies from Queen Mary, University of London. Her focus is 19th century British Literature. She enjoys hiking, musical theatre, fancy water, pilates, vegan baking, good tv and movies, and researching new book ideas!
Jane Austen has always been an author near and dear to Rachel's heart for her ability to tell a story so compelling, it remains relevant hundreds of years later. And for creating Henry Tilney.
FacebookTwitterPinterestRead an excerpt 
Violet walked over the threshold into Winchester Cathedral and instantly recognised it from her many dreams. She could see everything from her visions coming to vivid life around her. The
quiet joy of the secret wedding that happened so long ago still hung in the air, along with the sorrow that Violet knew had almost immediately followed. The building's beauty and age were awe-inspiring. Violet moved through an arch and into a narrow section off the center aisle. She put her hand on the ancient walls and let herself feel the cold stone. The room illuminated with images from her visions. She saw Jane and Edward in all stages of their lives floating around her: the wedding,
Jane's crying during a service years later, and finally Edward, now a much older man, placing flowers on her grave. Like wind, they blew through her hair before vanishing into the air. After the last of these scenes disappeared, Violet followed the path that Edward had taken, walking the interior perimeter of the Cathedral until she saw the familiar dark slab below her feet.
In memory of
JANE AUSTEN,
youngest daughter of the late
Revd. GEORGE AUSTEN,
formerly Rector of Steventon in this County.
She departed this Life on the 18th July 1817,
aged 41, after a long illness supported with
the patience and the hopes of a Christian.
The benevolence of her heart,
the sweetness of her temper, and
the extraordinary endowments of her mind
obtained the regard of all who knew her, and
the warmest love of her intimate connections.
Their grief is in proportion to their affection
they know their loss to be irreparable,
but in the deepest affliction they are consoled
by a firm though humble hope that her charity,
devotion, faith and purity have rendered
her soul acceptable in the sight of her
REDEEMER
.
Violet stood for a few minutes in reverence of her proximity to the grave. Seeing it made everything seem so final. It made what Violet knew all the more sacred and important. She reached her hand down to touch the inscribed name on the stone.
 "I have never forgiven Henry for the ridiculous things he wrote on this gravestone."
Violet turned around to find Jane Austen standing in front of her, and actually speaking to her. She had never before spoken directly to Violet, and the effect was rather startling.
"Jane?" Violet managed to say, unsure of what one was supposed to do in such a situation. She tried to keep her voice down and her gaze low so the many people in the Cathedral wouldn't notice her speaking to the air.
The gravestone was located just to the left of a row of chairs facing the altar. As it was Sunday, a service was starting, and almost every seat was occupied. Peter had managed to find a free one across the aisle where he could keep his eye on Violet throughout the various prayers and sermon. Violet slid behind a pillar to avoid disturbing anyone.
"Honestly," Jane continued, "rattling on about Christian humility and boring everyone to distraction. And no mention of my writing. Typical of a man, is it not?"
"Yes?"
"Indeed. Violet, I have been waiting for you to come here. I want to tell you how close you are and how very much I need you to go on."
"I've almost been killed, and I've put others in danger. I don't know much longer I cango on."
Violet was surprisingly calm. It seemed the longer she spoke to the apparition, the more comfortable she became. Violet wondered whether Jane had that effect on people while she was alive, or if the serene feeling that slowly moved through Violet's body was a product of speaking to the dead.
"Lockhurst would not dare hurt anyone besides you. It would be too much of a liability."
"You can't be sure of that." Violet was whispering as to not disturb the service.
"Listen to me carefully. The only person he wants dead is you, and all those with whom who you have shared my secret."
"But why does he want me dead? He has your locket. Even if he thinks it leads to some treasure or secret, what does that have to do with me?"
"The locket is just the beginning."
"Your baby lived?"
"That is what I need you to find out, that is the reason I have been trapped here for so many years. I need to know what happened just as much as you do."
"You're trapped?"
"It seems the usual myth about ghosts and unfinished business is true. I have been wandering for hundreds of years, unable to find any peace."
"But why me? Why did you choose me?"
"You are the first person who listened, who understood. You will discover everything you need to know."
"I'm trying to understand, but—"
"I know you are; however, I must leave you now."
"Wait! Please don't go!"
"Until we meet again, Violet."
Jane's body began to swirl around, forming a miniature tornado in the Cathedral that no one but Violet could see. The ghost became a million flecks of light in a maelstrom moving around her at an alarming speed. The effect was vertiginous. The spiral lasted thirty seconds more before abruptly ending. Violet was left alone by the gravestone.
Peter had been watching her seemingly speaking to herself. He hadn't taken his eyes off of her for the entire half an hour they'd been at Winchester. He sat on the uncomfortable pew pretending to follow along with the service, and tried to remember what his life had been like before he met her.
He noticed that Violet had suddenly stopped talking; apparently her conversation with herself was over. Just as abruptly, he caught a glimpse of a man and woman swiftly approaching her. He sensed something was wrong and stood up to leave. At the same moment, everyone else in the congregation stood up to sing a hymn and completely obstructed Peter's view of Violet. He pushed through them, trying to make his way across the aisle, with a bad feeling in his stomach. Many wouldn't budge; offended at his rude behaviour, and they pushed back and shot him nasty looks, causing the stir that Peter had been trying to avoid.
"You'd better leave, young man." An usher grabbed his arm, attempting to escort him out of the building.
"No," Peter protested. "Let go!"
With increasing fear, he shook himself free of the usher's grip and ran down the center aisle and around the corner to the gravestone. The hymn—which had continued despite the disruption—now ended and everyone sat down once more. Peter stopped in his tracks, ignoring the man trying to force him out of the Cathedral. He now had a clear view of Jane's grave.
Violet was gone.
a Rafflecopter giveaway
Blog tour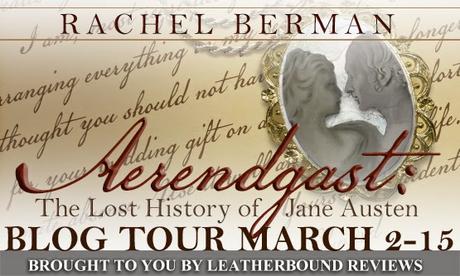 3/2: Guest Post at Austenprose 3/3: Excerpt & Giveaway at My Jane Austen Book Club 3/4: Author Interview at The Little Munchkin Reader3/5: Excerpt & Giveaway at BestSellers & BestStellars3/6: Review at Babblings of a Bookworm 3/7: Guest Post & Giveaway at My Love for Jane Austen 3/8: Review at The Delighted Reader3/9: Excerpt & Giveaway at So Little Time… 3/10: Guest Post & Giveaway at More Agreeably Engaged 3/11: Review at Austenprose 3/12: Excerpt & Giveaway at My Kids Led Me Back to Pride and Prejudice 3/13: Review at Diary of an Eccentric3/14: Review at Margie's Must Reads3/15: Review at Warmisunqu's Austen3/16: Guest Post & Giveaway at Austenesque Reviews3:17: Guest Post & Giveaway at Babblings of a Bookworm3/18: Guest Post at Laughing with Lizzie
Buy at Amazon