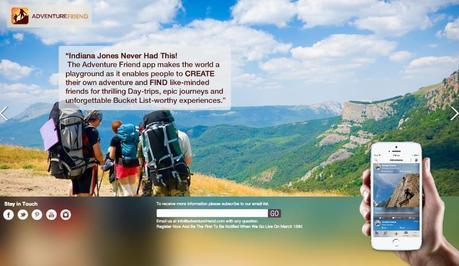 A new app called Adventure Friend is in the works will reportedly help you not only plan your next big outdoor adventure, but also help you find someone crazy enough to join you for the fun. The app looks to be a new social networks of sorts, that will give you all the tools you need to plan your escape and connect with others, in one simple platform.
Some of the purported features of Adventure Friend are the ability to create detailed travel routes, then sync them directly to Google Maps so others know where you're going. It'll also offer extensive checklists and databases that allow you to plot every aspect of your trip, while also granting you the option to share your adventure on Facebook or Twitter. You can even invite the friends in your social media outlets to connect with you on the app as well.
But that is only the beginning of what this app has to offer. Adventure Friend users can also specify who they would like to travel with, creating a "crew" from those that meet their criteria. That criteria can be very specific, right down to specifying age, gender, skill sets, and so on. Once you find your crew members, you can head out on the expedition you have planned. Of course, you can also search through the adventures that others are planning at try to join their crews too.
The app will give users the ability to chat with one another while the brainstorm and plan their excursions as well, which can come in handy during the organizing phases as well as when you're trying to connect up on the trail.
Apparently Adventure Friend is still in beta and hasn't been released just yet, so I can't tell you much beyond what the PR says. The developers are hoping to have the new software ready soon, but at this point they haven't even announced which platforms it will be available for just yet. My guess is that it'll run on both Android and iOS upon release, with other mobile platforms possibly being added later. You can sign up on the Adventure Friend website for notifications on when it'll actually be available.