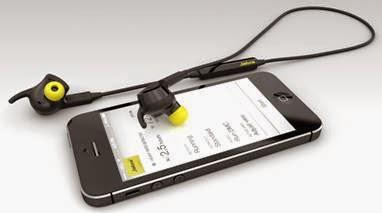 In
one of my post-Outdoor Retailer articles
I mentioned that wearable technology was a popular item at the show this year, with a number of great looking fitness, running, and mountaineering watches in the works. At the end of that article, I even hinted that there was a product coming that would put a heart rate monitor in your earbuds, freeing us from the cumbersome and uncomfortable strap forever. When I wrote that, I wasn't able to share who was making the product, or when it was coming. But yesterday, Jabra took the wraps off of this gadget, announcing pricing and availability for their new Sports Pulse Wireless earbuds.
These new earphones are obviously designed with the runner in mind. Lightweight, durable, and built to take on your daily workouts, they offer excellent sound quality with wireless Bluetooth connectivity to your smartphone or mp3 player. Encased in carbon fiber, the Sport Pulse Wireless are sweat- and rain-proof, while remaining comfortable to wear, even on extended runs.
But what really sets these earbuds apart are the integrated heart rate monitor. Wearing these will allow runners to leave the bulky strap monitor and home, in favor of this incredibly lightweight solution. When paired with Jabra's app the provide feedback on performance throughout your run, and record improvements over time. They'll even allow you to set goals based on distance run, calories burned, and time out on the trail or road.
Having seen these earbuds in person, I can attest to how small they are, while providing good sound quality for your run. Additionally, I happen to love using Bluetooth earbuds, as they eliminate the wire running to your music player during a workout. Finding a pair that can stream music wireless, and serve as a heart rate monitor is simply incredible. Jabra says the Sports Pulse Wireless are good for five hours of battery life, which is an improvement on previous generations, even though they are smaller in size. That means that most of us can get a couple of workouts in before we need to recharge, while marathoners can be sure that they'll make it through a long run without worry.
The Sports Pulse Wireless will be available to purchase in late September, with MSRP of $199. That's a bit pricey, but if they deliver on their promise, they'll be worth it. Check out the video below for more.