Cases, covers and other accessories for mobile phones come in all shapes and sizes – but why not choose the cutest? Studies have shown that animals add extraordinary value to our lives. One study has proven that looking at pictures of cute baby animals doesn't only make us feel good; it can make us more productive. Why not have reminders of cute baby animals on our gadgets? We are constantly looking at our phones for information, so let's get some of those positive feelings happening there too.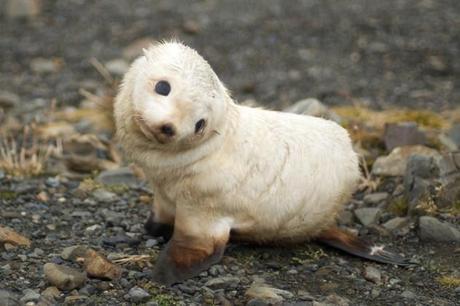 A cute baby seal via Creative Commons

I've had my new iPhone for a few months now, and it's finally to the point of extreme cuteness that children see it and feel the need to cuddle it ASAP! Here are some of the cutest accessories that will help you follow my lead with your own phone.
CUTE, cozy bunny cases!

These universal phone cases will fit any device if said device is around four inches. Possibly the cutest thing about this mobile accessory is the small poufy tail in the back. That being said, no one can deny the charm of those long, foldable ears and pink little nose!

Photos via MyTrendyPhone.com

These come in hot pink, yellow, beige, white, and black – all of which attract attention and work as a great answer to the age old question: "what am I going to get myself for a post-Easter gift?"
Sweet sassy Snap-on animal covers!

These iPhone covers come in pink pigs, white seals, purple sea otters, black and orange Hill Myna birds, green crocodiles, gray Koalas, and brown bears. Sure, any cute Snap-on cover can feature a cute animal's face, but these ones are extra cute because the animals have tongues that pop out and act as a phone stand!

Photos via MyTrendyPhone.com

These are good for any variety of animal lovers who want to be reminded of their favorite little animal friends and have some fun with it. I love them all, but for me the white seal is a cute reminder of my passion for improving animal well-being around the world.
A charming green or yellow tree frog dust plug – cute and functional

These little tree frogs will keep the dust from getting in your iPhone, and keep you company in a non-intrusive way! These fit all cellphones with an earphone jack that is 3.5mm (97 percent of all smart phones and devices like the iPad, iPhone, Samsung, and laptops or mp3 players have this).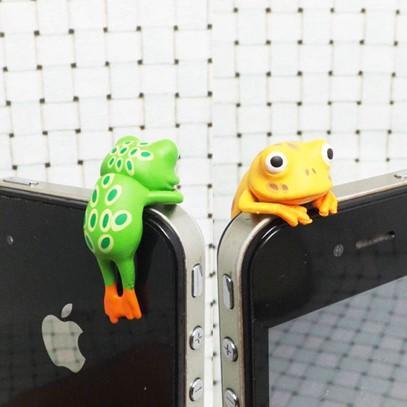 Photos via Pinterest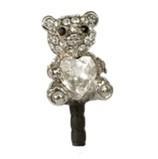 While this frog won't let any dust in to damage he will look on lovingly with those wide, innocent and cute eyes. Other anti-dust plugs such as the Sushimi Crystal Teddy Bear are perfect for those who want some bling with their cuteness. This one is better for the animal lover who wants a smaller plug that still allows them to lay their phone flat.
There are so many adorable animal accessories that can bring some of the pure joy that the cute baby ones bring to our lives – even if it's only a small percentage of the effect that the real deal gives us. We can't look at the pictures all day, but we can accessorize accordingly. Get your cute on!
Share on Tumblr