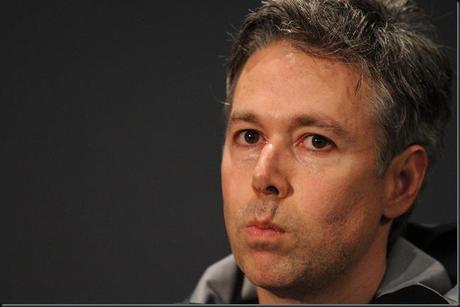 If you are around my age in your middle to late 30-40's then surely you were at some point in your life influenced by the sheer verve and visceral energy of the Beastie Boys. This was the music of the street and of downtown New York, loud proud and in your face. Adam Yauch was one of those lads, the other two Mike Diamond & John Berry (from 1982 Adam Horowitz) who sold 40 million albums, were the first hip hop group to smash through to wow mainstream audiences, whilst continuing to upset nearly everyone around them. Rebels they were, and yet hits such as "Intergalactic" & "Fight for your Right" are still as popular today as they were years ago. Adam today succumbed to cancer at the tender age of just 47.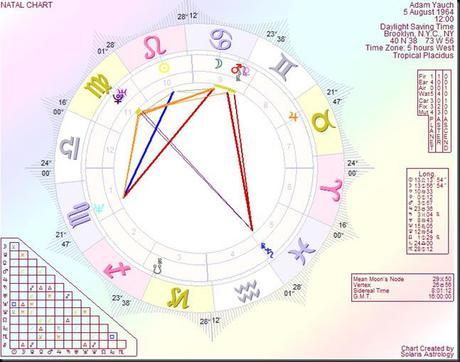 Adam was born on 5th August 1964 in Brooklyn, New York (no birth time) and so had a Leo Sun and a Cancerian Moon. The Leo Sun loves to be in the spotlight and to be out front and centre, however the Cancerian Moon is guarded, especially to one's private life and family. Because both the Sun and Moon were in their own signs, they would work well together, providing sensitivity when needed, but also having the confidence to use those emotions always on tap to dramatic effect.
Both the Sun and Moon (more than likely) received connections from musical Neptune in dark Scorpio, a square to the Sun and a trine to the Moon (unless he had been born very early morning or late evening) so a creative spirit was engrained in him deeply. It interesting how Neptune in Scorpio generation affected a much heavier sound musically; this was the era of hard rock, metal and of course hip hop and the birth of urban sounds. Adam and the Beastie Boys combined all these influences to dramatic effect, especially as this Mercury was also sextile onto a fearsome Uranus/Mercury/Pluto in Virgo conjunction – here was the angry voice of rebellion and criticism of all around you  – no two ways about it. One other thing about this opposition – it sat across the Virgo/Neptune health axis on the chart. Any significant hits on it by transiting planets would inevitably affect his own health.
For added effect, this triple combination was opposed by Saturn in Pisces, another connection showing ambition and the potential for working in music and film. He went on work in his own recording studio producing albums for other artists as well as directing music videos. With Saturn trine a rather pushy Mars Venus combination in Cancer and Uranus Mercury and Pluto making a sextile, this was one guy who would have wore his heart on his sleeve and let you know where he stood on all matters. In love and in work he would play hard and I get the feeling that you would either love him or loath him.
All this was for a reason though, for Jupiter in his chart stood alone in materialistic Taurus. At the end of the day, Adam would have craved a comfortable life and the chance to extensively travel, so all the work and all the people he may have upset did allow him to earn the resources to have the family life that he never had as a child. Adam came from a broken family, shown by Saturn retrograde opposing that Uranus Pluto Mercury conjunction. Saturn retrograde, especially when hit by so many tension aspects as here often means that the father left the family unit when one was growing up. The Jupiter influence on his chart also would have attracted him to take up a peaceful form of faith (Taurus is ruled by peaceful, diplomatic Venus) and as a result he studied and followed Buddhism.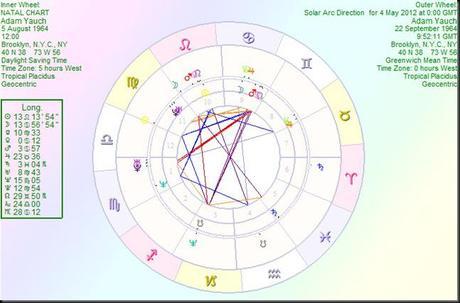 Clear indications of his health problems could be seen on his Solar Arc progressions chart. The Solar Arc Sun was square to his nodal axis where as Neptune which weakens the body had progressed round to conjunct his South Node (point of detriment) and to oppose his Venus and Mars. Conversely, Adam's Nodal axis and Venus had moved around to conjunct his Sun in the past couple of years and square his natal Neptune. That's a lot of pressure on his natal Sun/Neptune square which already weakened his constitution from birth.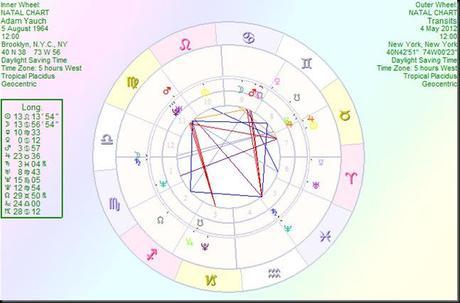 On the transits chart, the transiting nodal axis had been in the couple of last months square to that triple conjunction in Virgo and was now square to Saturn where transiting Neptune was stationed. Remember what I said earlier about pressure being made to bare on this Virgo/Pisces opposition in the chart. Interesting too that transiting Saturn was inconjunct to natal Jupiter and transiting Jupiter was within touching distance of a Jupiter return. Often Jupiter comes along to relieve one of suffering by taking one on a journey, in Adam's case to the great concert venue in the sky.
RIP Adam Yauch – Beastie Boy extraordinaire…