Actor and Global Alpina Brand Ambassador Billy Baldwin was on hand to help celebrate the launch of

Alpina Watches's new 2012 Extreme Diver Collection

, which made its debut at Baselworld in Switzerland March 8-15, as the new face of its 2012 advertising campaign. The New Alpina Extreme Diver Watch is just the first model that Billy Baldwin will be introducing with the brand; more new exciting models are currently in development.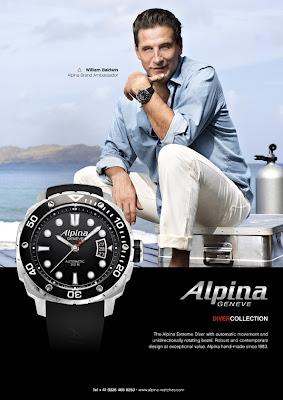 "We couldn't be more confident in our choice for this campaign; William Baldwin not only represents the face of Alpina, he carries the spirit of the brand – Generous, strong, and talented,"

says Alpina's CEO, Peter Stas (featured in the photo with Baldwin below). Mr. Stas showed how true his statement was by donating ten of the new timepieces to The Carol Baldwin Foundation, Baldwin's family charity for breast cancer research, named after their mother in their father's honor, to be used as auction items for their various galas and events raising funds for breast cancer research. Each of the donated watches are special edition Divers with inscribed gold plating enclosed in the box featuring The Carol M. Baldwin Breast Cancer Research Fund Logo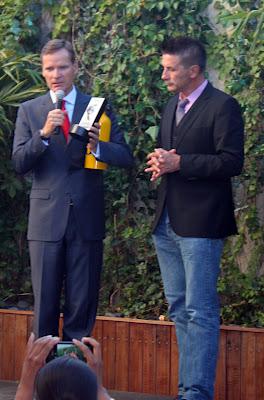 "Associating myself with brands founded on solid corporate ethics with ambitious programs in place is paramount," says Baldwin.

"Alpina is exactly that brand and I've enjoyed working with them every step of the way."




The new Alpina Extreme Diver is an ideal accessory which combines the elements of diving while delivering a bold, athletic, coolfactor that's completely unrivaled. "As a general rule, for any regular activities from snorkeling to scuba diving, a diver should always choose a Watch with a water resistance rating of at least 200 meters. For the occasional swim, a watch resistant to 100 meters will do."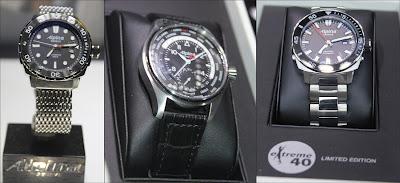 The Alpina Extreme Diver's case is made of anti-corrosive materials has a nonscratch crystals, and is outfitted with extendable wrist straps that can fit over a wet suit. The bezel of the Alpina Extreme Diver is unidirectional has luminous markers, and is used to set the maximum time a diver plans to be under water.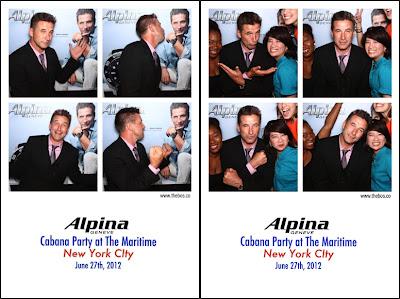 During the event, Baldwin, much to the delight of all guests, took photos with everyone who asked (almost everyone asked) to in the Alpina Geneva photo booth which featured the Actor's ad.