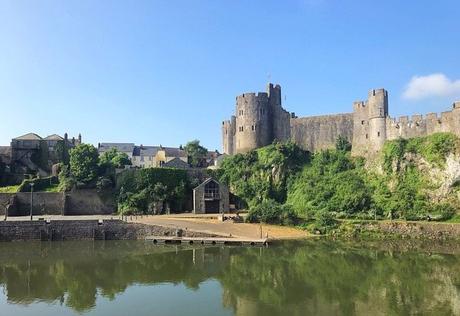 27 total views, 27 views today
Staying with Coastal Cottages of Pembrokeshire
Pembrokeshire is the county in the south-western corner of Wales. Probably best known for its national park, it also has an array of award-winning beaches. We'd never been before so decided to spend three days there as part of our 'mini-moon' road trip down to Cornwall from Glasgow after getting married. Coastal Cottages of Pembrokeshire have a selection of places to stay across the county and we chose Ty Olive in Pembroke itself, which is probably best known for its imposing castle right in the heart of town, and this is the actual view from Ty Olive below!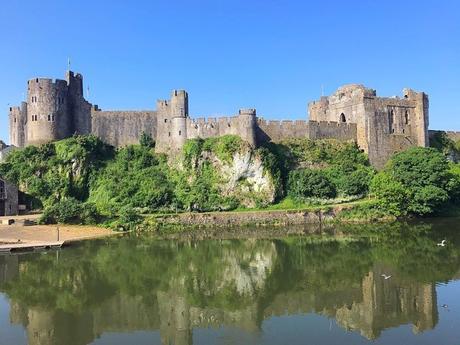 Ty Olive, Pembroke
Ty Olive is located centrally in town, right where the river Pembroke becomes Mill Pond with an unobstructed view towards the castle so quite an ideal spot. 'Ty' is the Welsh word for 'house' and is pronounced 'tee' and here now is the view in reverse, Ty Olive from the top of the castle! It's the left-hand side of the two-storey building on the left of the picture below. That's a cafe beside the bridge and the blue building across the road is a pub, that's how close you are to food and drink options!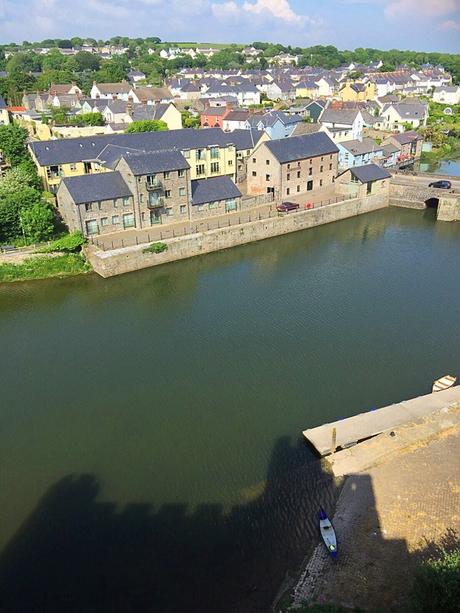 There's a train station a 15-min walk away but if you're arriving by car the townhouse apartment has a reserved parking space, which is undercover, just off the main road. Be careful if using sat nav to get there as ours couldn't find Croft Court, it's just behind The Cornstore Cafe opposite Watermans Arms so maybe more suited to couples, or families, who want to be within walking distance of pubs, restaurants and shops etc. If you want to visit the Castle then you could not be better placed! On the Coastal Cottages website (at the bottom of the page), you can specify which amenities you'd like to be near to and what sort of facilities you'd like at your property.
The bedrooms
Ty Olive sleeps four people across two bedrooms with a double bed in the room facing the castle and two single beds in the other and rather than being a cottage it's a townhouse apartment with both bedrooms located upstairs.
There are no curtains in any of the rooms, only blinds, and the master bedroom has three windows and is south-facing so lets in a lot of light so our advice is, if you want a holiday lie-in, bring an eye mask!
Netflix TV was provided on the TV in the main bedroom, which was great but it was a little tricky to set up so some instructions would've been beneficial. Step one was simply to turn on the router, which is located downstairs in the living room and then log into an existing user account.
Both bedrooms have plenty of wardrobe space and there are towels and spare blankets.
The bathrooms
There are also two bathrooms upstairs, one on the landing with a combined shower/bath, an en-suite with shower attached to the twin bedroom and there's also a toilet at ground level beside the entrance.
Liquid soap and toilet paper is included in each but note that there is no shower gel or shampoo provided.
The living room/kitchen
Entry is via the back of the building, where the car parking is located. There are also patio doors at the front of the building but you can't enter or exit the building here as it's at ground level with a public footpath right outside so to prevent strangers from getting in or out there's Juliette balcony.
The living room and kitchen is a combined, spacious open-plan area with a large flat screen TV with DVD player, two leather sofas and a dining table which seats four. The kitchen is fully equipped with an oven, grill, hobs and microwave; a large fridge-freezer; combined washing machine / tumble dryer; and a dishwasher. There was some washing up liquid, detergent and other cleaning products under the sink. In addition to regular crockery and cutlery there's also five specialist knives for cutting bread, meat and vegetables.
The cupboard under the stairs also has an ironing board and vacuum cleaner etc. should you need them.
Hamper
You can also request extras to be delivered such as breakfast essentials, celebration champagne or experience days. See the full range, which includes celebratory, picnic and toy hampers for children here. We received the basic essential hamper (£20) as we would be out and about but needed to come back to a cuppa! The basic hamper has a jar of Coffee, Welsh Tea, Rich Tea biscuits (although we received Welsh cakes instead), sugar, Welsh butter, 2 pints of semi-skimmed milk, a farmhouse white loaf and a local newspaper to catch up on local news and events during your stay.
Things to do
There are lots of walks in the area, one from right outside the property takes you around the water towards the castle, and the local pub, Watermans Arms, just across the road has a beer garden with views of the water and castle. We visited the following during our three-night stay:
Pembroke Castle
Folly Farm, adventure park & zoo
The town of Tenby with great sea views and a brewery
Café Mor / Freshwater West beach
Wavecrest Café / West Angle Beach
The verdict
We had a relaxing three night break. The main selling point for Ty Olive is the view and close proximity to the castle and amenities around the centre of Pembroke but it also makes an excellent base for travelling further afield as you can be on the main roads in a few minutes.
If you've never thought about a holiday in Pembrokeshire before then maybe now is the time, as it contains a wealth of scenic areas, sandy beaches and places of interest. On the Coastal Cottages website, Pembrokeshire is sub-divided into four but as we only stayed for three days, we only got to explore South Pembrokeshire and even then three days wasn't enough! Should this property or one in a town location not appeal to you then have a look on their website as they have over 500 properties listed to suit differing needs and budget.

+ Postcard perfect view of the castle
+ On-site parking
+ Netflix TV in double bedroom
+ A choice of useful hampers can be provided
+ Kitchen and ironing facilities
+ More than 1 toilet and shower
+ Super handy for local cafe and pub
+ A pleasant walk around the castle starts just outside!
- No curtains in the double bedroom so bring an eye mask if you want a lie in!
- No instructions for using Netflix TV
Location
Ty Olive, Croft Court (just off Northgate Street), Pembroke
Book
Telephone: 01437 765 765 (lines open until 8pm daily)
Website: www.coastalcottages.co.uk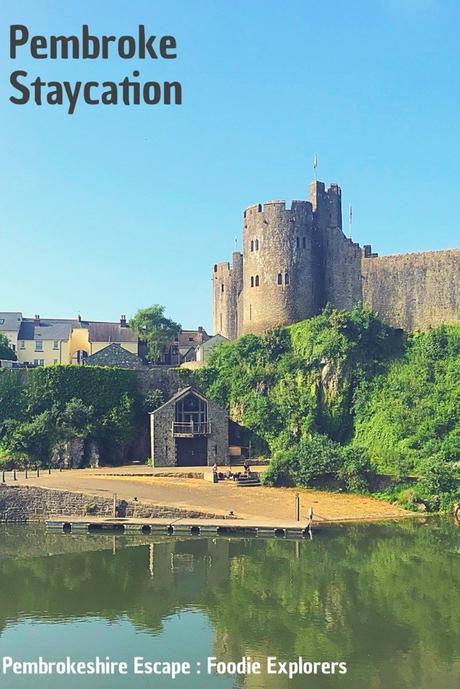 Disclaimer: we received a complimentary three-night stay for the purposes of writing about this property and the attractions of southern Pembrokeshire. Although Fred was annoyed that he only had occasional visits from the 'cat sitter' he was able to get lots of quality sleeping done so considers this a worthy write up.