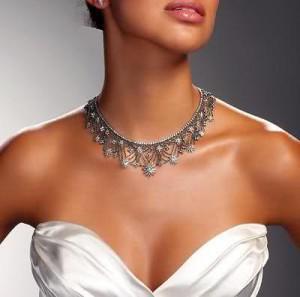 Your big day is coming up. Everything has come together – the dress, shoes, hair, but one thing is missing: jewelry. Do you know how to pick the right jewelry to compliment your gown perfectly on your wedding day? Here are a few wedding dress jewelry tips to help you out.
Wait to shop for your jewelry until after you've purchased your wedding dress, veil, and headpiece. This is the only way you can ensure everything goes together perfectly.
Multi-task: Wear a sapphire bracelet with matching earrings for a beautiful look and for your "something blue."

If you're wearing a simple wedding dress, go for jewelry that's a more flashy and over-the-top. Make sure it isn't gaudy, though!

Vintage Style Platinum and 5 Carat Diamond Long Drop Earrings

Wear a top with the same neckline as your wedding dress while trying on necklaces. By doing this, you'll have a better idea of what the necklace will look like with your gown.
Personalize your engagement ring by engraving your wedding date or initials into the band.
Is your dress intricate and flashy? Opt for a simpler necklace or just a beautiful pair of earrings so you don't look over done.

Tiffany & Co. diamond and platinum solitaire

Choose matching gems: If you have diamond earrings, don't wear a pearl necklace.

Borrow the earrings that your mother or grandmother wore on her wedding day as your traditional "something old" and "something borrowed."
Style is an essential element when choosing bridal jewelry. The jewelry you choose should not overpower or understate the wedding gown, but accentuate it. At Raymond Lee Jewelers, we offer a variety of jewelry to complete and perfect your look on your wedding day. To see our vast selection of jewelry, click here.
Hannah for Raymond Lee Jewelers