We have installed at or head quarters in Worcester Massachusetts two distinct demonstration solar electric systems as seen below: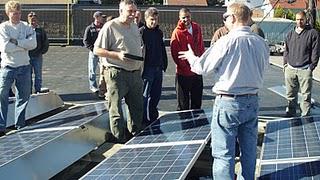 Demonstration and Training Capabilities
The two systems (each rated at 1.3kW) demonstrate two types of photovoltaic system designs. One system features a Solectria Inverter in a conventional central inverter system architecture. The other system uses Enphase micro inverters in a newer architecture that allows optimization at the module level.
The installations allow Absolute Green Energy to demonstrate fully functioning systems in conjunction with education programs that they offer to customers and the interested public.
Output from the systems can be viewed here in real time:
Enphase Energy Portal
Solrenview Portal
For Additional Information contact:
Derick Ajumni
Tel: 508-459-5410
[email protected]