Marcus Roberts reports for MercatorNet, Dec. 11, 2015, that according to Spain's National Statistics Institute (INE), beginning in 2015, more Spaniards died than were born. Furthermore, the disparity between Spain's death and birth rates will continue to widen until 2062.
This means that within 50 years, the Spanish population will have fallen by 5.6 million (a drop of over 12% from its current level).
Already, Spain's population declined from 46,815,916 in 2011 to 46,439,864 in 2015 — a decrease of 376,052 in just 4 years. (Wikipedia)
Not only is its population shrinking, Spain's population is also very old and is getting older. A shrinking and older population mean a shrinking workforce. That, in turn, means increasing burdens on Spain's social security system.
Spain already has the 10th oldest population in the world, with an average age of 43.2 years. By 2030, Spain will be the 4th oldest population in the world, with an average age of 50.1 years, according to a July 2015 United Nations report.
One potential solution available to Spain is increased immigration from the hundreds of thousands of so-called "refugees" heading towards Europe from Muslim countries in the Middle East, Africa and Central Asia. But that means Spain, a traditionally Roman Catholic country, will become Islamic and no longer Christian.
In 2014, the number of Muslims in Spain reached 1.85 million, an estimated 71% of whom are foreigners.
According to MercatorNet, aside from low birth rates, another reason for the declining Spanish population is net migration, i.e., more people have left than entered Spain.
But what MercatorNet overlooked is another reason for Spain — and Europe's — demographic death: ABORTION.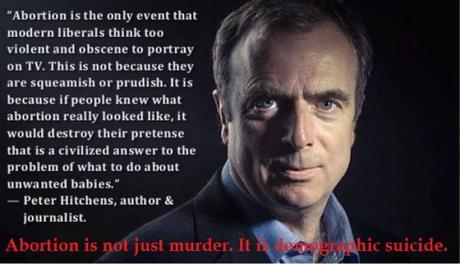 According to a 2014 Wall St. Journal article, abortion is widely legal in the early stages of pregnancy in most of Europe, including traditionally Roman Catholic Spain, outlawed only in Malta and Andorra.
Spain brought its abortion law into line with much of Europe in 2010. The law passed that year, under a Socialist government, allows women to opt for abortion in the first 14 weeks of pregnancy, and up to 22 weeks if the fetus is seriously deformed or if the birth poses a serious health risk to the mother.
According to the World Health Organization, abortion rates in Spain are close to the European Union average, rising from nearly 60,000 in 1999 to 112,000 in 2012, the most recent year for which Spanish government estimates are available. About 500 girls under 18 got abortions without parental consent in 2012.
According to Johnston Archives, in 2012 Spain's abortion rate was 19.9%. That means 1 of every 5 pregnancies was aborted.
Despite Spain's impending demographic death, on September 23, 2014, the ruling conservative Popular Party government withdrew a bill that would have imposed some of Europe's strictest curbs on abortion, bowing to popular sentiment. The bill proposed allowing abortion only for women whose pregnancies result from rape or threaten them with serious health risks. But polls showed as many as 80% of Spaniards opposed the bill.
~Eowyn