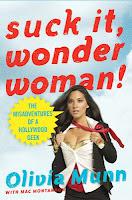 The book was an interesting investigation of a beauty amidst Geeks. What follows is an alphabet word search through the book. One looks for nouns with the beginning letter, each letter of the alphabet is sought. This activity is one way to interact with a book, especially one that is focused around popular culture.
LetterWord
AaArtistic Voids
Bbbratty
CcComicon
DdDouche Olympics
EeEmergenC
FfFlying Solo (Han Solo's Twitter Name)
GgGame Boy
HhHollywood
IiIron Man
JjJaba the Hut
KkKittens
LlLil' Jon
MmMathletes
NnNational Pie Week
OoOklahoma
PpPolo Shirts
QqQuestions
RrRobot Nurses
SsSalad Eaters
TtTwelve Sided Dice
UuUnbuttoned Pants due to too much Pie.
VvVietnam
WwWater Bras
XxX Box 360
YyYoung Girl
ZzZombies