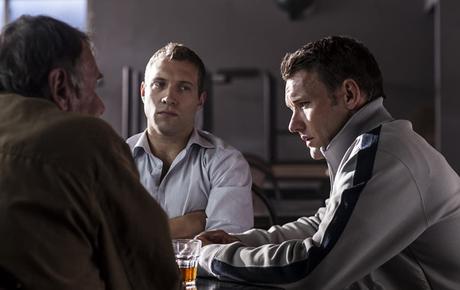 Director: Matthew Saville
Writer: Joel Edgerton (Screenplay)
Starring: Tom Wilkinson, Joel Edgerton, Jai Courtney, Melissa George
Plot: An accident involving a young child sets off a chain of events that brings an Australian police officer's world crashing down.

Tagline – There are two sides to every alibi.
Runtime: 1 Hour 45 Minutes
There may be spoilers in the rest of the review
Story: Felony starts after hero cop Detective Malcolm Toohey (Egderton) celebrates his latest success and is driving home after a few drinks, leading to him being involved in an accident where a child is knocked off their bike.
Rookie detective Jim Melic (Courtney) and his experienced partner Detective Carl Summer (Wilkinson) arrive on the scene as they are looking to deal with their pursuit of a paedophile, giving Jim the first hand look at how the cops look after their own.
Thoughts on Felony
Characters & Performances – Detective Malcolm Toohey is a hero cop after his latest capture, taking a bullet to the vest, getting a heroes celebration, only his drive home sees him involved in what looks like a minor knock, leaving a child seriously injured on the road, asked to cover up the story for the benefit of the force, not just himself, he becomes conflicted with what to do as he sees just how serious the situation becomes. Joel Edgerton is great here showing the confliction he is going through after an incident. Detective Jim Melic is the young rookie just on the force, he wants to do everything by the book and starts question both his partners motivations and Malcolm's story, as he looks to expose the truth, being pushed into trying to do right. Jai Courtney showed us why he is doing well in his career, he brings this character to life with ease, working well with the rest of the cast. Detective Carl Summer is the veteran of the three, he has Jim under his wing, trying to teach him the way the forces act when it comes to dealing with criminals, he has been hunting one down for years and looks to use his experience to help cover Malcolm's mistake. Tom Wilkinson brings the much needed experience to this role, where he will show us just how important his character is to this world.
Story – The story here follows a hero detective that is involved in a car accident after a few drinks which will see a young child injured and a rookie detective that is looking to do the right thing, but being shown the force by an experienced detective. This story does dive into the world that will leave us asking questions about what is morally right, each detective has their own problems to get through, each one will offer up bigger questions, be it taking down a known criminal or dealing with an accident which could ruin a career. We are left to see the battle to keep everything together, which will keep us see the bigger questions being asked throughout the film. It is nice to see an engaging drama that will offer the bigger questions, instead of everything be completely cut and dry.
Themes – Felony is a crime thriller that will look at how three detectives will look to decide the outcome of an incident, it will look at the work they have achieved compared to the incident which could have caused more damage to the department. We might get a flashy action chase at the start, we don't get anymore through the film, focusing more on the discussion going on.
Felony is a thought provoking movie that will keep us asking the same questions between us.