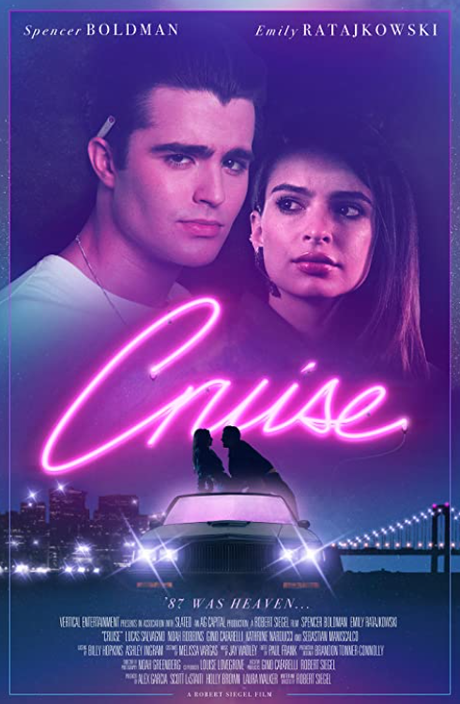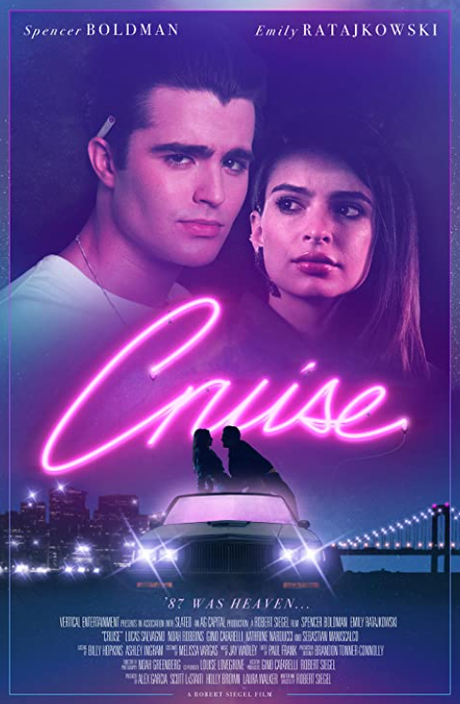 This is under Q because of the setting in Queens.
Director: Robert Siegel
Writer: Robert Siegel (Screenplay)
Starring: Spencer Boldman, Emily Ratajkowski, Lucas Salvagno, Noah Robbins, Gino Cafarelli, Kathrine Narducci
Plot: Set in the 1980s, a young Italian-American from the "wrong side of the tracks" falls for a Jewish girl from Long Island.

Tagline – '87 Was Heaven…
Runtime: 1 Hour 30 Minutes
There may be spoilers in the rest of the review
Story: Cruise starts when Italian-American playboy Gio (Boldman) finds himself starting to get bored of his routine of trying to pick up women around Queens, until he meets Jessica (Ratajkowski), a woman from Long Island, a woman that turns his head in a way no other has.
As the two start getting closer, Gio's friends start seeing a change in him, as he starts to look to a future, something he had never done before, as the two lovers from different sides of the track start to fall in love.
Thoughts on Cruise
Thoughts – Cruise is a story that is bringing together the idea of people from different worlds can fall in love, this is the strongest aspect of the film. The problems with this film comes from just how easily the characters are swayed towards casually committing crimes to make themselves feel better, only have one moment that will show the decent side of them. The performances work to the level needed, with Spencer Boldman, coming off like a bad boy figure, while Emily Ratajkowski does struggle more with the girl who wants a bad boy character, looking out of place in the rich girl world. The 80s aesthetic does work well with the world created around Queens and the music choice, cars everything will make us feel like we are there with the characters.
Final Thoughts – Cruise is the bad boys of romance films, without doing much original.