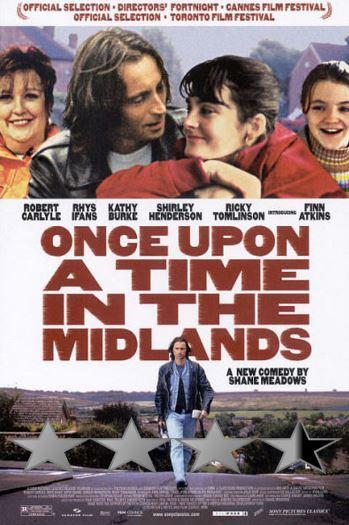 Director: Shane Meadows
Writer: Paul Fraser, Shane Meadows (Screenplay)
Starring: Robert Carlyle, Shirley Henderson, Ricky Tomlinson, Kathy Burke, Rhys Ifans, Finn Atkins
Plot: After seeing his ex-girlfriend (Henderson) turn down a nationally televised marriage proposal, a small-time crook (Carlyle) returns to his hometown to try and win back her heart.

Tagline – A tinned spaghetti western
Runtime: 1 Hour 44 Minutes
There may be spoilers in the rest of the review
Verdict: Nice Little English Rom Com
Story: Once Upon a Time in the Midlands starts when a dysfunctional family Charlie (Tomlinson) and Carol (Burke) appear on a national TV show to try address their problems and are joined by her friend Shirley (Henderson), she gets a surprise when her boyfriend Dek (Ifans) proposes to her on national TV, leading to her saying no.
This appearance grabs the attention of her ex Jimmy (Carlyle) a criminal now living in Scotland to return to try and win her heart again. With Jimmy's return the street is thrown into chaos with friendships being tested and relationships pushed to the limits.
Thoughts on Once Upon a Time in the Midlands
Characters – Jimmy is a criminal living in Scotland, when his latest job gives him a chance to return to the Midlands to try and win back his ex and his daughter, he has a reputation of being violent, but does he deserve another chance or not, is he a changed man or not. Shirley is the woman caught in the middle of everything, she is living with Dek, she had a child with Jimmy, she loves both men and isn't sure where she wants her heart to go, even if Jimmy is wrong for her in every way. Dek is the new partner of Shirley who has helped raise her child, he has his own business and is always out to make sure they have everything they need in life, he becomes threatened by Jimmy's return making him act out of character. Charlie and Carol are both caught in the middle of this knowing they have a past with Jimmy, but see the positives Dek has bought to the family for Shirley.
Performances – Robert Carlyle as the bad boy criminal is a perfect casting choice, it is a role he made famous in Trainspotting and he does bring a calmer version to us here, which is everything needed for the film. Shirley Henderson is a delight to watch, we believe the hard times she has been through and the difficulties she has been facing in life. Rhys Ifans is funny to watch in his role, where he brings us a more clean cut father figure in Shirley's life. The supporting cast is great to watch with plenty of laughs coming from them.

Story – The story here follows an everyday group of friends including couples living in the midlands, whose lives get turned upside down by the return of the disruptive influence that wants to make up for his past mistakes. This does show us how the lives of the people in the working class Midlands is, they support each other, but will stay loyal to loved ones, only for this to put everybody in a difficult decision spot when Jimmy return. We do see how people can seem like they were always trying to do the right thing only for them to not have changed and been selfish. Everything flows nicely for the story to unfold, which does help connect everything together too.
Comedy/Romance – The comedy mostly comes from the supporting characters, we get plenty on how the people react to everything going on, the romance shows us just how difficult the life of Shirley has become with the man she once loved returning to compete against the man who has loved her and put her life in order.
Settings – The film is set in the Midlands, this helps us understand how the people involved live and how they are making the most of their everyday lives.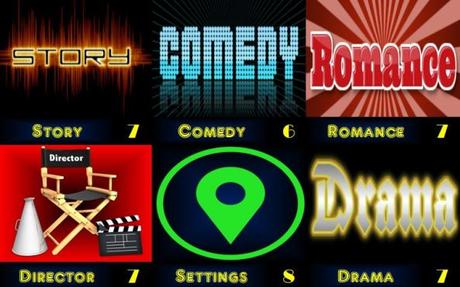 Scene of the Movie – The knockout punch.
That Moment That Annoyed Me – It seems to forget one part of the story.
Final Thoughts – This is a fun British comedy that has an excellent cast and a realistic look at how relationships can be complicated.
Overall: Funny moments throughout.
Rating