We Have this film under H because Tom Hanks is considered a front runner for an Oscar this year.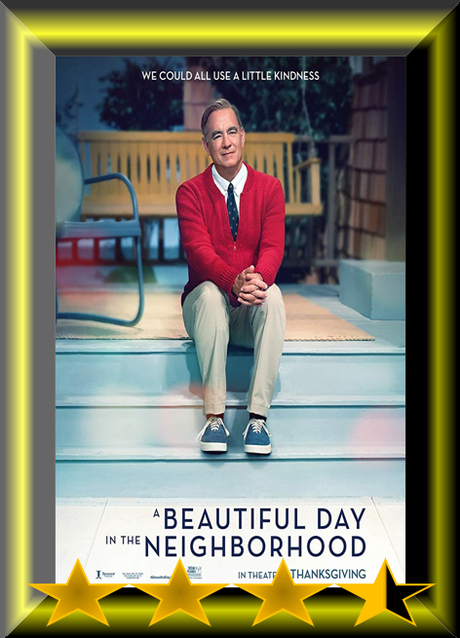 Director: Marielle Heller
Writer: Micah Fitzerman-Blue, Noah Harpster (Screenplay)
Starring: Tom Hanks, Christine Lahti, Matthew Rhys, Susan Kelechi Watson, Tammy Blanchard, Wendy Makkena, Enrico Colantoni, Chris Cooper
Plot: Based on the true story of a real-life friendship between Fred Rogers and journalist Tom Junod.
Runtime: 1 Hour 48 Minutes
There may be spoilers in the rest of the review
Verdict: Enjoyable
Story: A Beautiful Day in the Neighbourhood starts as journalist Lloyd Vogel (Rhys) has built up his own reputation of being an aggressive journalist that will usually put together articles that don't show the person in the best light, he has one last chance for his latest piece, with loved children's host Fred Rogers (Hanks), who is the only person who agrees to be interviewed by him.
As Lloyd learns more about Mr Rogers, he starts to believe he is the nicest person in America, he shows incredible patience, while the people around him might panic, he remains calm, he starts to show Lloyd the values of life and what he could achieve by being that little bit calm, opening him up more to his relationship with his wife Andrea (Watson) and his estranged father Jerry (Cooper).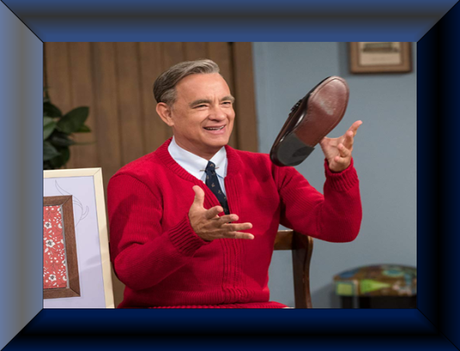 Thoughts on A Beautiful Day in the Neighbourhood
Characters – Lloyd Vogel is a journalist who has given himself a reputation of writing articles that don't show the person in the best light, his reputation has made him unpopular with celebrities that are now refusing to talk to him, except one Mr Rogers. He grew up in a dysfunctional family after his mother's death and his father's behavior which has made him cold to the world and with his own marriage hitting a few rocks because of his own distant relationship with his wife, his time with Mr Rogers opens up his eyes to his own mistakes in life and learns to take a step back to people. Fred Rogers is the loved children's television host that has bought forward life lessons in his show, pushing children and adults to talk about their own feelings as they start to struggle with them, he is always calm, always polite and always finds time for people, including Lloyd who he sees is having his own problems. Jerry Vogel is the estranged father of Lloyd, he walked out on him when his mother was dying, which has always caused tension between them, he is trying his hardest to reconnect after years of mistakes. Andrea is the wife of Lloyd that is getting tired of the behavior of Lloyd, she wants to support him in his achievements and wants him to improve his relationship with his father, to become the father, he didn't think his own was to him.
Performances – Matthew Rhys is in the leading role, he does a wonderful job with it being his character that needs to go through the biggest arc. Tom Hanks playing the nicest guy in America, while also being one of the nicest guys in the America is easy for him. Chris Cooper and Susan Kelechi Watson in the supporting roles all work well through the film.
Story – The story here follows a journalist on the verge of losing his career that gets a piece to work on that will let him explore his own troubles by meeting Mr Rogers, where he learns to tackle his own problems in his life. This is a story about self-discovery through meeting somebody who has a completely different look at the world. The story does put the highlight on family, forgiveness and futures, which is important for Lloyd to discover. Where the story can fall slightly short at times, would be not spending enough time with Mr Rogers, outside of America, he isn't well-known, so it isn't easy enough to connect with just how inflectional he was to the people he affects. We do also fall into the same tropes that we know will always need fixing in a relationship within a family.
Biopic – The biopic side of this film does show the time when the two meet, with Lloyd needing this chance encounter with Fred Rogers.
Settings – The film uses the settings to show everyday life for both characters as well as the iconic location used for Mr Rogers show.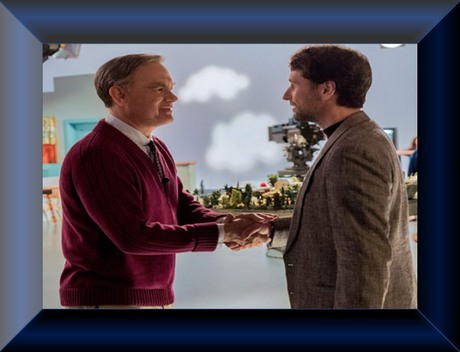 Scene of the Movie – Christmas Dinner.
That Moment That Annoyed Me – Mr Rogers isn't well enough known outside of America.
Final Thoughts – This is a pleasant viewing experience with wonderful performances that is all about finding your ability to embrace your feelings in life.
Overall: Pleasant Throughout.