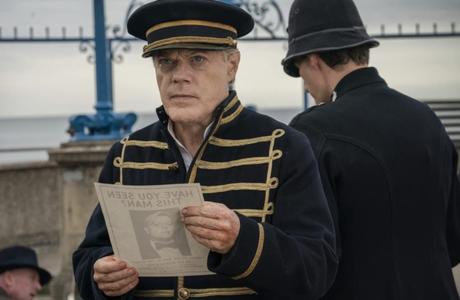 Director: Andy Goddard
Writer: Celyn Jones, Eddie Izzard, Andy Goodard (Screenplay) Eddie Izzard, Celyn Jones (Story)
Starring: Judi Dench, Eddie Izzard, Jim Broadbent, James D'Arcy, Carla Juri
Plot: UK, Aug. 15, 1939: 17 days before WWII, an English teacher and his camera disappear on a coastal boarding school with 20 German teen girls. Miller gets the job 6 days later, secretly trying to find out what happened.

Tagline – Based on Incredible True Events 
Runtime: 1 Hour 39 Minutes
There may be spoilers in the rest of the review
Story: Six Minutes to Midnight starts when Thomas Miller (Izzard) takes a job as an English teacher in a coastal boarding school home of 20 German teen girls in August 1939. Thomas is welcomed in by Miss Rocholl (Dench) the head mistress, while Thomas learns about the people in the school.
When Thomas learns about what one of the teachers Ilse Keller (Juri) he shows his true colours as a spy trying to protect the English, while being put into a spiral of needing to prove who he is and doing the right thing.
Thoughts on Six Minutes to Midnight
Characters & Performances – Thomas Miller is an English teacher looking to take a job in boarding school, only he has his own motives for this role, where he will reveal himself to be a spy trying to protect a planned escape, only he doesn't know who he can trust, who is behind it and must use all of his experience to learn the truth to save the lives. Eddie Izzard doesn't look the best person for this role until we get going, he seems like a great teacher figure with the second half of his character shining later in the film. Ilse Keller is the teacher in the school that has been making her own connections and believes she needs to get the girls out and back to German before the war starts. Carla Juri is strong in this role showing how the war changed people's mindset. Miss Rocholl is the head mistress that has always looked to protect the girls including who is invited into the school. Judi Dench is as always great to watch in her role in the film.
Story – The story here follows an English spy who went undercover as an English teacher to learn what happened to a co-worker, only to find himself caught up in the middle of a grand escape plan which is just one of the many different stories of Germans trying to escape England before the war. This is a story loosely based on a real event and it does get to highlight of much panic was created with the impending war coming to England, showing how far people will go for what they believe to be right. The story does have an intensity about trying to get messages through, even if moments of it can almost feel cartoonish with the chases.
Themes – Six Minutes to Midnight is a pre-wartime drama that is filled with the thrilling side as we wait to see whether the truth can be got to the most important people before it is too late. The British countryside is beautiful in the backdrop, showing us just how the events of the film, goes against the calm of the land.
Six Minutes to Midnight is a good thriller that shows us just how secretive the start of the war was.