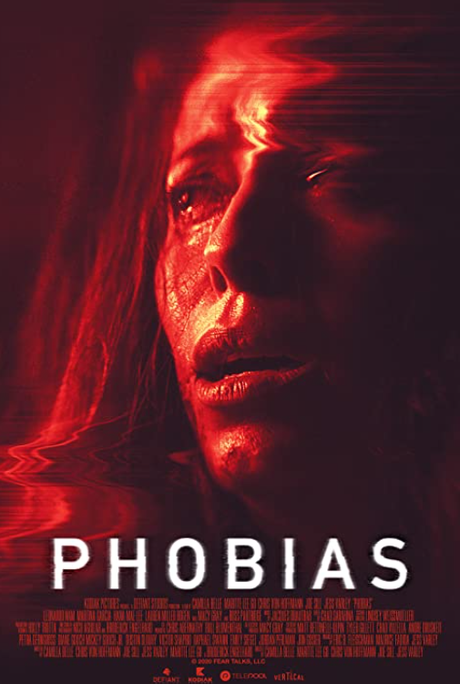 Director: Camilla Belle, Maritte Lee Go, Joe Sill, Jess Varley, Chris von Hoffmann
Writer: Camilla Belle, Maritte Lee Go, Joe Sill, Jess Varley, Chris von Hoffmann (Screenplay)
Starring: Leonardo Nam, Macy Gacy, Martina Garcia, Hana Mae Lee, Ross Partridge, Lauren Miller Rogen, Rushi Kota
Plot: Five dangerous patients, suffering from extreme phobias at a government testing facility, are put to the ultimate test under the supervision of a crazed doctor and his quest to weaponize fear.
Runtime: 1 Hour 25 Minutes
There may be spoilers in the rest of the review
Thoughts on Phobias
Robophobia – Robophobia follows Johnny (Nam) as he is looking to care for his sick father, while dealing with the redneck racists who are against anyone who is not like them. After going through the latest attack, Johnny finds himself connecting to new electronic helper, who will help find a way to solve the problems in the world, one that is failing to control. This is an interesting look at how things can spiral out of control quickly, with the fact we are in a short format, holding the story back from getting a major impact.
Vehophobia – Venophobia follows Sami (Lee) as she goes through a bad break up with her boyfriend, finding herself driving alone at night, when she starts experiencing strange moments in the car, windows opening, radio turning on, like she being haunted within her own car. This has plenty of scares while in the car, before we go down the road we have seen before, with how the motivation for the haunting starts.
Hoplophobia – Hoplophobia follows police officer Alma (Garcia) as she goes through a routine bust, which will leave a victim dead at her hands. This will lead to her suffering from a form of trauma, believing she is seeing enemies everywhere she goes, before being taken away.

Atelophobia – Atelophobia follows an architect Renee (Gray) who finds her biggest project hitting panic stations, needing to bring her team together to solve the problem, where she lets out her darker side, when things go wrong. This will see Renee hosting her employees, where she will show her true nature and desires with the employees.
Ephebiphobia – Ephebiphobia follows Emma (Rogen) a schoolteacher that finds herself home alone after her husband's decision to work late again, she gets attacked by three siblings looking for their own moment of revenge against her, with Emma needing to fight back to save her life. This is one that could have had a much large fight back creation, one that would have seen more from the phobia, rather than just how it unfolded.
Thoughts –Phobias is an interesting series of horror tales, which will become connected with the character all finding themselves in a facility being studied. Each story gives us an excellent introduction, only to not give us enough in the later stages of the stories. This does feel like we have so much more to see and holding back so much, will leave the audience wanting more. Each story will offer a different type of horror, which will give the horror fans something to enjoy in the film.
Final Thoughts – Phobias is a horror that offers up so much, only to not deliver enough in the short stories.