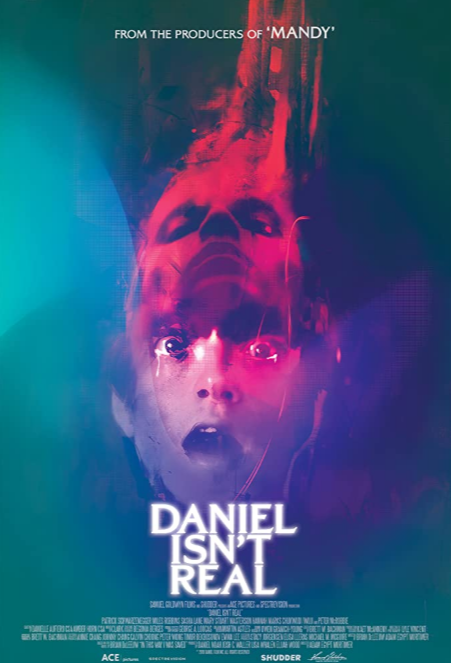 Director: Adam Egypt Mortimer
Writer: Brian DeLeeuw, Adam Egypt Mortimer (Screenplay) Brian DeLeeuw (Novel)
Starring: Miles Robbins, Patrick Schwarzenegger, Sasha Lane, Mary Stuart Masterson, Hannah Marks, Chukudi Iwuji
Plot: A troubled college freshman, Luke, suffers a violent family trauma. He then resurrects his charismatic childhood imaginary friend Daniel to help him cope, not realizing how dangerous Daniel is.
Runtime: 1 Hour 40 Minutes
There may be spoilers in the rest of the review
Verdict: Disturbing
Story: Daniel Isn't Real starts as a young boy Luke creates an invisible friend Daniel, one that he does lock away soon after, until he reaches his college age, struggling with his time in college Luke (Robbins) is trying to care for his mental unstable mother Claire (Masterson), when Daniel (Schwarzenegger) reappears in his life, being around to solve the problems he is facing.
When Luke meets Cassie (Lane) it is Daniel that helps him, only Daniel seems to know how to make everything perfect and shows a much darker side, one that will see Luke turn to more illegal actions.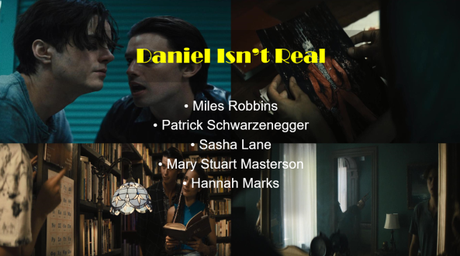 Thoughts on Daniel Isn't Real
Characters – Luke is the college student that been hiding an invisible friend for years, only for him to return during the stresses of college, it starts off like having someone that could help him through the day, be more productive with conversations, only for a much darker side coming out, as he looks like he might start following his mother's problems, while he is trying to stay on top of the changes in his life. Daniel is the invisible friend, the confident version of Luke, he helps fill in the blanks, only he does have a violent side, one that lets him take control of Luke with dangerous consequences. Cassie is the young woman that Luke meets and starts a relationship with her artistic nature being the best side of her, being the one positive remaining in Luke's life. Claire is Luke's mother that has been dealing with problems for years, she has always been there for him, only now she is starting to question her own sanity, becoming a danger to herself.
Performances – Miles Robbins brings to life the everyday stressed out college student trying to hold onto his own sanity. Patrick Schwarzenegger gets to bring the disturbing character to life, seemingly getting a lot of fun out of the darker side of the character. Sasha Lane is the grounded character with her own flair.
Story – The story here follows a young college student who is dealing with a lot of stress in his life, sees him bring back to life his invisible friend, only to learn he has a disturbing side waiting to get out. We do get to dive into the everyday struggles with dealing with mentally ill parents, struggles with fitting in. the idea that an invisible friend could be darker, have motive and even be from another dimension, we get to see how this figure has his own reasons for its actions. We do start slow, but as soon as it gets into the darker side, we are thrown into a world we simply don't know what will happen next.
Horror – The horror in this film comes from the gore and horrific creation bought into the two worlds, seeing how they start to take over.
Settings – The film does use the settings to show the difficult living situation of a college student, the dream like location for the artist along with the between worlds that could well be a gateway to hell.
Special Effects – The effects in the film are great, with the creations being what makes his such a terrifying experience.

Scene of the Movie – Entering the other world.
That Moment That Annoyed Me – Slow start.
Final Thoughts – This is a disturbing horror that might start slow, it does get a horror filled ending that will keep everyone disturbed.
Overall: Truly Disturbing.