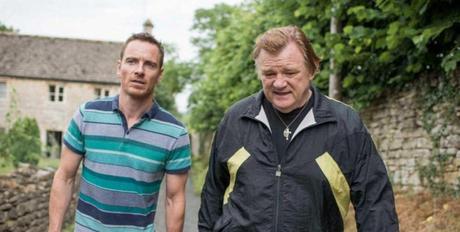 Director: Adam Smith
Writer: Alastair Siddons (Screenplay)
Starring: Michael Fassbender, Brendan Gleeson, Lyndsey Marshal, Rory Kinnear, Sean Harris, Barry Keoghan, Kingley Ben-Adir
Plot: A man looks to find a way to escape the criminal ways of his outlaw family.

Tagline – United by Blood, Divided by Fear.
Runtime: 1 Hour 39 Minutes
There may be spoilers in the rest of the review
Story: Trespass Against Us starts as we meet Chad Cutler (Fassbender) a member of a gypsy criminal family, the whole family led by Colby (Gleeson) has a reputation for causing troubles around town.
Chad is looking to leave this world behind, he has found a piece of land he and his family would be welcomed, but looking to move away from Colby seems to become a lot more difficult that Chad expected, as he doesn't want to let his best man and son leave.
Thoughts on Trespass Against Us
Characters & Performances – Chad Cutler was raised into the gypsy family of criminals and now he wants to leave it to give his children are better future, but his reputation around the town means the police are waiting for him to mess up and his father isn't going to let him walk away so easily. Michael Fassbender is great in this leading role, where he will give us the character that has been filled with regrets, desperate to find something better for his own kids. Colby is the strict father and leader of the criminal gypsy group, he forces them into committing the crimes, which will cause more problems and he doesn't want to see Chad leave, holding up any dreams of a better life he has. Brendan Gleeson is great to watch, as we see him bring the character to life, with a mix of heartfelt connections and a ruthless demand of the screen. Going into the supporting cast, we get Kelly the wife of Chad, who is getting tired of this environment, their kids Tyson and Mini who are not reaching the levels required in school, along with the rest of the community that respect Chad presence within them. The performances are all good from the supporting cast with each moment required.
Story – The story here follows one member of gypsy criminal family that is looking to escape this life always on the run from the police, but leaving this life behind is difficult when his father is the leader and the resident in the local area see you as a nightmare. This is a story that will show us how generations can become trapped in a certain way of life, not given a chance to escape from the people sharing the world and the people outside don't want to let people in. we have seen the idea of escaping a troubled life can always cause more problems before, though this time we get to see just how desperate the man is to make it happen not for him, but for his kids. Seeing the police hunting down the family is comical at times, where you could see how hopeless they are at times. We only get to see one side of this story, which does miss out any other traveling the family might have done before hand, or seeing whether they have only been in one location.
Themes – Trespass Against Us is an action thriller that is filled with tight street car chases, along with the open world ones, where we get to see how the criminals are looking to get away with their own crimes. The world we are placed in does get to highlight the different worlds the people in the town live in, showing the divide created by them.
Trespass Against Us is a film filled with heart of escaping, caught between the world of becoming trapped.