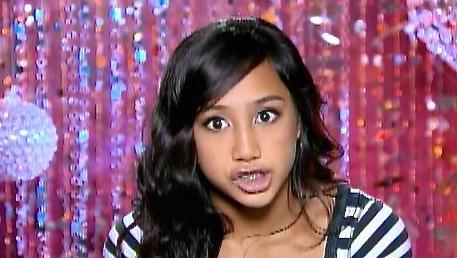 No. Really. I'm not even lying. Her Mom freakin' literally said 'Nebraska' like 400 times. I get it, lady.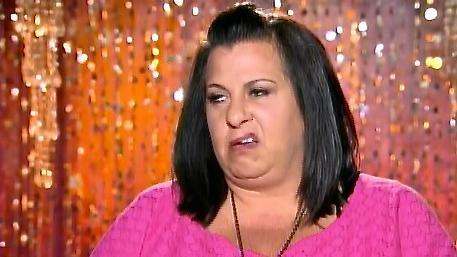 I could swear I just saw that Bow Bow JoJo's van out in the hotel parking lot. Don't even…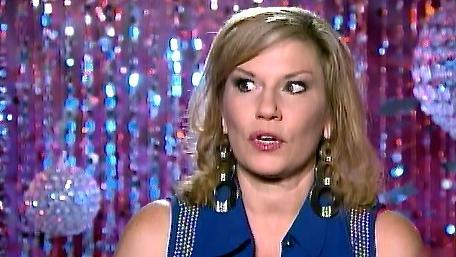 Beautiful Nebraska, the peaceful prairie land. Laced with many rivers and the hills of sand. Now just the boys sing!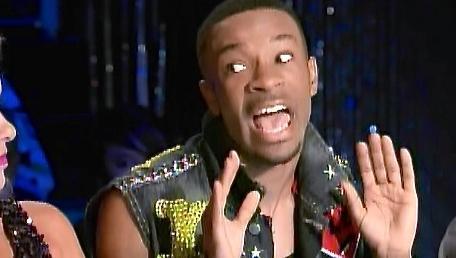 OhHellNo, Bitch. I know you did not just lip synch that Flashdance song. Hellz to the No.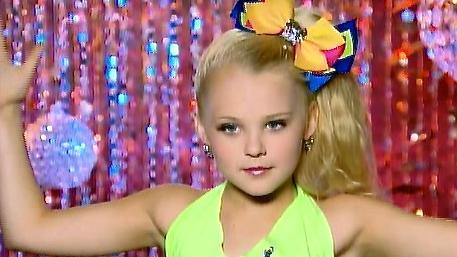 So I'm back, ya'll. Where's my check?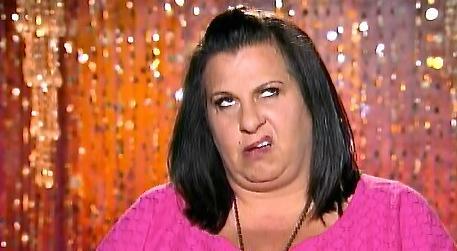 Oh, look.  It's JoJo.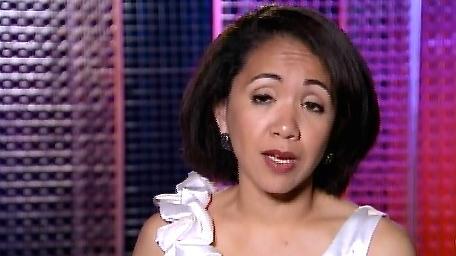 Honestly, I don't even care who wins this thing anymore. I just want to sleep in my own damn bed.
Finally.
The Finale.
After 11 tearful weeks of turned in/turned out trauma, Abby's Ultimate Dance Competition turned it up and crowned a Winner, sending one lucky girl home with $100,000 in cash and an "I ♥ Joffrey" bumper sticker for the family mini-van.
It's true.  Somebody finally scored that elusive full ballet scholarship and a confetti cannon explosion, but only after everyone else was put through one last round of Mama Drama and a geography lesson or two.  Or ten.
Thanks, Shari.  We get it.  Nebraska.
Really.  If you don't know where the Midwest is by now, you just need to go update your Google Maps app and finish this later.  And it probably wouldn't hurt to learn the Cornhuskers Fight Song while you're at it, since the birthplace of Kool-Aid seems to be a pretty hot topic lately.
(Seriously.  Kool-Aid was invented there.  And cows.)
If your drinking game word was "Midwest" or "Nebraska" or "Sas" you probably only made it through the first 15 minutes of the show before blacking out, so here's what you missed while you were face down on the carpet…
The Final Four.  Kalani, Trinity, McKaylee and Giaaaaanna.
With one final mini-challenge to go before crowning (…sorry, I'm getting my dancers mixed up with my toddlers…) the few remaining members of the original AUDC flashmob were tying up loose ends back at the Bungalow before heading over to the studio.
Cindy was busy stressing out Giaaaaanna with a pep talk.  Rocking one of those baggy gray sweatshirts that you wear when you're having a couple of beers and painting old lawn furniture in the backyard, Cindy pledged to not drive Giaaaaanna clinically insane as long as her daughter focused on the task at hand.  Gah, Mom.  Chillax.  Puhleez.
They're from Philly, you know.  Love them.
Trinity and Mom Tina were under the assumption that the Joffrey Ballet had some secret basement room filled with nothing but stretching machines from the 1600′s and that after Trinity won the competition she would suddenly be as tall as Heidi Klum.  I swear Mom's jacket said "Allegra" on the back, but I couldn't figure out why anyone would name a dance studio after an allergy pill with so many side effects.  Whatever.  I'm not a dancer.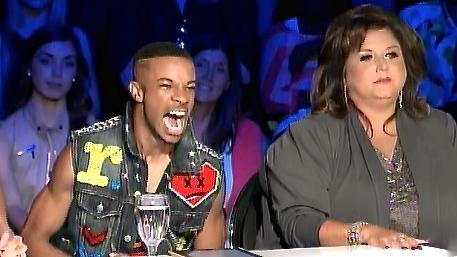 While Fake Kristie Ray Mom Kira plotted revenge against Cindy, Kalani had a nice talk with her Dad from his prison cell.  (That was a joke.  He's not really in jail.)
At least I don't think so.  It's just that whenever you talk to someone on Face Time, they always look like they're doing hard time on Rikers Island.  Really.  Call someone right now.
Am I lying?  It never looks like the magazine ad.  I should sue Apple.
And then McKaylee's Mom Shari let us know they were both from Nebraska, in case you hadn't picked up on that little bit of trivia over the past 11 weeks.
Across the street at the AUDC studio, the girls were met by Abby, Rachelle and Richy, who were all seated at the judges table.  Plot twist?
Maybe.
But first, there was a surprise video message from last season's Winner Brianna Haire that flickered up on some fancy new high tech screens like Princess Leia shooting out of R2-D2′s movie projector nose.
Help me fix my sickle feet, Obi Wan.  Help me.
I always liked Brianna.  And Star Wars.
The final mini-challenge this week was to pick your favorite dance and do it again.  Like an encore.  Except you had to pick it, remember it, get dressed for it, fix yo' face and perform it in the next 10 minutes.
Hysteria ensued.  The girls went into warp speed and the Moms went into warp spaz.
McKaylee did her Les Mis routine again, but without the sad Anne Hathaway chopped salad haircut.  Trinity did her Down N Dirty Diva duet routine, but this time without Honey Bow Bow JoJo trying to play catch-up on the eight count.
Giaaaaanna did her Zombie solo behind the tombstone again, while Kalani chose to save a horse and ride a cowboy one more time.
Unfortunately, as delightfully age inappropriate as Kalani's routine was the first time we saw it, this week's encore performance barely made it out of the barn.  She had trouble getting the elastic out of her hair to unleash the inner naughty cowgirl, got the lasso tangled around her own throat, fell backwards onto her saddle cushion after an ariel front sumthin sumthin and ended up being cut from the competition.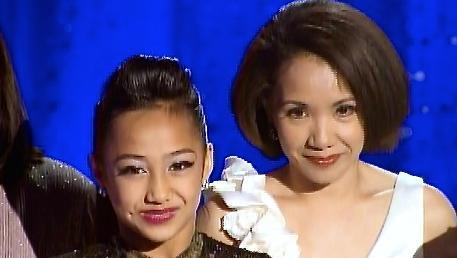 Because that was the plot twist.  One girl was being eliminated immediately after the mini-challenge.  Did I forget to mention that part?
And then there were three.  See you tomorrow.
And then suddenly there were six more as a stampede of former contestants stormed the castle.
Dat's rite.  The TBoyz, Ally, Haley, JoJo and Kalani were back!
It should be noted that my girl Chloe was mysteriously MIA, which made me really sad since I was hoping to see Mama Angela testifying with her hands up in the ayah ayah one last time this season.  She was one of my favorites.  Holla at you, girl.
And how about Ally's new and improved hair?  Buh Bye crazy curly 'fro with its own zip code.  Hello sleek and shiny and straight like in the commercial.
Somebody got a flat iron for her birthday.
Tessandra Chavez put the kids through a boxing themed group rehearsal while Cindy lamented the fact that six more crazy bitches had just landed on Planet AUDC.
I also think that for the first few minutes JoJo actually believed she was asked back just so she could be declared the Winner as she pinged and zinged around the room.  I forgot how exhausting it is to live in JoJo's World O' Bows.
After finishing up rehearsals for Rocky XV: The Musical, the Final Three headed off to learn their own solo routines.  And to cry just a little.
Giaaaaanna and Mom had an Oprah Moment with Tessandra as they all sat on the couch and got real about Cindy's divorce.
McKaylee, who was pretty much put on Earth to do ballet and attend Karaoke Night with the girls from the office every Thursday, didn't even know the lyrics to her new song and it was messing with her head.
Yeah.  The girl who got busted every single week for 11 weeks for lip synching during her performances didn't know the words.  It's called Irony, kids.  Look it up.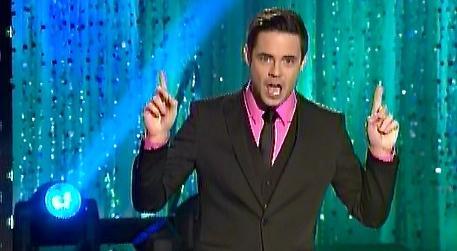 Victor Rojas, wearing the best whacky tank top ever in the history of whacky tank tops, had McKayKay take a step back and just listen to the music.  She learned the lyrics.  She learned the story.  She let us all know that it sucks to be 13 years old with a Mom that doesn't get it.  And then she and Sharit melted down.  Like they do in Nebraska.
Go 'Huskers!
Trinity's solo was dedicated to her grandfather who had just passed.  And Tarua Hall's signature jacket with the fur collar made another appearance.  That's pretty much all you need to know about that one.  I love Trinity.
Back in the MomRoom, crazy-haired Melanie was attempting to crazy-toast the Top Three Moms.  With real liquor.
Any guesses how that went down?
Cindy got all Philly on everyone.  Kira couldn't support Giaaaaanna because her Mom lies and cheats and passes counterfeit bills at Walmart.  Ally's Mom Tiffany, who basically hated everyone and everything since Day One, decided to stick with that theme and just bad mouthed all the kids and parents in between gulps of complimentary champagne.
Stick with what you know, I guess.
JoJo's Mom Jessalynn was either wearing a wire for the Mob or is planning on writing a tell-all book when the dust settles, because she was noticeably quiet…just taking it all in before the attack.  She cracks me up.  I bet she is a complete panic at bake sales.
Finally, it was Showtime!
My boy Kevin Manno was all slicked back and gettin' it done in one last slim fit suit for the occasion.  Tight and Right, dude.  Tight and Right.
Richy had pulled another sleeveless number out of his seemingly endless supply of cartoon vests and Rachelle was all Sparkles & Sas.  Sas with one 'S' that is.  And a trademarked 'S' at that.  Who's Sas?  I'm Sas.  You're Sas.  We're all Sas!
Back in the Green Room, Abby pulled one last fast one and brought in Davis Robertson from the Joffrey Ballet to freak out the girls right before they hit the stage.
At the request of the producers, Mr. Joffrey was going to be sitting at the judges table this week in the hopes that his and Richy's combined upper body strength would be enough to restrain Rachelle from kicking and jumping and werking and Biting The Apple every five minutes.  We only have two hours, people.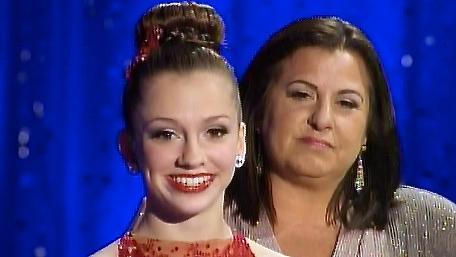 Rachelle trademarked that whole Bite The Apple thing, too.  Cuz she's sassy like dat.
But since this was the Finale, you can't just jump into the awards ceremony.  You have to milk it.  Haven't you ever watched Dancing With The Stars?  Their finale goes on for like a week and a half.  Two weeks when Kirstie Alley lost all that weight.
So first up was Maddie Ziegler from Dance Moms!  Dancing her way to a television screen near you on New Year's Day.  Set your DVRs!
This franchise does love that cross promotional s***.  Shout out to Holly!
After Maddie rolled and reached around the stage, Richy hit the footlights with something right out of a comic book.  I think he wore the same sunglasses as last year, but I could be wrong.  That bitch can pop and lock though.  And fight crime in high tops.
And then it was the Rachelle Rak Show as she Flashdanced her way around the stage while the Princess Leia screens all blinked 'Sas' over and over again.  I thought for sure it must have been some kind of subliminal message to buy her new song on iTunes or something, but 'Sas' spelled backwards is still 'Sas,' so I might be reading more into it than was actually there.
I'm not really sure if what Rachelle did was actual dancing as much as it was walking like Bette Midler and biting apples like she hadn't eaten in a week, but the crowd went wild.
And you totally knew she was gonna rip off that shimmy skirt and go full out balls to the walls leotard by the end.
But, whoa.  Hold up.  Rachelle lip synched the entire time, which is exactly what she kept spanking McKaylee for all season.  Am I wrong?  Oy.
Head snap.  Hair flip.  Hand in the air.  And scene.
It's called Sas, bitches.  And don't your forget it.
Then it was almost time for the group dance and the Final Three solos.  Almost.  After some American Idol-ish home videos, of course.  Trinty has like 50 brothers and sisters.
Girrrl, that hip hop group routine was turnt up.  Turnt Up.  Which means it was really good.
Giaaaaanna had clearly been practicing her apple biting technique.  McKaylee suddenly found the personality that everyone had been trying to slap on her face for the last 11 weeks.  And Trinity and The TBoyz just need to take that shiz on the road right now.
Boom.  Boom.  One more Boom.  Pow.  And then solos.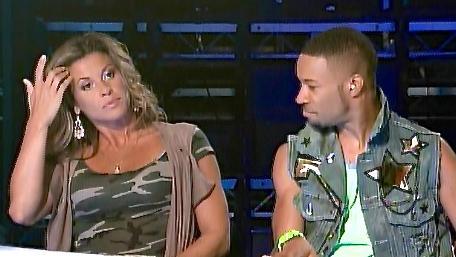 Trinity's dance incorporated so many turns and tricks that I got a little nauseous, but she totally rocked the house.  You can tell she's got a trampoline at home.
Giaaaaanna definitely proved that she was the MVP for Most Improved Playa.  At least in the flexibility category, anyway.
McKaylee bobbled a few little nothings, but everyone still liked her routine.  It even made Richy suddenly talk in a really high cartoon voice for some reason, even though he took issue with a few moves.
Rachelle stood up and down a few more times and then they picked a winnaaaaahhh.
Trinity was the first dancer cut.
She kinda saw it coming, even though she was totz amaze balls on stage.  Until they figure out how to put lifts inside pointe shoes, I'm not sure if she'll ever get the lead role in The Nutcracker.  But it doesn't really matter since she'll be dancing backup for Jennifer Lopez before you know it.  And sorry, but that is waaaay cooler in my books.
And then it was down to Giaaaaanna and McKaylee.
Philly vs. Nebraska.  Just like the Super Bowl, right?
Cindy cried.  Abby cried.  Shari cried.  Most of the Midwest probably cried.  And that was before they even announced who won the damn thing.
Ladies & Gentlemen.  Dancers and Wannabes.
Abby's Ultimate Dancer for 2013…..
McKaylee!!!!!!!!!!
The crowd went bazoinkers.  The judges rushed the stage.  And everyone in Nebraska pretty much wet themselves in their overalls all at the same time.
We have a Winner.
Now we can catch our breath.  And catch up on our homework.
And wait for Dance Moms to come back.
Congratulations, McKaylee.
'Huskers in the hizzle!  Way to represent.
As for me, I'll see you all back in Pittsburgh before you know it.
Show's over.  Go home.
The End.