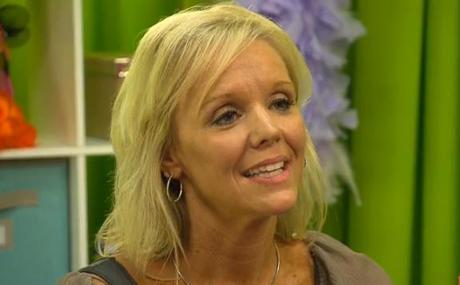 Let me break it down for everyone at the craft table. She's trash. Jenny From Around The Block trash. And that makes me smile.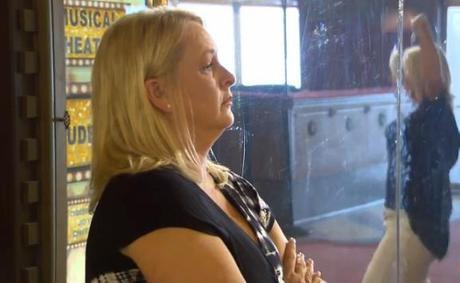 Look at that crazy thing. She knows she can't win the $100,000 herself…right? Joffrey don't take old nut jobs.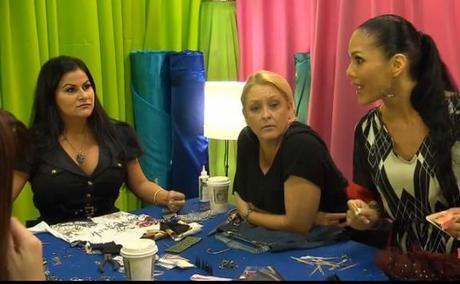 Maybe because you need to own it. Just like I own the hand that is getting ready to slap you back into yesterday, honey.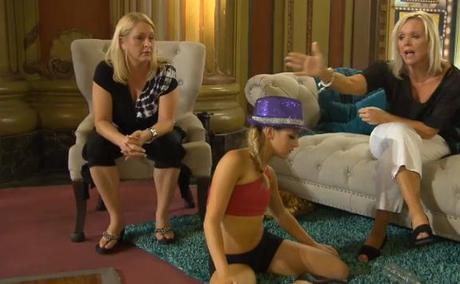 Blah Blah Blah. And Blah Blah Blah. And then Blah Blah Blah. On the eight count.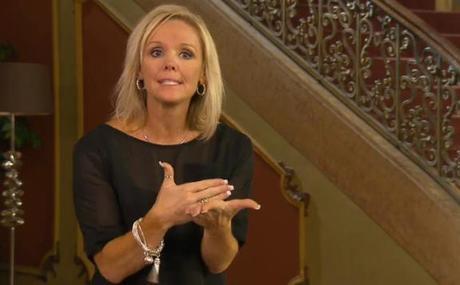 Because all the Real Housewives get to sit in front of a fancy staircase. That's why. Now turn on the damn camera.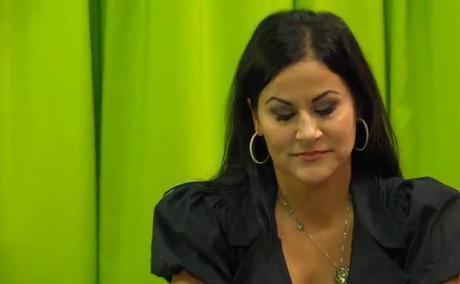 And Lord, give me perfect eyebrows and the strength to not pop off on that whacky a** smile in front of my kid on national television.
They say that there's a broken heart for every light on Broadway.
I saw it on a t-shirt once, at one of those places where you can buy Statue of Liberty erasers and thimbles painted to look like tiny New York City Kiwanis fez hats.
So it must be true.
I'm also pretty sure that for every missing or blown out marquee 60 watt there has got to be a crazy Dance Mom out there somewhere, too.  They can't all be on Lifetime.
That's right.  Abby's Ultimate Dance Competition jazz handed its way into Week #4 with a salute to the Great White Way.
Broadway, Baby.
Like a condensed Nickelodeon version of that hotel room channel that only shows clips from current theater productions, the little dancers were put through a Broadway Bootcamp complete with cattle call auditions, heartbreak and Joel Grey's eyelashes.
The only things missing were Spider-Man saving the day, and maybe Abby Lee Miller holding pint-sized Asia up over her head as a fierce offering to The Lion King.
But even that I can't swear to, because I would not be the least bit surprised if Miss Richy Jackson wasn't werking some Spidey spandex under the Judge's Table.
Girlfriend was waving around her web shooter fingers like the Green Goblin was gonna swoop down on his flying skateboard and ask her to a Tea Dance.
Thhhwwipppp!  Careful.  It's sticky.
But I digress.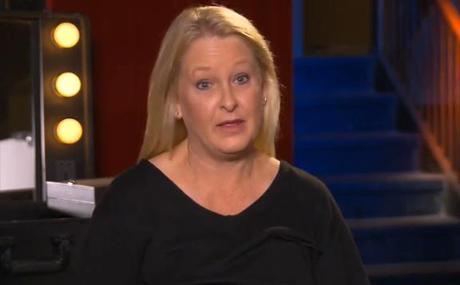 Since there's no Pyramid of Shame in the west coast version of the ALDC, everything always starts with the Group Mini Challenge.  This gives all the kids a chance to score a special prize and for host Kevin Manno to show off whatever new outfit he picked up at the Mall over the weekend.  He was looking a little Banana Republic this time around with the whole half zip sweater/untucked shirt thing going on, but I didn't see a bag so I can't be positive where it came from.
Dude.  If you wanna be Seacrest…get a stylist.  And stop doing that side of your mouth click/wink/thumbs-up thing when you leave the room.  You're saying buh bye to 6 year olds, not telling some chick at the bar that you'll see her in your dreams tonight.
Heaven must be missing an angel.  Call Me, Maybe?
To fully immerse the contestants in the Broadway Experience, choreographer Joyce Chittick put them through the type of cattle call dance audition that they should expect as they go out into the Real World, complete with a CD running on a constant loop and numbered post-its stuck to their outfits.
Since I myself have never had the correct footwear to partake in an open audition in New York City, the only times I've actually seen the sticky numbers in use have been during that dance marathon in Grease and at random cattle auctions, so I didn't have much to compare it to as everyone began getting their Fosse on.
But I'm pretty sure it's the same thing, right?
Instead of touching their flanks and determining if they would make good breeders, once the rehearsals were done Abby ran the number over and over and over again until only one dancer remained.
Amanda took the blue ribbon and scored this week's solo.
As all the kids headed off to rehearse, the Moms all headed to the work room to throw down, Broadway Style.
To give them the benefit of the doubt, I'm going to assume that they all headed to the work room with the intentions of actually BeDazzling costumes, but before the first crystal was even hot glued down it was time for a little West Side Story rumble.
Erin and her comic book eyebrows initially tried to play Switzerland and let Kristie know that her arch enemy Yvette had actually said something nice about her sassy little daughter Asia, but the whole thing backfired and the two Moms went at it.  Again.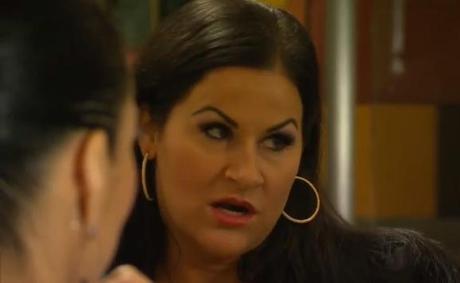 Kristie once again channeled her inner JLo as she blasted Yvette for making a child cry and then laughing about it both during and after the fact.
Yvette, who with a quick backhanded smear of some Revlon could easily play the Joker's wife on the old Batman TV show, laughed some more and then announced to everyone that JLo was trash.
The Dance Moms JLo, not the American Idol one.
JLo told her to "Own It."  Then Mrs. Joker laughed some more and Batman & Robin climbed up the outside of the building on a string.
Back at rehearsals, Hadley and Jordyn were working on their Vaudeville number, which meant that Moms Kelly and Yvette were on the same team.
Let's be honest here.
Kelly should have just brought in a magazine or her Sudoku book to keep herself busy while Yvette took over that practice session.  I'm not even sure why she showed up.  Maybe Kelly was so silent because Yvette had sucked all the oxygen out of the room with her non stop yapping.  I dunno.
But every time the choreographer turned her back, or blinked, Yvette was right up there "cleaning up" the number and dissecting every eight count while Kelly sat back and wondered how her life had ended up the way it had.
Not to mention that Sudoku is too hard.
Special props to Yvette's daughter Hadley for somehow mastering the art of tuning her mother out and still looking like she is listening.  It's an art form that I really need to master.
On the other hand, life was more of a cabaret for Madison, Lexine and SassyPants Asia as they worked on their Liza Minnelli stool straddles.
JLo admitted that her 6 year old daughter was certainly doing some rather…uncomfortable ahem…adult moves this week, but that Anthony Burrell was keeping the choreography PG.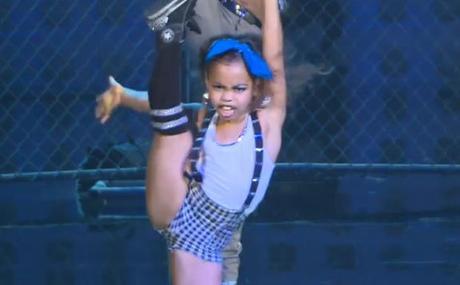 Ahem.  If I got a vote, I'd say PG-13.  But nobody asked me.  That 6 year old milkshake is definitely gonna bring all the boys to the yard.
And probably a Gladys Kravitz type neighbor in her housecoat carrying a brochure from Child Services.
"Abner!!  The neighbors are booty poppin' again!"
Let's just say that before we even got to the Judge's Table I knew that Robin Antin and her glitter bombed décolletage would see all that hooch and bring up the Pussycat Dolls for the umpteenth time this season.
We get it.  You gave birth to the PCD.  We get it already.
Since Asia does not yet have as much junk in her trunk as older Hooters girls, she fell off her stool and got bopped in the nose which caused her to run off stage in tears.  Probably not what you want to do if you are trying to prove that you can hang with the older kids.  But she pulled it together and came back to "crank it and get it up there" like a pro, as Robin tastefully pointed out later during the competition.
Yeah.  Six years old.  And cranking it.  Love her.
The third group number was an awkward Hip Hop salute to the NY Subway system, complete with a self professed pretty girl who thought only hobos use mass transit and a painfully Swag-challenged Zack.
Poor little guy.  First he was straddled with Elisabeth, who was clearly already plotting out when she should cry again as Brianna out danced her in rehearsals.  But now he also had to get down and dirty and buck in a reflective yellow maintenance worker's vest that was 10 sizes too big for his little stick arms.
He admitted to having some issues getting his Swag on even before Mom Gina put yet another nail in his gym class beating coffin.
She just needs to stop talking.  Mom knows that he has to go to school at some point, right?  Every week she emasculates my buddy a little more.
Why does she keep bringing up the fact that he is not very manly?  And that he's more of a Ballet Lyrical Boy.
Even a superhero with that name would get beat up at recess.
Geezis.  Just take him to the vet and be done with it.  Or shut up.  Team Zack all the way here.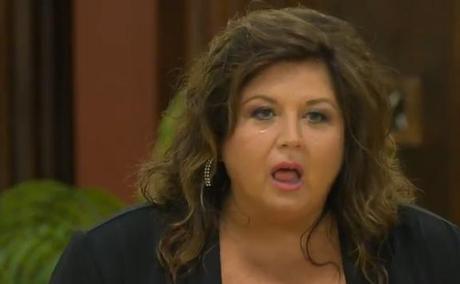 Finally it was Showtime!
Robin was all shiny and sparkly.
Richy prematurely unleashed his fabulous web shooters all over the stage.
And Abby had clearly ridden in the taxi with the windows down, because I'm not sure what was going on with that hair.  Sometimes I think she must just piss off her stylists so much that they just send her out with no mirror and then give each other high fives when the cameras start rolling.  For realz.
The competition started with a group number.  Kind of a Crips vs. Bloods street fight in Madonna's old clothes.  I hope Zack remembers some of those punches for later, if you know what I mean.  Or just call me and I'll protect you, buddy.
The cabaret number went exactly as we all expected.  The only problem was that tiny Asia is so…well…tiny, and the other two girls towered over her in all their hoochiness.
It looked more like a Take Your Daughter To Work Day at the strip club kind of thing.
But it gave Robin time to pimp out the PCD again.  Aren't they retired now?  Didn't one of them break a hip or something?  Love the PCD, and I know you wish your boyfriend was hot like me.  But it's yesterday's news.
The Vaudeville dance had one little goober when Hadley slipped on the floor.  I'm pretty sure Kristie clapped off stage a little and then threw a bottle of floor wax in the dumpster.
Gina told Zack to go out on stage and be a pimp, which was wrong in so many ways that I couldn't even process the conversation.  Smothered by his MTA vest and clunking around in Timberland boots that weighed more than he did, my Boy gave it his best shot but clearly struggled to find his rhythm.  Or his Swag.
Or the muscle that makes your pelvis do the nasty.
Even Richy was so distraught that some kind of invisible Fierce Field actually prevented him from clapping when the number was over.  Almost.  But not quite.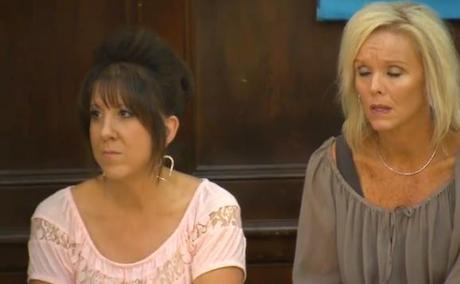 When it was all said and done, Amanda was numero uno.  She rocked her solo and was the top dancer for the week.  Mom cried.
In a jaw dropping first evah…for this show at least…three contestants were in the bottom and had to dance for their lives.
Say wha–?!  A Dance Off!
I know, right?  When has that ever happened anywhere?
Not as much fun as lip synching for your life with RuPaul, but still competitive.
Elisabeth, Zack and Madison each had approximately 11 seconds to get their boogie feet going in one last attempt at staying in the competition.  They each had a couple of measures to do some kind of spin thing (…remember, I don't have the shoes…so I'm a little rusty on the technical part…) and then one of Yvette's eight counts to improv like their lives depended on it.
Naturally Elisabeth ate up half of her time with tears.  Dance tears, at least.  Not Divorce tears this time, which was a nice change of pace.  It's hard being pretty, you know.
She even shimmied off the stage, rushing the Judge's Table like they do on SYTYCD when they make Carrie Ann Inaba scream.  I think Richy actually shot one more web when she got all up in his grill so unexpectedly.
Zack tried the same thing.  Bad move, dude.
Madison remained on stage, most likely because her enormous fake eyelashes were messing with her depth perception.
And then Zack was either cut from the competition or got hit by the crosstown bus in midtown.  I'm not really sure what happened.
Everyone broke down into such hysterical sobbing and Italian funeral hysteria that I had to turn down the volume.  Crying.  Hugging.  Collapsing.  Dance Drama I tell you.
Lawd.  Where's Spider-Man when you need him?
And then there were 8.