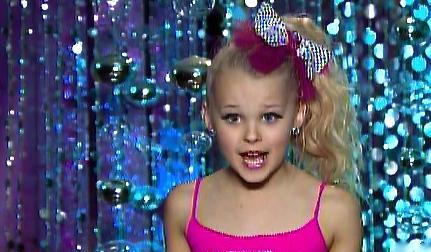 It's true. The Higher the Hair, the Closer To God. But the Bigger the Bow? Let's just say God help them bitches.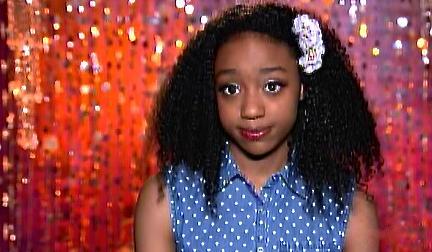 I don't think y'all need to be worrying about me. Once I drop it like it's hot pot luck, they'll be praying fo' mo'. E'rybody got that?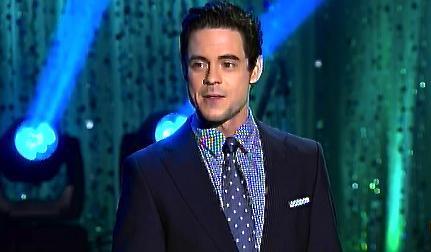 That's right, ladies. I'm back. And I clean up pretty nice, if I do say so myself.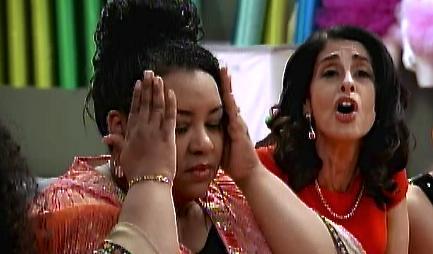 Lawd Jesus, that little white girl just fell down and she ain't got NO booty at all back there.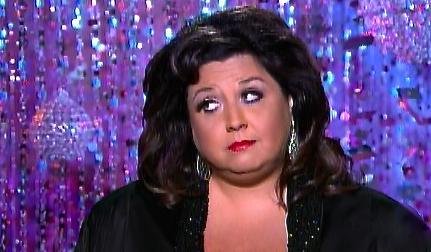 I'm not gonna lie. My boy Kevin's looking pretty good this time around. Mama thinks somebody's been workin' out.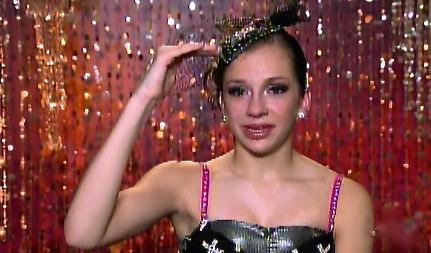 Seriously. One day and I'm already up to HERE with all that Honey Bow Bow crap. Sister better dial it down, asap.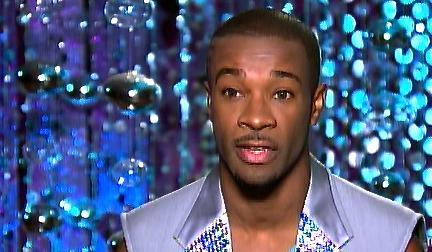 Only the Best. Job. Ever. I get paid to wear glitter and give the finger to little kids. Hellz yeah.
Can I get a Whoop Whoop?
Or maybe a finger wave and a Halleloo?
Something celebratory, please, because it's time to give thanks, testify and try not to sickle our feet.  Abby's back.
Or at least Abby's Ultimate Dance Competition is back.  Abby didn't really go anywhere, unless you count those few times she mysteriously went MIA from her day job on Dance Moms this season.
But that shouldn't even count as a no-show, because when she blew off Pittsburgh it was really just to pimp out her second show and set us all up for the longest subliminal cross-promotional advertising campaign in the history of network television.  Ever.
We get it.  AUDC is coming soon.
And now it's here.  La segunda temporada.
Season Two, that is.
A second chance for some lucky little dancer to score a $100,000 wad of cash and a scholarship to the Joffrey Ballet School in New Yawk City.  A second chance to get cut early and end up dancing with Ohio's Candy Apple's Dance Center next season if Cathy Nesbitt-Stein continues to pad her team with ringers instead of local bumpkins.
And almost as important as the actual grand prize, a second chance at becoming the next breakout star from PlanetSass.
Can anyone say Asia Monet Ray?  Cuz dat's what I'm talkin' about.
But you can't have a contest without contestants, so right out of the gate it was time to meet this season's 11 hyperventilating hopefuls as they cruised through the mean streets of Hollywood in refurbished OJ Simpson Broncos.
Really.  I swear.  With the same KTLA 5 overhead shots on the same highway.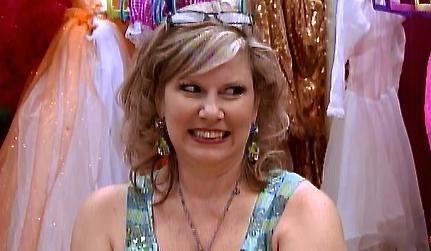 If they can't do a standing split, you must acquit.
Seriously.  The only reason I knew I wasn't watching CNN was the UDC logo on the roof of every getaway car.  Because that's what all the hipsters call the show now.
Abby's UDC.  Which is not to be confused with Abby's IUD over on the Discovery Health channel.  Because that would be gross.
As well as inappropriately hilarious.
Anyway.
Through the magic of the same split screen they used on Fox's 24, we met Mom Cindy and Gianna who immediately went for the Couldn't Afford The Joffrey On Our Own sympathy vote.  I liked Cindy right away, even though I bet she could beat a chick down in a heartbeat.
The next car was packed so full of sugar and spice and cartoon animals and oversized hair bows that it probably required a reinforced chassis.  Mom Jessalyn and JoJo.
Yeah.  They're gonna be a handful.
This season's Big Hair Mom was Do Anything For My Kid Melanie and her daughter Haley.  Mom boasted that alot of other Dance Moms hate her and despise her kid.  She also reminded Haley that they didn't freakin' fly all the way from Connecticut to make friends, and to remember what they had been through.
Which was clearly a reference to some kind of East Coast wind tunnel.
Holy Big A** Mall Hair, Batman.
The kind that never fully dries.  I don't really know how that works.
The token males of the species were twins Tyler and Travis, accompanied by Mom Sheryl.  The boys totally looked like they were just peeled off a silent movie screen and I could already tell that I was going to have trouble telling them apart.
I forget who, but either T1 or T2 ended up in a white shirt and suspenders at some point in the show and I swear it was liking watching a shrinky-dinked Leonardo DiCaprio chilling out on the Titanic.
We all arrived at the freshly painted UDC studio and met Mom Kira and Kalani.  I could tell right away that Kira was trying to move in on the Hot Mom turf that will for all eternity belong to my girl Kristie Ray.
Sorry.  Ain't gonna happen.  That seat's taken.  Please move along.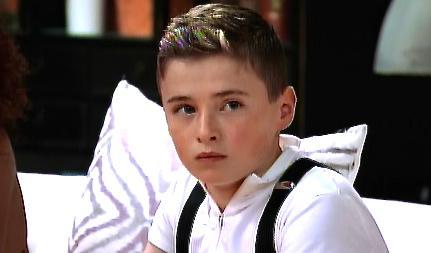 Also taking a Bronco ride was Mom Tiffany and her biracial daughter Ally.  She pointed the ethnicity out.  Not me.  And it wasn't really necessary, because Ally was clearly rockin' 13 pounds of hair that she can't do a thing with in August humidity.
I liked her, and was especially fond of the way Tiffany already had it out for Jessalyn and JoJo before she even got both feet through the door.  Tiffany doesn't do perky.
That would be a No.
The reigning Junior Miss USA Sarina and Mom Sharon decided to take a break from parade waving to join the competition as well.  They were joined in the studio by Trinity and her Mom Tina, who I liked right away because she looked like she could pull a samurai sword out of her Fendi bag at any moment and get this thing down to the Final Three before the first commercial.
Tina was a former professional dancer who walked and talked and posed like a former professional dancer should walk and talk and pose.  Plus, she got extra points because she was all about being In Yo' Face, which I love.
Rounding out the Lucky Eleven were McKaylee and Mom Shari, who was working a Bump-It like an infomercial girl, and Chloe and Mom Angela who was big and brassy enough to pray for all these women.
I immediately got a TV crush on Angela, and kinda sorta hoped they both got cut the first week just so Lifetime could give them a sitcom with some of my favorite Pageant Nanas.
Girrrrrl, pleez.
Once everyone was lined up and accounted for, Miss Abby arrived for the first challenge.  No Pyramid of Shame.  Just a challenge to get this party started.
Ok.  Couple o' things.
Noticeably absent from the week's opening challenge was emcee Kevin Manno.
Remember last season when he would always accompany Abby on the challenges, all decked out in the latest J.Crew Casual Friday gear, flailing around those nervous hands and twitching his Boy Band Hair?
What?  Where's my boy?  Abby was flying solo in the studio.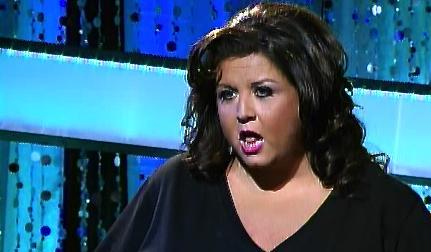 And speaking of.
Last year's massive ballroom and that Gone With The Wind staircase the kids used to always stampede down were also noticeably absent this time around.  Remember how the kids used to practice in a room so massive that they didn't even notice Kristie and Yvette rolling around on the floor during their weekly Bitch Fights?
Let's Go!  Hit Me!  Hit Me!
I swear that will never get old.
Now they were all packed into what I believe was the set from last year's Labor Day Telethon, all trying to out dance and out CrazyMom each other under broiler lights.
There's well lit HD, and then there's third degree sunlamp burns.
Whoa.  Someone needs to tell me they also noticed the changes.  And then someone else needs to explain what happened so I don't dwell on it for the next ten weeks.
Since this was the first challenge, the theme was FAME (…remember, remember, remember…) and the skill set was basically EVERYTHING in the manual.
Before the starting gun even went off, Jessalynn told JoJo to push her way to the front of the crowd like it was Black Friday at Walmart.  Mama wants that Joffrey Ballet blender for Christmas morning even if she has to step on a few heads to get it, ok?
Oh, JoJo.  Bow Bow JoJo Bow Bow.  Honey Bow Bow Child.
It was like watching all 6 seasons of  Toddlers & Tiaras on your DVR at the same time.
With no Pause button on the remote to stop the madness.
And you're watching them all while coming down from such a pure cane sugar buzz that everything in your living room looks like it was animated by Disney/Pixar.  And the more you watch your TV the smaller JoJo's head gets and the bigger her hair accessories get, until she's nothing but a gigantic cheer bow with jazz hands.
By the time she started spazzing out like one of those whatchamacallit dogs that bounce straight up and down instead of walk, I thought I saw Eden Wood tap dancing in my bathroom sink.
(She couldn't use the tub because Liberace was giving himself a glitter sponge bath.)
That kid is exhausting.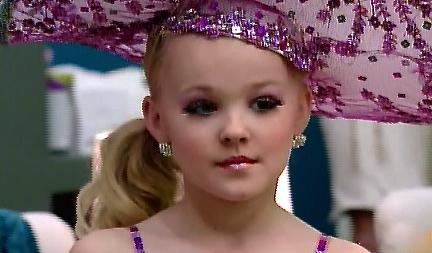 Trinity ended up winning the mini-challenge, and got to pick her partners for the FAME routines.  Dances based on famous people.  Der.
She picked the Beyoncé theme, and dragged Chloe and Ally along with her.  Which was pretty exciting until Angela pointed out that Chloe was a Christian from a hardcore prayer-bookin' family who has a hard time dropping it like it's hot.
She said that.  And I think I died for a second or two.  Sitcom, please.
Tyler, Haley and Sarina were going to get their Michael Jackson groove on, courtesy of choreographer Anthony Burrell who somehow had gone from last season's AUDC to hating Abby to jumping ship over to the Candy Apples on Dance Moms and then to hating Cathy and was now back on the AUDC Mother Ship.
Don't ask.  It's all a little incestuous with these people, if you ask me.  Regardless, the whole thing almost drove a stressed out Haley straight into MJ's empty oxygen chamber.
Kalani, Gianna and McKaylee were chosen to strike a pose with a Madonna tribute, while Travis drew the short straw (…and the big bow…) and ended up paired with JoJo in a Gene Kelly movie dance.
After Tiffany and Jessalynn had the first craft table throw down of the season (…"You're a circus! Now hand me that glue gun, you crazy bitch"…) it was Showtime!
And Kevin Manno Time!
Dude was back.  All slicked up in his knock-off Seacrest Collection, complete with one of the those trendy yet totally useless pocket squares and new Clark Kent hair.  You know he totally pulls down one forehead curl when he goes clubbing.
Also back at the judge's table was Miss Thang Richy Jackson and his two signature Boogie Woogie Bugle Boy finger waves.  MmmHmm.  Girlfriend was still werkin' it like nobody's bidnezz, all sleeveless and sparkly.
New this year was judge Rachelle Rak.  She's a big dealio on Broadway and had to sign a legally binding contract stating that if she mentioned the Pussycat Dolls even once this season I get to punch her in the throat.
(Robin Antin.  RIP.  Enough with the PCD.)
Ok.  Couple mo' things.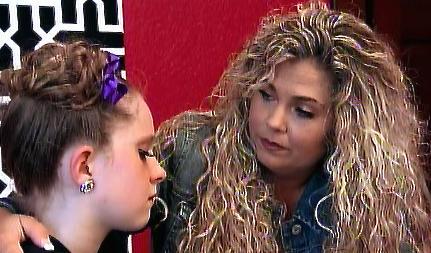 The giant stage and auditorium from last season is gone, too.  Really gone.  And it's been replaced with 1,000,000 of those hanging sparkly beaded curtain string things that the producers over at Lifetime seem to love so much.
Someone must have really scored a deal on those things by buying in bulk, because they've been hanging behind every Dance Moms reunion/fake talk show/moms tell all special for the last year.
I'm all set with those, thanks.
For the first time out, the routines weren't as clunky as you might have expected.  Even Dancing With The Stars gets a lot of #4 paddles during Week One.
The biggest OMG of the night was when Gianna fell backwards right onto her Madonkadonk after tripping herself up towards the end of their performance.
NASA calls it a Hard Moon Landing.
After all the critiques, finger waves and JoJo jubilation, it was time to get real.
Haley, Sarina and Melanie's hair ended up being in the bottom for Week One and faced the judges all alone.
Melanie just stood there completely obliterating the view of everything behind her with all that frizz, while Mom Sharon decided to use her time on the chopping block as an opportunity to talk shiz about Anthony's style of teaching.
Because that worked out so well for Cathy and those Candy Apple Moms back in Ohio.
Maybe Sharon should have watched Dance Moms before she filled out the application.
Needless to say, Sarina was sent packing.
It wasn't her day.
Or her Mom's, who got all potty mouth one last time and declared that the whole thing was just Malarkey.
Malarkey if I ever saw it.
Because that word still exists.
I got nuthin' after that.
JoJo…how many contestants does that leave us with now…?
That would be ten.