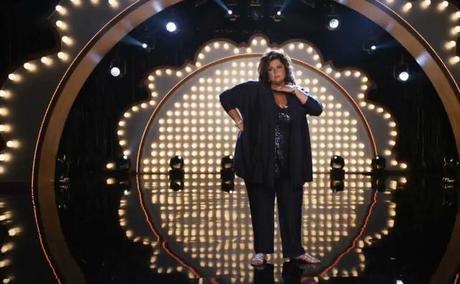 Seriously. How many times have I said to only shoot me from here up..?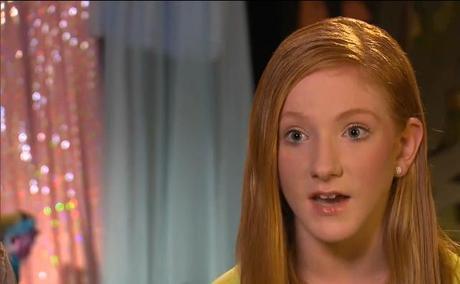 And I've been waiting for this my whooole life. And Dance Moms has only been on for two years. So I'm like totally psychic.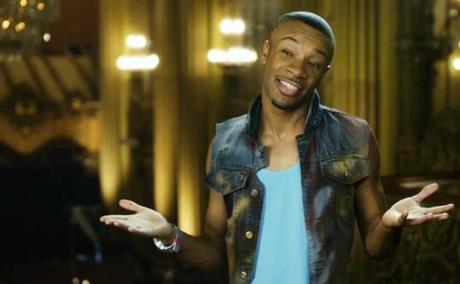 And then, no lie, she sez "You gotta risk it to get the biscuit." Girrrrl, pleez. Honey Boo Boo Child sez that s*** is nasty.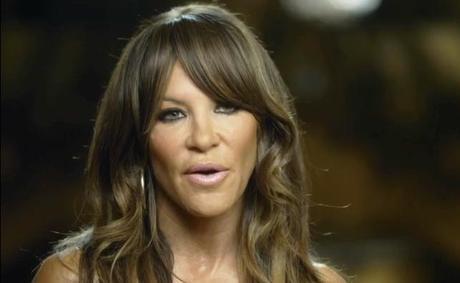 And for the last time, it's PCD. Not PCP. They just danced like they were on it.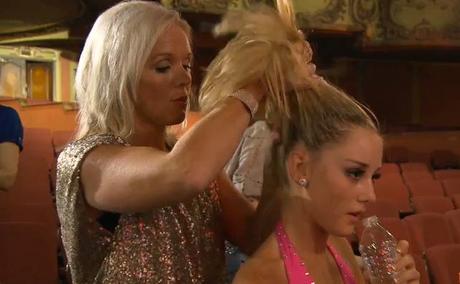 "Dance like Fred Astaire or Mama yank yo' hair." You might want to put it on a glitter glue tee shirt if you know what I mean, honey.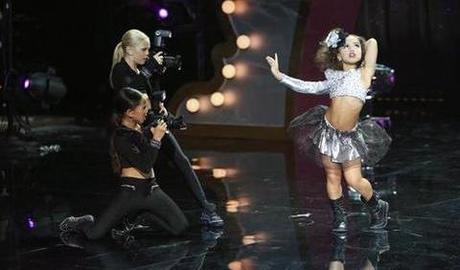 Bitch, please. No more photos. Diva needs her juice box.
And so it begins.
For those of you having a tough time getting through the shakes and withdrawals of Dance Moms detox, it's your lucky day.
Abby's Ultimate Dance Competition has arrived to take the sting out of having to face the cold, hard fact that Chloe and Maddie are back in school and won't be clawing their way up and down the ALDC Pyramid every week.
Dance Moms is over, but Abby Lee Miller ain't going anywhere.
Considering the fact that a mere two years ago most of the Free World didn't even know what ALDC even stood for, it's a testament to everyone involved in the Dance Moms phenomenon that Abby and all her matchy-matchy primary colored accessories are now part of pop culture.
You go, girl.  You go all the way to Los Angeles.
And you start a dance competition show, girl.  Because Lord knows we don't have enough of those on television already.
And so was born AUDC, not to be confused with the aforementioned ALDC even though it's the same person.  So I understand if you already can't keep up with what's about to go down.
Yes.  It's another dance competition show.  But it's different.  The same.  But different.
It's Dance Moms meets So You Think You Can Dance meets Survivor meets The Swan meets pretty much any show where someone gets cut every week and goes home crying.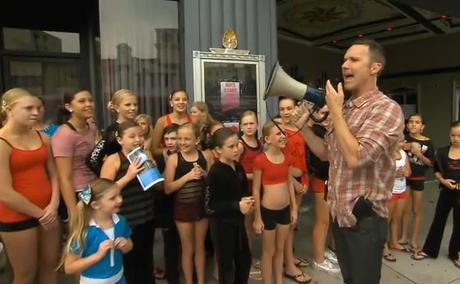 And maybe even American Idol if you count host Kevin Manno and his skinny tie, who wants this whole thing so badly he even smells like Seacrest.  Pick your favorite Reality Show and you'll probably find a little snippet of it in here somewhere.  But it's all good.
The dealio is that 12 dancers and their 12 Dance Moms are all competing for one coveted spot in the Joffrey Ballet Young Dancers Program.
That's right.  The same Joffrey Ballet where crazy Chaos Cathy Nesbitt and all her Candy Apples dancers almost got everyone booted out onto the streets of Manhattan for screaming and eating pepperoni pizza slices during open auditions back on that infamous episode of Dance Moms.
It looks like Abby and the admissions department all hugged it out though, because someone is going to score a spot at the Joffrey by the time this thing is all over.  And worst case, even if the lucky winner spends the rest of their career getting turned away at every audition and never dances again, they're also leaving this show with $100,000 prize.
So it's a pretty sweet deal.  Which would explain some of the Moms.
Since this was the first episode, it was more of a Meet & Greet for starters before the first elimination.  With a nod to Project Runway, we got to meet a few contestants stuck in traffic acting like they were on their way to meet Tim Gunn for the first challenge before Fashion Week.
Jordyn and her Mom Kelly were first up.  Jordyn looked like she was happy to be part of the show.  But not as happy as Mom.  Not even close.
Kelly was literally pinging off the car windows like a puppy on the way to the vet for the first time.  She was sooooooo excited to meet Abby.  She was living right now.  Living.  Someone crack a window.
The token boy of the show Zack, and Mom Gina were also excited.  Mom was nervous, but Zack was cool as a cucumber.  It's totally irrelevant to the story, but Zack's voice was not what I expected when he opened his mouth.  It was a little high, like a Nickelodeon cartoon, but he's representing BoyPower and dude gets one bonus vote just because.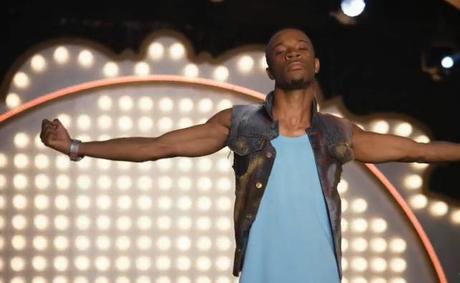 The last cab ride was with Hadley and Mom Yvette.  Hadley was kind of like a Paige 2.0 from Dance Moms.  Yvette was a dance teacher with a penchant for cutesy inspirational rhymes.
Yeah.  Let's just say that if this was a VH1 Pop Up Video Show, right about now was when a neon "UH OH!" would have splopped up from the bottom of the screen because according to Lifetime TV, dance teachers never shut up.
My psychic powers told me that she would most likely try and get all up in every other choreographer's face.  They also told me that she and Hadley had never seen an episode of Here Comes Honey Boo Boo, or the two of them would never have been so publicly celebrating their biscuits.
When everyone had finally made it to the fancy pants venue, it was time to meet Abby, who appeared to have swiped one of Maddie's crowns and repurposed it into one major league headpiece.
Kelly had obviously not calmed down yet from the ride over, and probably had not wiped her PupKiss nose prints off the window either.  She was freaking.  Out.  Big.  Time.
During the explanation of the rules we met Elisabeth and her Mom Erin.  Both really nice and friendly, but you totally know that Erin has one of those plastic templates from Sephora that she uses on those eyebrows.
Whoa.  Just whoa.
We also met Tua and her Mom Shayna.  Mom was from Hawaii and made me want to book a flight just so she could greet me when I came off the plane.  I liked her smile.
The first challenge was to learn a group number in 45 minutes, which was taught by either Anthony Burrell or Ne-Yo.  It was hard to tell with that chapeau.
I wish I had a head for hats.  He looked fly.
Towards the end of their rehearsal, Abby came back in to check up on everyone and assign trios.  Her blinding head piece pretty much caused a few dancing trains to jump the track and then everyone either bumped into each other or looked at their Moms for guidance.
With a nod to either RuPaul's Drag Race, where you have to hot glue gun a doll into a fierce Queen in under 45 minutes, or Shear Madness where you go all Supercuts on somebody's nervous head, the point of the first mini challenge was to just pick a winner.  Plain and simple.  That winner then got either Tribal Immunity or the choice of dance style for the Trio Dance.
Elisabeth won, and she chose Contemporary.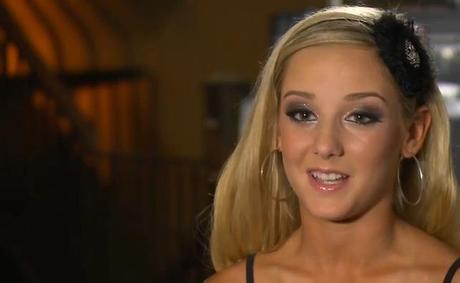 The first real snark of the evening came when Yvette commented on Elisabeth's seemingly overconfident attitude.  Whispering as though she had some government secrets or a juicy pregnancy rumor that she was about to break to the media, Yvette let us know that she was not that impressed with overconfident people.
Hello, Pot?  Meet Kettle.
The competition then broke up into 4 trios, with 4 dance styles.  Contemporary.  Hip Hop.  Tap.  Jazz.  That is what they would be judged on and then one of the little dancers would hit the road after all that work.  That's why it's called a competition, kids.
Somewhere along the way we also met the other two judges, but I forget where and when.  Trying to keep track of 12 brand new kids and 12 brand new Dance Moms is a lot of work, people.  You try it…and then maybe I can finally go to bed early one night.
Robin Antin.  Famous for the Pussycat Dolls, Botox and her Hair Guy brother Jonathan from Bravo TV.  What ever happened to him? He always had the best jackets.
And Richy Jackson.  Famous for tweaking his name like a crazy a** Toddlers & Tiaras contestant, those crazy a** BeDazzled vests and for teaching Lady Gaga how to dance in those crazy a** shoes and meat dress.
Since this was the first episode, they had to cram in all the rules and all the new faces, so a few Moms and kids got slighted.  That's probably also code for who the producers think is the craziest and makes for good TV, which is fine by me.  We love crazy.
To keep this thing moving, I'll skim over the trio rehearsals and the guest choreographers.
Except for the Bobby Newberry part.
I just can't.  That bitch is so faaaaabulous that I almost paused my DVR and drove across town to the RamRod Discoteca just to slap a Club Kid in the face.  Seriously.
I hear you talkin'.  I see you walkin'.  Don't need no squawkin'.  MmmHmm. Werk.
Where's my glue gun?
Since everyone was new, the MomDrama was fairly limited except for a little sumthin sumthin that was about to go down during Showtime.  Leading up to the actual competition though, most of the Moms played nice even though some of them wouldn't stop yakking.  And my psychic powers were once again proven accurate as Yvette got all up in her choreographer's face until she was pretty much told to sit on her own hands and shut up.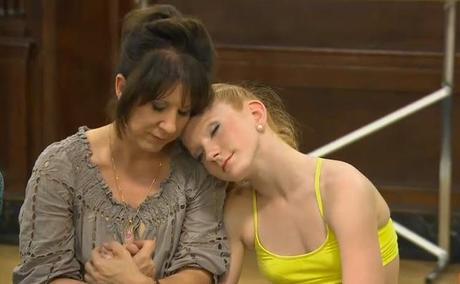 Finally it was Showtime!
Richy was rocking the whackiest vest yet and Robin was rocking about two cans of Jonathan's hairspray.  No wonder he gave up the product line.
First trio: Hip Hop.  Sassy little Asia made Mom Kristie proud by booty popping her way around the stage like Beyoncé while Jordyn and Lexine played like paparazzi stalkers.  It wasn't really full scale hip hop, but more like three little girls acting out a video they weren't supposed to be watching online.
Lexine goobed up her front walkover, which everyone seems to do on Lifetime at some point, which in turn made Mom Maria cry.  She cried a lot this week.  She also immediately assumed that Lexine would be going home since she blew her routine, and immediately told her the news before the judges had even seen the other numbers.
The loud 'pop' you heard was a young girl's self esteem going buh bye, which resulted in the oddest back alley Dance Mom throw down we've seen yet.
Jordyn's Mom Kelly tried to talk some sense into Maria, until Maria screamed at a kid that she didn't own and then everyone blew a little nutty.  You don't yell at the wrong kid.
Second trio: Jazz.  Since it has been well documented that I know nothing about dance but insist on talking like I do, I'm not sure if it's a Lifetime TV thing or a general industry rule that every boy who dances has to do that one leg up in the air move like my man Lucas always did on Dance Moms: Miami.  Because Zack was busting them out like it was his day job.
(And speaking of Miami…you tell me that Victor and Angel weren't sending out a string of phantom tweets tonight wondering why these f***ing newbies were all hogging their time slot.  Oh, Lifetime…)
Hadley and Madison completed that trio and got pretty good props from the judges.
Third trio: Tap.  Finally.  You never see tap in these shows.  Or anywhere, for that matter, unless you still own a black & white TV and get that channel that always shows Busby Berkeley movies.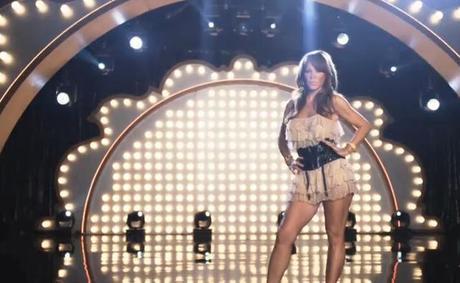 Tua didn't care for the dance style and doinked it up a little bit.  Tessa and Kyleigh Jai didn't seem to be loving it either.  Maybe it was just the whacky Old Hollywood flapper wigs that looked like ginormous steel wool scrubby sponges on their heads that was making them lose their focus.  We'll never know.
Tessa got called out for no performance face.  Mom Renee's arms were so jacked I'm not sure that I would have even messed with her kid.  But Abby is pretty ballsy.
Final trio: Contemporary.  With the confident Elisabeth and Brianna and Amanda.
Yeah.  Not so much. Elisabeth didn't have a very good night.
Amanda was great.  Richy gave the whole thing a finger wave, which looked like he was clubbing and forgot to buy a glow stick.  Miss Thang?  He loved it.
When the judges all ganged up on Elisabeth and asked her why her head wasn't in the game, she broke down and played the Divorce Card.  With a nod to All My Children, Liz broke down and revealed that Mom and Dad were divorcing and dance was her escape from all the bad stuff at home.
Shayna got all Hawaiian OhNoSheDin't and then the whole thing just kind of backfired on Elisabeth.  Home is a hot mess?  Leave it at home.  Thank you very much, missy.
You don't see Celine bawling like a baby do you?
In a show of whatever the opposite of solidarity is called, all the other Moms immediately figured that both Mother and Daughter were using the divorce to distract the rest of us from the fact that Elisabeth can't keep her knees together.  Even the breakdown of the holy sanctity of marriage can't cover the fact that somebody's technique sucks big ones.
After some more tears and 30 seconds of Survivor theme song drums, Tessa was the first one cut due to the whole performance face being MIA thing.
Mom flexed her guns and then the two of them dragged their luggage out the door and out of the competition as Tessa expressed her displeasure with the results and pretty much almost gave Abby a special finger wave of her own.
And then there were 11.