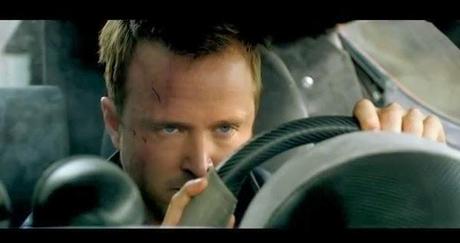 DreamWorks has released the first trailer for the upcoming video game-inspired movie, Need for Speed starring
Breaking Bad
's Aaron Paul.
'Need for Speed' already has a well-established audience thanks to the successful video game series. However, you can't help but look at this movie as a Fast and Furious clone. But, it doesn't look bad. Hopefully, Aaron Paul will help save this film by taunting his famous "B" word.
Synopsis: 
Framed for a crime he didn't commit, muscle car mechanic and street racer Tobey (Aaron Paul) gets out of prison determined to settle the score with the man responsible for his false conviction. Tobey tears up the road in a gritty cross-country journey— one that begins as a mission for revenge, but proves to be one of redemption. DreamWorks Pictures' "Need for Speed" is directed by Scott Waugh ("Act of Valor"), and also stars Dominic Cooper, Ramon Rodriguez, Rami Malek, Imogen Poots, Dakota Johnson and Scott Mescudi.
The Need for Speed movie will head out in theaters on March 14, 2014.
Check out the trailer and let us know what you think about it. And remember, this is only the first trailer for the movie. So, don't try to judge the whole movie with this one-minute clip.
Email This
BlogThis!
Share to Twitter
Share to Facebook