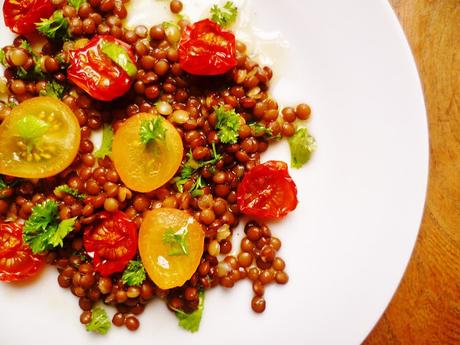 a zesty beluga lentil and roasted tomato salad with herbs
I love the taste and texture of beluga (black) lentils, so-called for their supposed resemblance to caviar. Admittedly, when wet, the lentils seem to glisten like caviar fish eggs. But sadly, I find that they do lose their intense black color during cooking. But brown or not, it really doesn't matter as they still taste good. If you can't get hold of beluga lentils then use Puy or French green lentils (which won't disintegrate during cooking).

I have lightly cooked the tomatoes in a very low oven. It dries them out a little, although they are still juicy with a sweet intensity.
This is delicious on its own. But for a more substantial meal, serve with a piece of poached fish or any leftovers from a Sunday roast.
ingredients:
200g beluga (black) lentils, rinsed and drained
water
2 garlic cloves, smashed
1 bay leaf
200g cherry tomatoes, halved (I used a mixture of red and yellow)
2 tbsp fresh herbs, finely chopped (I used a mixture of coriander and parsley with a few mint and basil leaves thrown in)
dressing
juice and zest of 1 lime
3 tbsp olive oil
salt and freshly ground black pepper
directions:
Pre-heat the oven to 200C/Gas Mark 6.

Arrange the tomatoes on a baking sheet, cut side facing upwards.

Turn the heat down to 120C/Gas Mark ½. Bake the tomatoes, checking every 30 minutes or so for about 1 hour or a little longer. The tomatoes should have begun to dry out but should still be juicy.

Whisk all the dressing ingredients together. Season to taste. Set aside.

Cover the lentils with enough water to cover by about 2cm together with the garlic and bay leaf. Bring to the boil and simmer for about 30 minutes until cooked. They should still have a little bite to them. Drain and fish out the garlic cloves and bay leaf.

While still warm, toss the lentils with half of the dressing.

Scatter over the tomatoes and herbs. Drizzle over the rest of the dressing. Serve at room temperature.
tips:
Other nice things to add would be a few chopped spring onions or chunks of avocado.