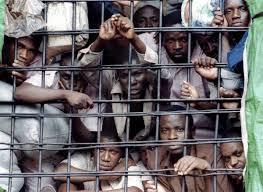 When the Rwandan president Paul Kagame talks of Rwandans, he does not refer to Hutus that he can with impunity treat this way, less like even animals. Since July 94, hundred thousands of them who were not systematically eliminated and cleansed from entire areas of the country, ended up in these places where nobody will ever knows exactly died there.
This happens at the time the Rwandan president Paul Kagame puts down the mask of his Nazi style of hatred against Hutus.
Following the social revolution of 1959 during which his aristocratic Tutsi family was removed from power and forced into exile, and since his early age, he had probably promised himself a tough retribution against those who had disempowered his people.
Paul Kagame's bitterness against Hutus was first applied during the period of the Rwandan Patriotic Front's attack of Rwanda in the early 90s. Hutu populations living in the areas of Byumba and Ruhengeri in northern Rwanda were atrociously and indiscriminately massacred.
He also killed the Hutu president Juvenal Habyarimana on April 6th 1994 because apparently they (Hutus) had made him a refugee for more than 30 years. That is however the understanding which emerges from the interview he gave to the BBC reporter Stephen Sacker on Hard Talk in December 2006.
"… I am the president of Rwanda, I am Rwandese, I had a right, I had the basis for getting involved in the armed struggle to liberate my country from Habyarimana, from the government he was leading; I have been a refugee in … outside Rwanda for 30 years. ..," he said trying to justify what he did.
This was part of his answer on the question of the journalist asking the Rwandan president why he was then in 2006 reluctant to be investigated and put on trial for the assassination of his predecessor. Two years earlier he had however claimed that he had no problem with that.
When he took total control of political power on July 4th 1994 he could thereafter without any major obstacle put in place and implement whatever policies which could enable him to satisfy his hatred of Hutus. And he has almost widely succeeded.
Millions of Hutus, though being the Rwandan majority [officially 85%],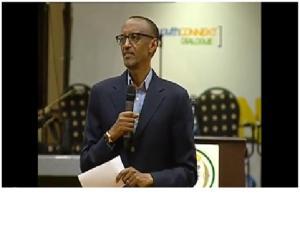 Paul Kagame addressing the Youth Connekt dialog on 30/06/2013 at the Serena Hotel in Kigali where he asked all young Hutu to ask forgiveness to Tutsi for the crimes of their parents. This is occurring after that more than 1.3 million of Gacaca cases have condemned concerned Hutu families to a life of second – class citizens, without access to property, education or employment.
among them those who were not massacred inside o outside Rwanda, or have not been dispossessed or imprisoned, are obliged to live as citizens of second-class category in their own country.
To dispel any potential emergence of political power for Hutus, the Rwandan president and his RPF regime have been tracking across the world those among them who could lead the rest, and accused them of having perpetrated the Rwandan genocide of 1994. Understandably this might be always the case.
In December 2006, 4 Rwandans living in the United Kingdom and accused by the Rwandan prosecutor of participating in the genocide were arrested: Vincent Bajinya, Celestin Ugirashebuja, Charles Munyaneza and Emmanuel Nteziryayo. They were imprisoned in the high security Bermash prison of London. However, their court case "collapsed in 2009 after the High Court ruled that they could not be returned to face trial for mass murder because of a "real risk they would suffer a flagrant denial of justice".
On May 30th 2013, the 4 ex-detainees were again taken back into prison under the understanding that this time the Rwandan government had produced to the British Courts the missing elements previously highlighted to them during the initial trial for the suspects to be validly convicted. A fifth suspect, Celestin Mutabaruka, was added to the list of detainees.
In a statement released by the Rwandan prosecutor Martin Ngoga at the occasion, it indicated that they were waiting to see the British Courts sending home those suspects to face justice in Rwanda. Probably at the surprise of Kigali, all 5 detainees were recently released from prison with bail and under particular conditions, considered the seriousness of the allegations against them.
Despite the Rwandan government's wish of seeing them locked up the time of the trial, the British High Court found that at least 4 of the detainees had already done some time in prison. Since they had not fled anywhere to escape justice, they could face it out of prison.
This has been the sort of small victories against the Rwandan Patriotic Front of Paul Kagame that Hutus must celebrate in their struggle against his oppressive regime.
It should be clearly understood that nobody is advocating for any supposed criminal to be above the law. What these suspects have been for example looking for was to face a fair justice system and not the RPF one where the accused is automatically condemned even before trial.