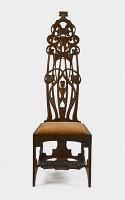 Tall-Back Chair from the Rohlfs Home, 1898–99
Oak, replacement upholstery
54 x 17–1/2 x 16–1/4 in.
Princeton University Art Museum, Gift of Roland Rohlfs, son of Charles Rohlfs
Photo: Gavin Ashworth, Courtesy of Princeton University
© Trustees of Princeton Universtiy
I really love attending museum exhibitions which broaden my knowledge of twentieth-century decorative arts. There have been so many exhibitions and books dedicated to the subject that I am rarely feel like I have truly learned something new. However, I was very happy when I read last year that a book and exhibition dedicated to Charles Rohlfs was on the horizon. I have seen a few examples of Rohlfs work at auction and always wanted to know more about him. I was definitely not disappointed after leaving "The Artistic Furniture of Charles Rohlfs" the Metropolitan Museum's exhibition (which closed this past Sunday).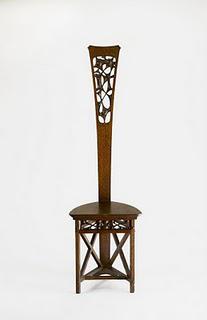 Charles Rohlfs and Anna Katharine Green
Desk Chair from the Rohlfs Home, 1898–99
Oak
53–15/16 x 15–15/16 x 16–7/8 in.
The Metropolitan Museum of Art, Promised Gift of American Decorative Art 1900
Foundation in honor of Joseph Cunningham
Photo: Gavin Ashworth, © American Decorative Art 1900 Foundation
The Brooklyn-born Rohlfs (1852-1936) studied drafting and design at the Cooper Union and did not "find himself" right away. He designed cast-iron stoves, was a pattern-maker for foundries and also an actor. But every great actor needs a muse and his was Anna Katherine Greene. Green was also a creative spirit: she is considered to be the first American female mystery writer. The couple married in 1884 and by 1887 settled in Buffalo. This is where all the magic happened. Instead of furnishing their home with store-bought furniture, the young couple decided to make theirs. Rohlfs "artistic furniture", which according to the exhibition's curators "combined elements of the Arts and Crafts and Art Nouveau" was beautiful and unusual, and attracted the attention of his neighbors. Alas, Rohlfs had found his calling and a business was born. Rohlfs was responsible for the design and fabrication of his work and at some point hired outside help. These men, like him, were skilled woodcarvers. Rohlfs proceeded to take on commissions and created furniture for the weekend homes of his wealthy patrons in the Adirondack Mountains and eventually even participated in several important expositions- such as the 1901 Pan-American Exposition in Buffalo and the 1902 Turin International Exposition of Modern Art. His big break came when he signed distribution contract with the Chicago department store Marshall Field & Company. Rohlfs also worked hard at marketing his work and his advertisement cards decorate the museum's gallery walls (one such ad for a men's armchair reads "The cigars are on me if this is not comfort.") However, this collaboration did not prove successful and so Rohlfs abandoned furniture design to take up a career in civic affairs.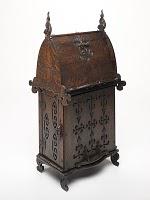 Rotating Desk, ca. 1899
Oak and iron
56–1/4 x 25–1/2 x 24 in.
Dallas Museum of Art, anonymous gift
Photo: Dallas Museum of Art
The furniture on view, about 50 pieces in all largely dating from 1898-1908, is mostly made of oak stained a matte brown and is beautifully carved. Actually fretwork (sawing boards together into unconventional shapes) and elaborate carving are two trademarks of Rohlfs's work. Since there is no surface decoration on the furniture, the pieces are simple yet incredibly exotic. Not surprisingly Rohlfs was influenced by Chinese and Japanese art. He was also inspired by Louis Sullivan, who he called a "genius" and a "giant."
Most of Rohlfs's furniture and objects were created for his own home and since he was the end user, he made sure that the pieces suited all of his needs. "If I make a chair, then I am a chair" he once said. Sometimes he would go back and add something years after he had completed the piece, like when he added a box with compartments and drawers to previously completed standing desk. And in the end, while completely function his furniture is also incredibly sculptural and so beautiful to look at. My favorite part was walking around each piece, peering underneath and mentally taking it apart, trying to figure out how each piece was constructed. Everything whether it is bellows or lanterns or desks is intricately decorated. Another favorite piece of mine is a folding screen with panels made to resemble his wallpaper pattern. How ingenious and chic.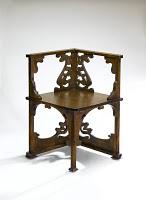 Corner Chair, 1898–99
Oak
28–7/8 x 19 x 19 in.
Dallas Museum of Art, Promised Gift of American Decorative Art 1900
Foundation in honor of Joseph Cunningham
Photo: Dallas Museum of Art
Of course I also love the story behind his work. His wife being his muse and collaborator is wonderful. Her love of science led him to design a tall-back chair that is perhaps one of the most gorgeous pieces in the entire exhibition. The carving on this chair resembles the cellular structure of oak as seen through a microscope. Their relationship reminds me of another couple who were busy around the same time designing furniture: Charles Rennie Mackintosh and Margaret MacDonald over in Glasgow.
The exhibition and the accompanying catalogue was put together by Bruce Barnes and Joseph Cunningham of the American Decorative Art 1900 Foundation. They should be applauded for bringing such a wonderful, and relatively unknown, talent to light.