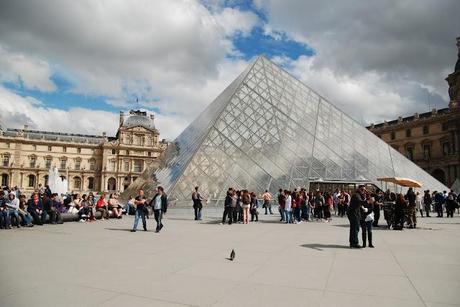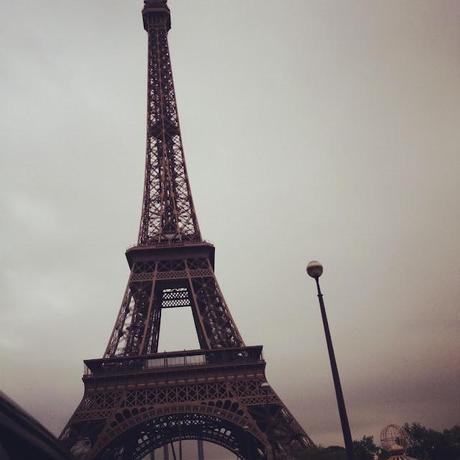 Our last two days in Paris were a heavenly blur of museums, stores, walking, food, and friends. Strangely enough, a lot of people my mom and I know were in Paris at the same time we were; we had luxuriously long and butter-drenched dinners, bubbly flutes of champagne, and wonderful conversation with both our American and Parisian friends. The connections there showed me that while the world is big and wide and I can go to many corners of it, there are elements of home in every place. You just have to reach out to people and weave the webs (more after the jump).
Before I share the last of the trip with you, I want to say a bit more about connections. I've recently begun to look for jobs (journalism, marketing, and design related positions) because the freelancing isn't paying me enough nor am I spending as much time working with others as I would like. It's exciting and scary to begin the next stage, whatever it may be. As part of my job search, I've been emailing a lot of people I know, asking what their professions are like and asking for advice. And I've been so touched and heartened by how kind the responses have been; maybe I just know wonderful people, but most of them have been more than happy to help me, to talk to me, to advise me. 
I'm writing this because I think we often forget how important it is to ask for help. Our culture is one where individualism is rewarded, and where we (well, at least I) often feel we have to try to go it alone just to prove that we can. But even famous individuals with great, seemingly stand-alone careers and images are the result of a team of people who've helped them get where they are. Reaching out to people is crucial, and it can make those you ask feel good, too. I know that I get such pleasure out of being able to give someone worthwhile advice or to make a connection for them.
That's what's been on my mind these days. But now, on to the last of the European whirlwind!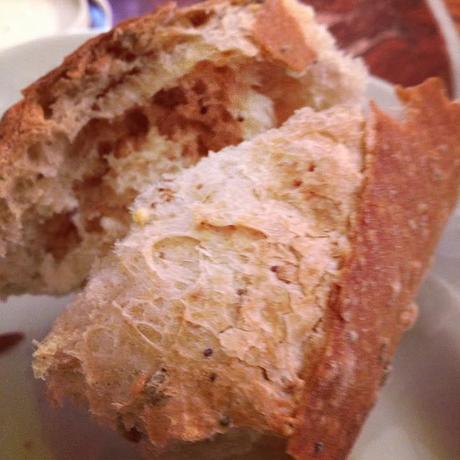 There are few things in this world better than fresh, crusty, warm french bread for breakfast.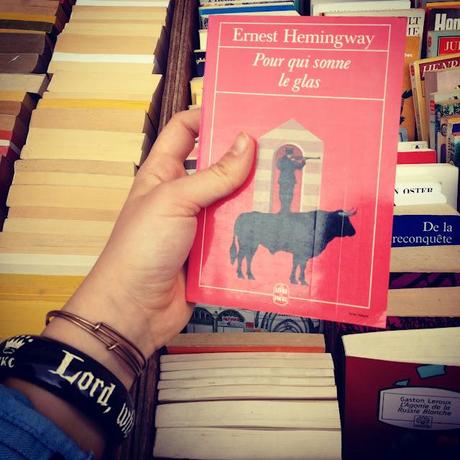 On the way to the Musee de Cluny, an old abbey in Paris, we stopped by a little book stand. I was reading Hemingway's A Moveable Feast, so I snapped a picture of this one, too.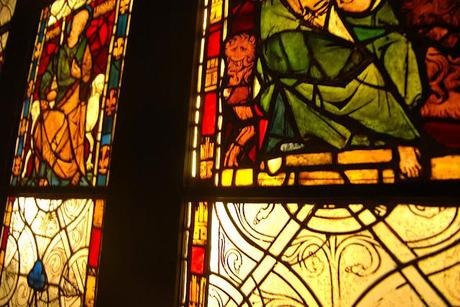 Before Cluny was an abbey, and far before it was a museum, it was an old Roman bathhouse; you can see in it the layers of Paris' history. Its collection includes medieval art from all over France.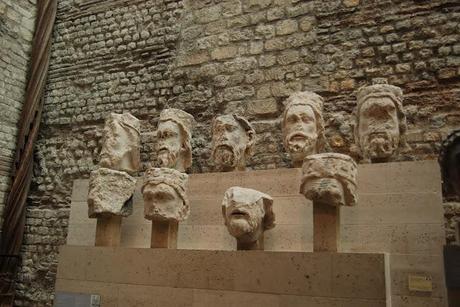 Regal heads.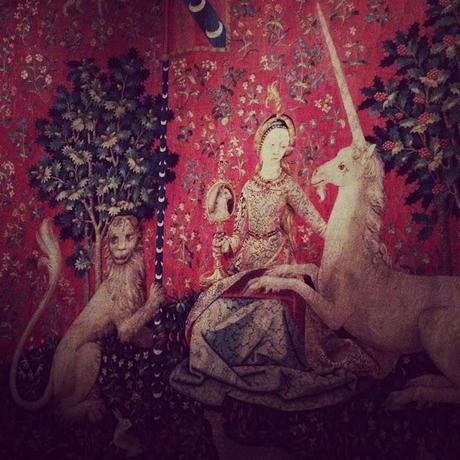 Cluny is most famous for six tapestries, all huge, called the Lady and the Unicorn. The tapestries were made for a wedding ceremony; in each one, the lady shows the unicorn a different one of the five senses (above, she shows him sight), and in the final one, she accepts her marriage holding jewels that her groom has given her. The unicorn has the sweetest face in all of the images. Sight was my favorite of the tapestries because of the paws on the lady's lap, the little skirt protector on which he rests, and the reflection in the mirror.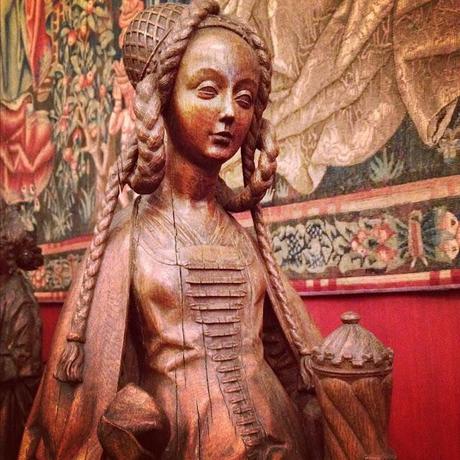 A German statue of a woman, carved out of wood.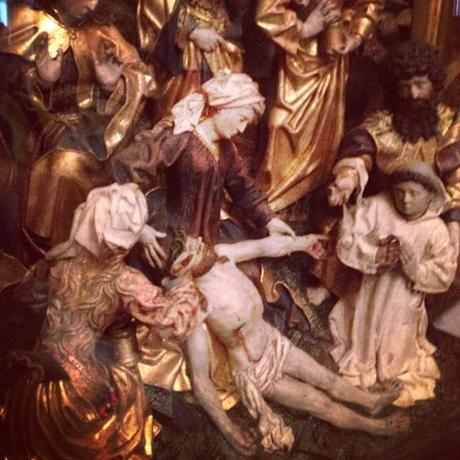 A carved wooden altarpiece showing Christ being taken down from the cross.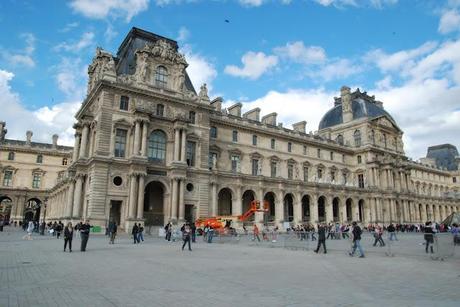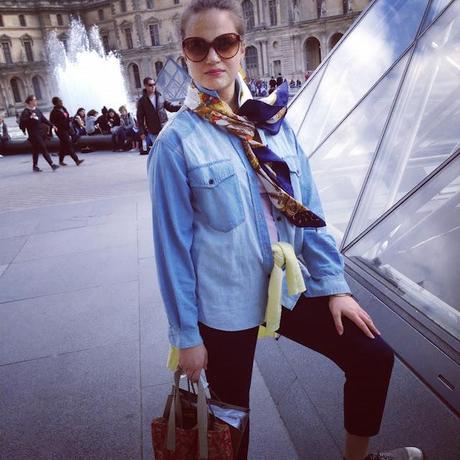 Ah, and then the Louvre. So crowded, but worth braving the hoards for the most art I've ever seen in one place, and some of the most beautiful, too. I was glad to see the famous pieces; they are (not surprisingly) more breathtaking in person than they are in photographs.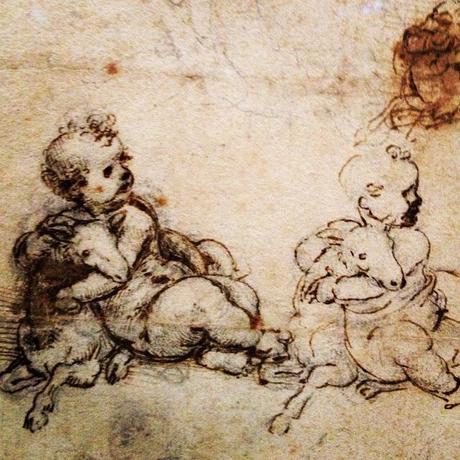 The best exhibit we saw was of da Vinci's Virgin and Child with Saint Anne, his last, and unfinished, painting. The show walked you through his preparatory drawings, showing different details and ideas for the final, and culminated with the painting itself and an equally large and magnificent drawing he had made for an earlier version. The show was one of the best my mom and I had ever seen; it also included his student's copies of the painting, and to see all of the different elements and then the final mind-blowing painting was a once-in-a-lifetime experience. It's amazing how magnetic art can be--I literally couldn't take my eyes away from the painting, because there was always something new to discover; a nuance in the composition, a detail in a fold of fabric, and the bright, bright colors that seemed to shimmer.
They didn't allow photos, so I couldn't take one of the final two big pieces. I could, however, snap this drawing of the baby Christ with a lamb before I got yelled at. Speaking of getting yelled at, I managed to raise a lot of French ire in our last day in Paris. First, I picked up drumsticks at a modern art exhibit at the Centre Pompidou (a modern art museum) that were apparently not supposed to be picked up (though why a snare drum in the middle of a room with two drumsticks on it is art is beyond me). I assumed it was there to be played, and that, judging by the cord that ran from the drum to a projector, something happened on the wall when you hit the drum. Not the case; the security guard rushed over shouting, "non, non, non!" and made some very French hand gestures at me.
I then broke a bracelet at a store, but the very nice saleswoman told me it was not my fault. Turning pale, I backed out of there, saying "je m'excuse" over and over. THEN I thought the perfume at a shop was serve yourself, because they had a big glass jar of it with a pump and smaller jars next to it, all ready to go. Again, not the case. And again, a woman rushed over to me shouting, "non, non, non!" and shook her head at me as she poured the smelly substance back into its receptacle. Paris: 4, Char: 0.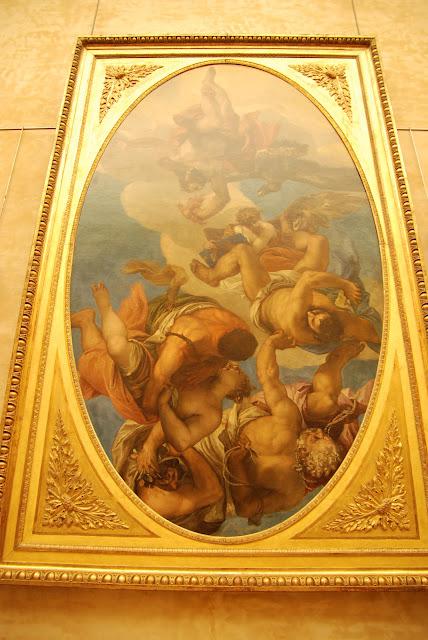 A painting that was originally on a ceiling. I love how the men are falling out of the sky, so when you would have looked up, they'd be tumbling down.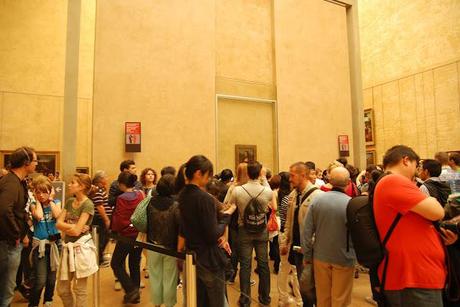 The insane amount of crowds around the Mona Lisa. I felt bad for her, behind the glass, getting gawked at all day. At least she has the nights to herself.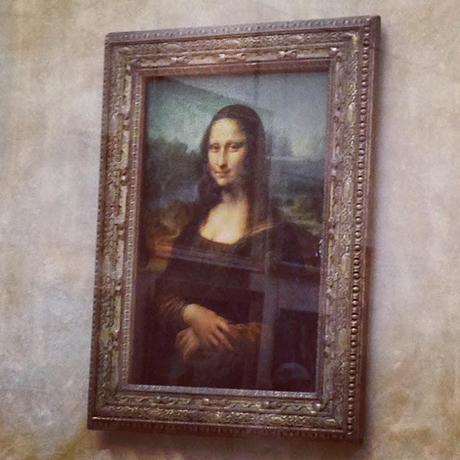 But of course I gawked, too.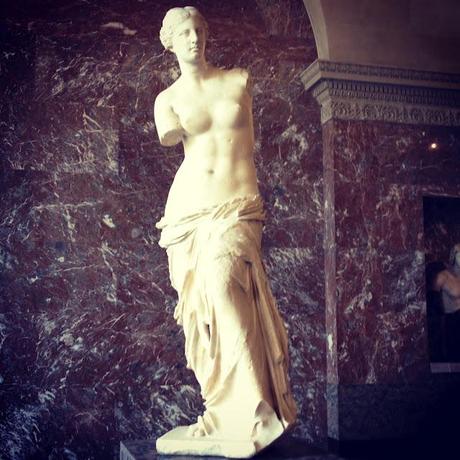 The Venus de Milo has to be the sexiest thing I've ever seen.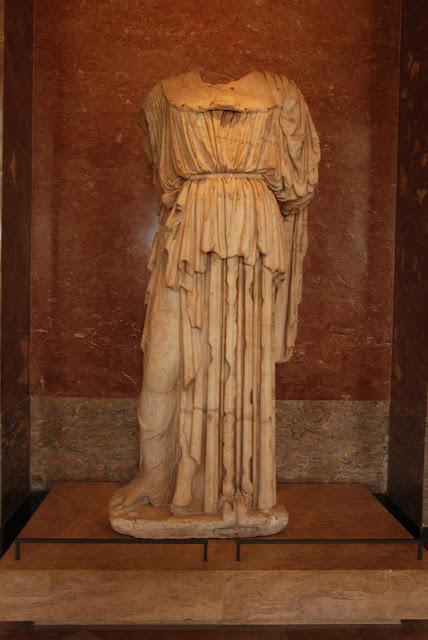 This statue of Minerva is huge. I came up to about her waist!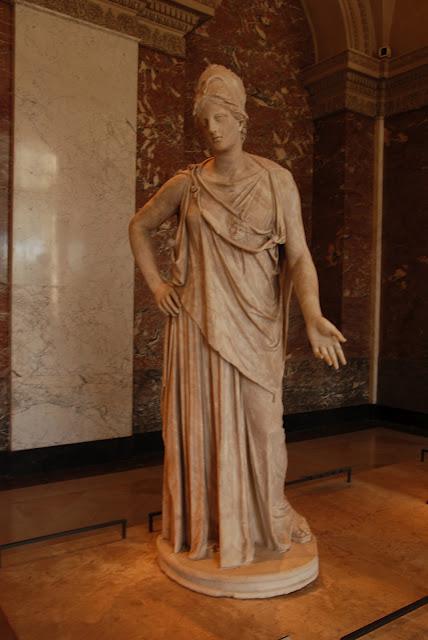 She's saying, "give me a break, guys, I've been in stone for a bajillion years. Can someone please bring me a drink?"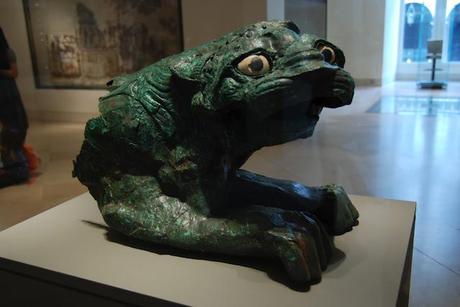 This Assyrian animal is a lion, I think, but he kind of looks like a frog.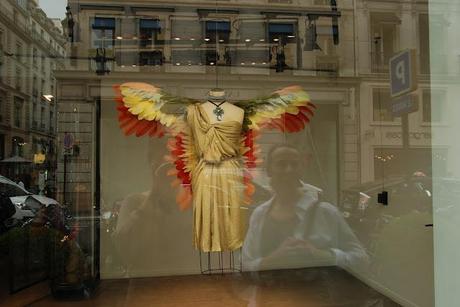 We strolled around the insanely nice shopping district of Paris, where I died over this Lanvin window display.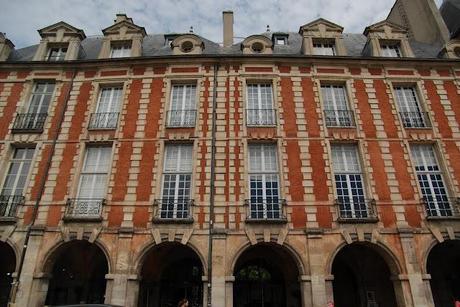 On our last day we had lunch in a little cafe in the Place des Vosges, the first planned city square in Paris. Henry IV built it between 1605 and 1612, and it became the prototype for squares all over Europe. It's the first to have buildings that all have the same facade; and as you can see from the photo above, they're pretty damn good looking.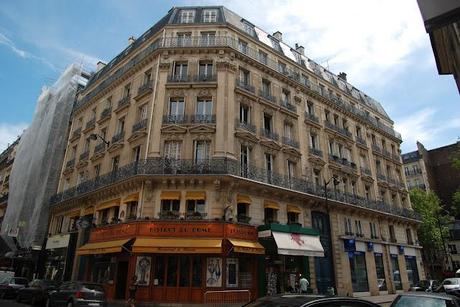 The sun came out and it was hot and humid on our last day. The blue sky was a welcomed change after the grayness that had been hanging around for most of the week.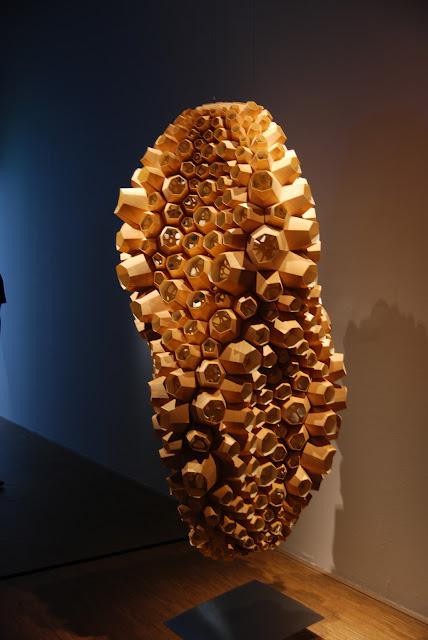 One of my dad's business partners, Craig Carter, is also a professor of material sciences at MIT and collaborates with the achritect/artist/professor Neri Oxman, whose goal, from her website, "is to enhance the relationship between the built and the natural environments by employing design principles inspired by nature and implementing them in the invention of digital design technologies." She works with a team to come up with formulas and algorithms for manufacturing her sculptures. I don't quite know the details, so read her site to get a better understanding.
Neri, who also happens to be one of the most beautiful women I've ever seen, had a show at the Centre Pompidou of sculptures that she and Craig had collaborated on. Talk about the world being small, right? The sculptures were some of the best modern art I've ever seen; it pushed the boundaries rather than flouncing around within them, while being beautiful, ethereal, and aesthetically fascinating. Incredible work.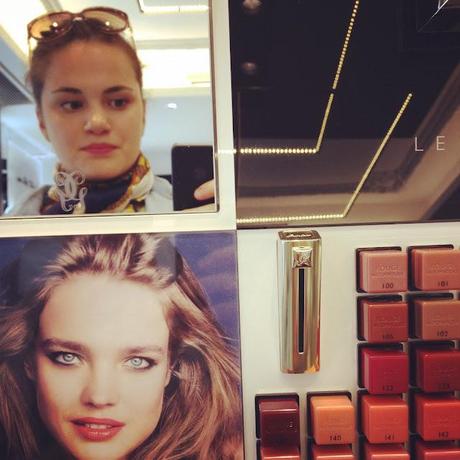 At some point in the last two days we also stopped into the Guerlain store. The most beautiful makeup in the world, if you ask me.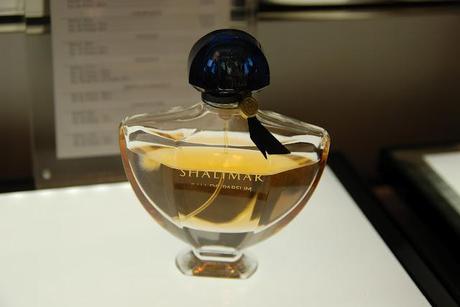 And the best perfume in the world, too. Nana's favorite: Shalimar.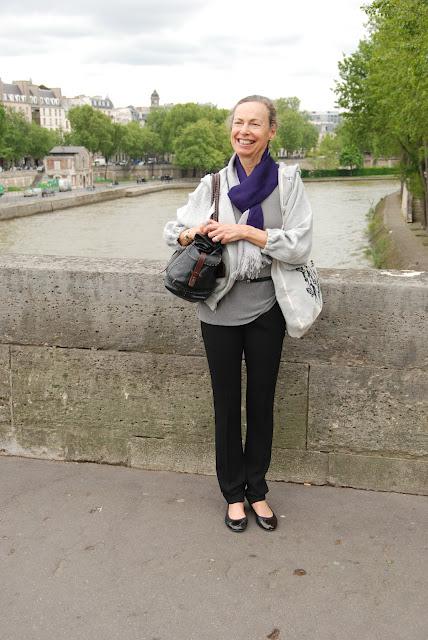 My sweet mama.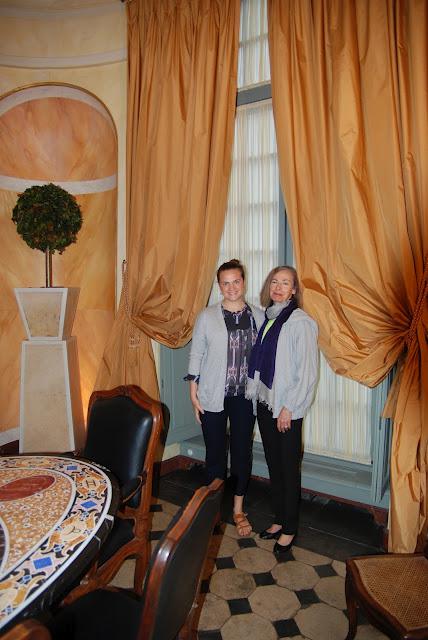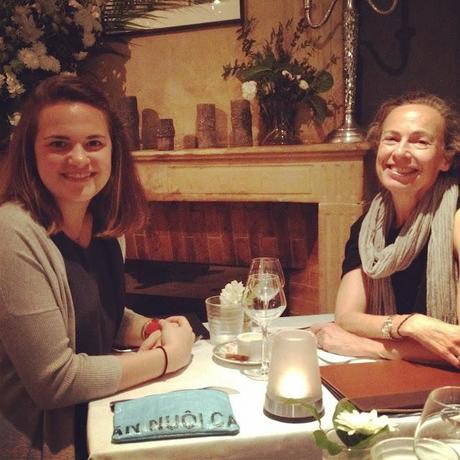 The two of us before our last two dinners.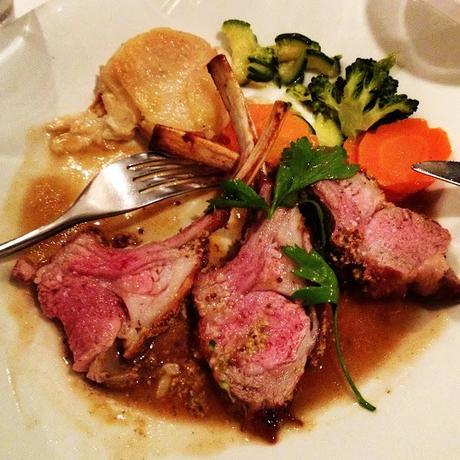 Food porn: lamb encrusted in ancient mustard. One of the best meals I've ever had.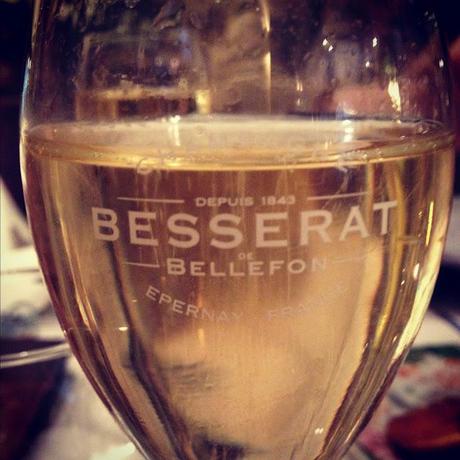 Champagne, because why not?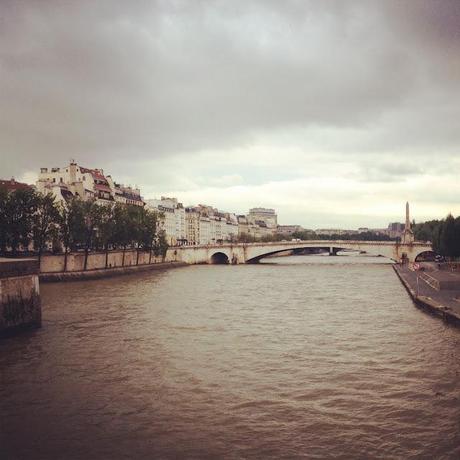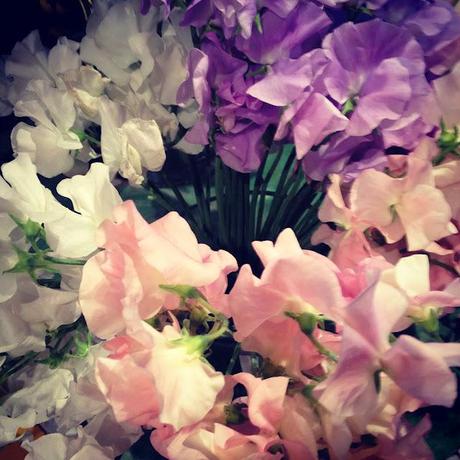 On our last morning before we went to the airport, we stopped at a flower shop right down the street, and I think I could be very happy working there.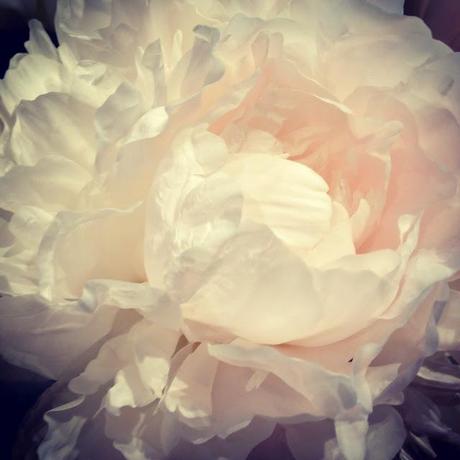 Especially if I could look at this peony all day.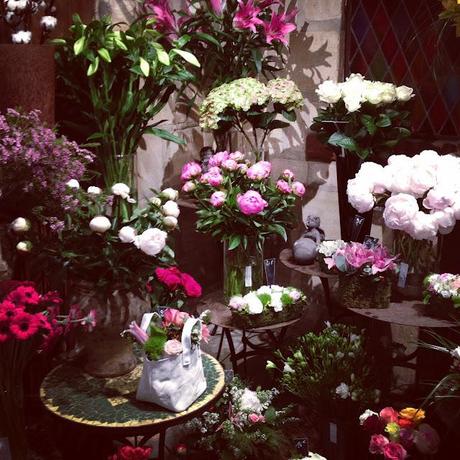 We asked the cab driver to take us by the Eiffel Tower and the Arc du Triomphe, because I hadn't seen them yet, and I wanted to. It was the perfect way to end our trip.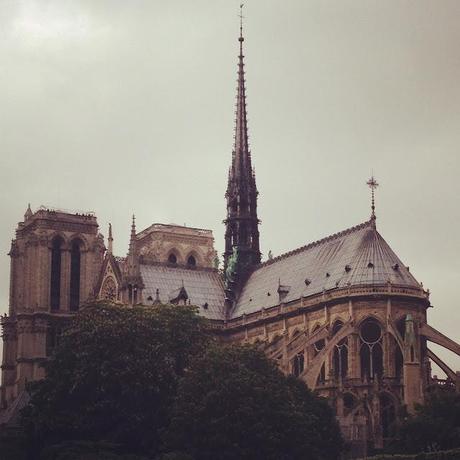 Goodbye, Notre Dame.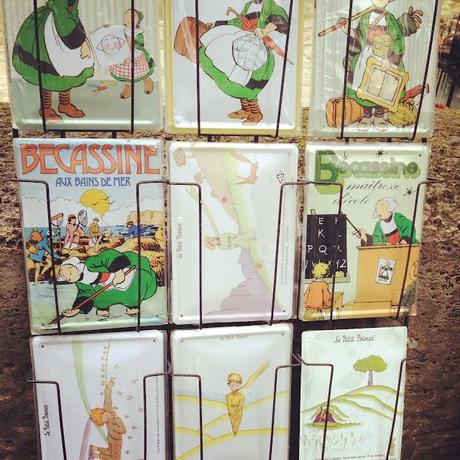 Goodbye, little book stand.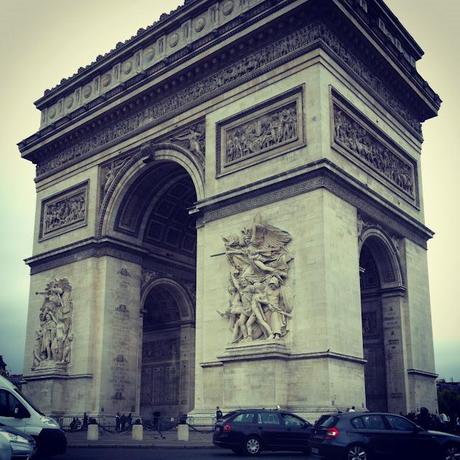 Goodbye, Arc du Triomphe.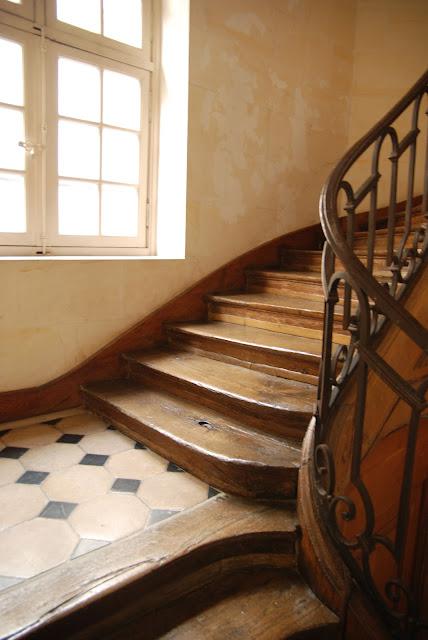 Goodbye, beautiful city. Until we meet again.