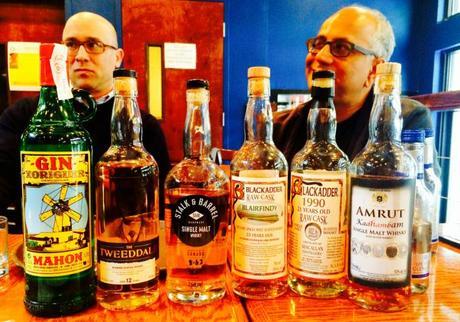 Mark Monaco and Whisky Raj hiding behind the afternoon's libation selections.
The magic of the interwebz never ceases to amaze me! Way back in mid-March, I found out that Raj Sabharwal (aka @WhiskyRaj on Twitter) of Purple Valley Imports would be in Philly on April 24th and 25th. This information came my way via a brief chat that we were having on Twitter. After several back and forth emails, we finally settled on a date, time, and place for what Raj called a Whisky Retreat. This small gathering, which was arranged for us by Mark Monaco of Palateur Imports, would take place at Misconduct Tavern in Center City Philadelphia on Friday, April 25th at 1PM. In addition to Raj, Limpd, Mark Monaco, and I, we were also joined by Mark Gillespie of WhiskyCast and Chris Markham, one of the owners of Misconduct Tavern.
The date and time of this gathering brought to mind an Esquire article from 2009 titled "In Praise of the Weekday Afternoon Lost to Drinking". While I'm nowhere near as brazen as the author, i.e. our Whisky Retreat was planned in advance and vacation time was used, I can wholeheartedly appreciate losing yourself in drinks and conversation during a business lunch and NOT returning to work. The last paragraph of the Esquire articles sums up the rationale for a "lost afternoon" beautifully…
As with all afternoons liberated from work, you'll never remember a single second of the time you spent at the office the day before, nor the day after. But that day, you remember.
Now that you know how this Whisky Retreat came together, let's talk about what went down via an email chat that took place between Limpd and I earlier this week…
G-LO: Well Yo Ho Ho! That certainly was a fine way to end the work week and kick off the weekend. I thought for sure that work would get in my way and spoil my plans, but thankfully, they spared me this time around.
First things first. I was totally surprised by the Misconduct Tavern expansion. I think The Alemonger mentioned that it was happening, but I completely forgot about it. The place looks great and now there's more room to spread out a bit.
Limpd: I think Chris said they took over a part of The Vesper Club and the alley and parking lot adjacent to Misconduct. The new place looks fantastic and appears to double the size of the original area. I like how they wrapped the bar to include the new space and added all of the new tables.
It was great to have the time to sit down and talk to Raj of Purple Valley Imports (PVI Global). Normally, we get a couple of minutes at an event or a minimum number of characters. I wasn't expecting to meet up with Mark Monaco of Palateur Imports. Interesting career going from IBM to DiBruno's and now importing champagne, wine and spirits as well as a variety of food products and let's not forget the Speyside Glenlivet Water. And, it is always great to catch up with Mark Gillespie of WhiskyCast.
Our first glass was one of Raj's new items. What did you think of the Mahon Gin from Menorca, Spain?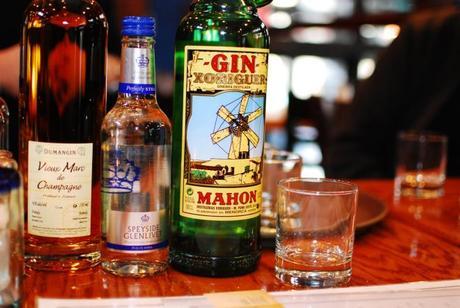 G-LO: I'm so glad to see that Raj brought the Mahon Gin to the tasting. He's been talking about it quite a bit on Twitter, so it was nice to give it a try. Much like yourself, I haven't had all that much gin over the years, so I'm far from an expert. That being said, I really liked it and would definitely welcome the opportunity to explore it further. It wasn't overly piney like some other gins that I've tried. It also tasted really good over ice with a bit of that Speyside spring water added to the mix. Very refreshing!
This was definitely a different kind of tasting. Raj brought a really interesting line up, but given the circumstances, I can't help but feel like our little gathering was less about the whisky and more about just talking and getting to know a bit about each other (that's a really good thing by the way!). It was a low key and highly relaxed afternoon that just happened to involve some really tasty food and booze.
For me, the most interesting part was finding out about all of the common threads we shared and about everyone's career trajectories. Mark Monaco and I went to the same college and we knew a few of the same people. Raj and yourself have worked in the same industry. Chris worked in various bars around Philadelphia before buying Misconduct. Mark worked all around the country as a journalist before finally settling down in Haddonfield and going full speed ahead with WhiskyCast. And of course you and I have this whole blogging thing going on while still working at our day jobs. Of course the real common thread is whisky, and there certainly was plenty of that flowing during our wee retreat.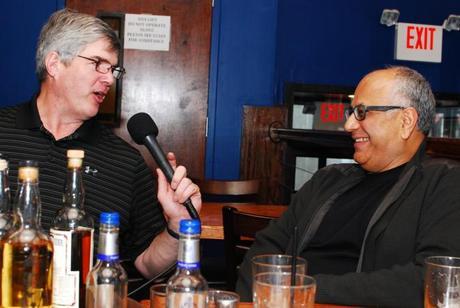 Limpd: It's amazing to think that you and Mark could have been in a class together, or that I could have crossed paths with Raj. And, I still can't get over watching Mark Gillespie pull out a piece of recording equipment to conduct an interview with Raj right in front of us. It makes it seem like we are really "in the know" and not just a couple of chuckleheads drinking on the back porch.
As respects the gin, I know what you mean. While I don't have a lot of experience with it, I really liked the Mahon. Not like drinking an evergreen at all, and what a pretty, shiny bottle. I could say the same thing about the bottle of Dumangin Vieux Marc de Champagne that Mark Monaco brought. I thought that champagne brandy was really good and a little too easy drinking.
Besides the spirits, we had the cask strength Stalk & Barrel, the Tweeddale Blend, the Amrut Kadhambam, and three bottles from Blackadder (an Amrut peated cask, a 23 yr old Blairfindy and a 21 yr old Macallan). I'm not sure what I liked the best. The Kadhambam with its blend of sherry, brandy and rum casks was very good. The Macallan was interesting in that I don't think I have had a Macallan that old that wasn't sherried. The Tweeddale was a very good blend that tastes far more polished than its 12 yr old statement would suggest. Did you have a favorite?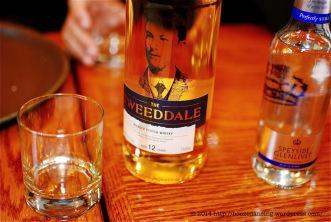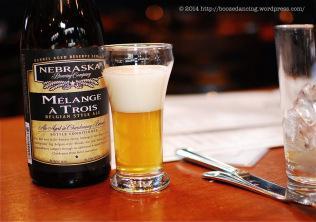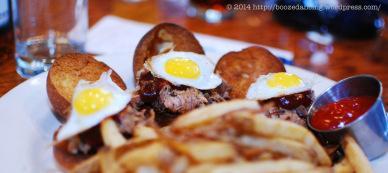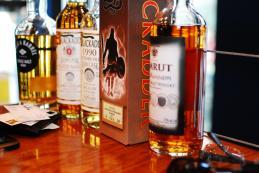 G-LO: It's definitely possible to be "in the know" and still be a chucklehead. Let's not get too full of ourselves!
With respects to Gillespie, definitely impressive to see him do an interview on the fly. You should have seen him pull together that tasting at last April's "event that dare not speak its name". Keep in mind that he had six or seven of us tasting whisky while hundreds of people were behind us not exactly being quiet. While it's always great to see the man work, the bigger thrill was chatting with him without the microphones around. It was definitely Gillespie at Cask Strength!
I'm impressed that you were able to remember everything we tasted. I keep forgetting that you have a photographic memory. There was definitely an interesting mix of spirits on the table. Gin, brandy, blended Scotch, and Single Malts. Add in the delicious sandwiches that we had (need to try those pulled pork and quail egg sliders you ordered. If we didn't have witnesses I would have pilfered one from your plate!) and our little retreat approaches legendary status.
As is usually the case when it's just a casual tasting, I wasn't paying all that much attention to the whiskies. By that I mean that I wasn't trying to understand what was going on in the glass. I was just drinking, eating, and talking. Not saying that the booze was an afterthought, just saying that I wasn't really rating them. That being said, the real stand outs for me were the Mahon Gin and the two Amrut whiskies because they were incredibly different from everything else that was on the table. That Blackadder one was particularly delicious. I'd be happy to have either one of those Amruts in my whisky cabinet. Tis a pity that they're no longer available for purchase.
Going back to the conversations, it was really interesting to get some behind the scenes information about the whisky industry in general. It really gave me an appreciation of what people like Raj and Allison Patel have to go through to bring their product to market. And then there was "the inside skinny" with regards to all of the whisky events that happen across the country. I was always curious to know how that all comes together and how expensive it can get.
Limpd: You just can't help but gloat about WhiskyLive. Disgraziato! And, thanks for keeping my ego in check. Just because we get invited to nice things doesn't necessarily mean we deserve to be there.
I would say that Mark wasn't just "cask strength" but that he was unfiltered as well. With his wealth of knowledge, he can really reach back and lambast some producers for their boneheaded moves.
I agree. The afternoon was more about camaraderie than a formal whisky tasting. With the pre-game beer, the food, the conversation, and all of the whisky and spirits, lunch was a bit of blur, but certainly one of the best lunches that I have had in some time. Kudos to Raj and Mark Monaco for pulling it together .
We have wondered aloud a number of times just how Raj and Allison take their product from the barrel to the market. I thought it was interesting to hear both Mark Monaco and Raj describe the effort (especially in PA) to get their product not just into the US but to their final destination. I was quite surprised to find that Raj's PVI is into 30+ states. Additionally, I had no idea how much money was put into the whiskey events which are essentially trade shows for them. I would have thought a nominal table fee would be assessed as the producers are giving away their products. It never occurred to me that the host would charge a big nut to the producers as well as charge the attendees. This information seems to support the drop-off at the last few SMWSA events in Philly and the elimination of their events in Philly and NY this year.
And, while Raj was a bit of tease in bringing in product that is no longer available, he did manage to locate a bottle or two of the Blairfindy (alas the 15 and not the 23) and they should be here in time for Father's Day. I figure a gift for me and a gift for Pappy. (Or, maybe just two gifts for me.)
G-LO: Gloat? Me? Never! It's not my fault that you came down with some form of the plague prior to the big event. Speaking of which, doesn't Miracle Max still owe you a bottle for taking that ticket off your hands? How's that for good old Catholic guilt?
Mark was definitely fired up in a good way (or perhaps he was Flyered up given his love for hockey). Although the conversation went a bit over my head at times, it was interesting to hear the two Marks and Raj talk the industry talk. Definitely a tough business, but also very satisfying and fun when things finally come together. I'd switch industries in a heartbeat if the right opportunity came along (how's that for a not so subtle hint? Heh).
And how was Raj a tease exactly? He could have NOT brought those rarities and simply told us about them. I didn't realize you placed an order. Somehow I doubt that your Pappy (not to be confused with Mr. Van Winkle) will ever see any of it.
Geez. I didn't think we'd go on this long. Any final thoughts?
Limpd: I am with you. There has to be more to life than sitting in the cubical farm. Of course, until the kids are a bit older, we need to focus on the difference between a vocation and an avocation. I call Raj a tease in jest. He was (and has always been) quite generous with the samples. I think the mark of a good sample is that you crave more. That was certainly the case with our lunch lineup.
And, now to World Whisky Day!
G-LO: Ohhhhh! I almost forgot about World Whisky Day! Hopefully we can pull something fabulous out of our hats for that most wondrous of days. Let's put the planning session on the agenda.
Agreed on Raj! Super generous guy and an absolute gentleman in the truest sense of the word. I can't thank him enough for his hospitality. Here's hoping that we cross paths with him again very very soon.
___________________________________________________________
Many thanks to Raj Sabharwal, Mark Monaco, Mark Gillespie, and Chris Markham for inviting us to join them for this very special Whisky Retreat!